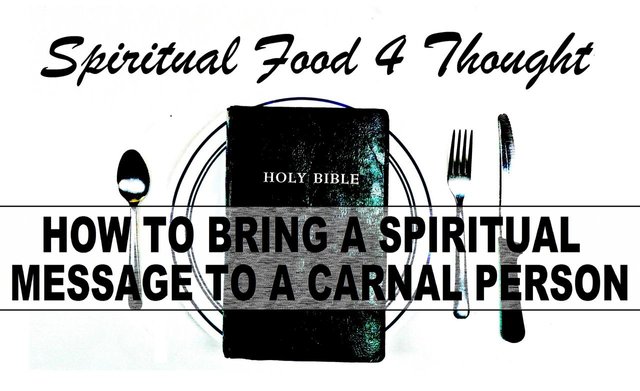 Spiritual messages can be hard to get across to fleshly, physical, carnal people.
---
However, it is not that hard for us to couple our spiritual message with a physical message that they can understand. When we can reach into their physical lives with a tangible expression of our love, care, and concern, it only helps to till the soil of their lives to receive spiritual messages, with would otherwise be even further beyond them.
By taking a look at something Jesus mentions, I share about a way to actually reach down to where people are at, before attempting to pull them up to where we are. Hopefully it'll help.

HOW TO BRING A SPIRITUAL MESSAGE TO A CARNAL PERSON VIDEO
---
Also, if any of you enjoy these videos, please feel free to subscribe to my new channel Spiritual Food 4 Thought and share these videos wherever you think people may either enjoy them or need them. Thanks everyone!

Until next time…

GIF provided by @anzirpasai
---
Bitcoin (BTC) - 35jP794XJ1yHUaoxuQUXwGPyCuy6zyiQA5