---
In the name of technology and science, we have committed so many atrocities to ourselves, the universe and to our maker. On the Blockchain and its vast wealth and riches, many are forgetting the basis to life and chasing down digital wealth that never satisfies constantly.
We have abandoned our religious principles, renounced fundamental protocols of life which is the spiritual aspect of our separate lives, this is paramount than our physical being. Without a spiritual setup, each life is meaningless, however, cryprocurrency wealth seems to have occupied the minds of Millions who had embraced this new Technology worldwide, making them to forsake these fundamentals and reaching for wealth instead of the spirit being- The soul.
Where will all your cryptocurrencies that has been amassed go to when you fade into the spiritual realm? When the soul is snatched out of the living body, when death shows up unexpectedly?
Sadly, people only remember their spiritual being and their maker when something goes terribly wrong with them, when their active lives suddenly becomes a living hell. Sometimes when altcoins are failing, when your precious funds keep going down the drain, and maybe when all the money made from crypto-trading could not solve your problems (health especially). What does it count for, earning all the best tokens in the world and then your spirit never finds rest because you have denied the one that made you, as a result of you abandoning your spirit setup all for money and unstable altcoins?
The truth is, it makes more sense in living when you have the resources to live a comfortable life, begging to eat and get your basic needs makes life more unbearable, hence people dabble into detestable things to amass wealth on the Blockchain, same goes for the real world. We all want to get rich by crook or by nook means.
To be rich is a very good ambition, the perfect plan. But are you doing everything to gain wealth at the detriments of your soul? So many people have been lured into evil practises and sacrificial offerings that the ordinary eyes could not withstand.
You could gain more wealth if your spirit and soul remains connected to your maker, this make you intact with your source and enables you to earn your wealth at any pace without complaining nor regrets, once you are gone and your soul is lost into the abyss, here; there is no second chance, no other trial to come back and amend your wrongs in the land of the living.
Cryptocurrency is not evil, once you do not get yourself involve in evil schemes to make more money at the detriments of others and innocents communities across the world. It is not about the Millions you make from the Blockchain technology that really matters, it is about how you get it, if your soul has to be condemned in doing so, and the good things you do with it when you still have the breath of life inside you.
Connect to your maker, the perfect source of all wealth. What does it profits a man that gains the whole world and lost his soul? Absolutely meaningless, says the Holy Books. Thanks for reading.
---

---
Hello friends, check out some of my latest Steem Blockchain writing below. I appreciate all the support I have gotten from you all!
---
---
---
FOLLOW-UPVOTE-RESTEEM AND MAYBE DROP A SUPPORTING OR CONTRARY COMMENT.....It's your friendly Neighbor @oluwoleolaide for Steem-Lagos-Nigeria-Africa-World!
---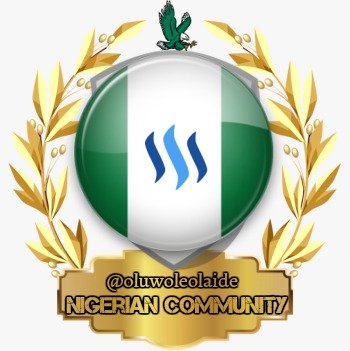 Badge was a Gift.