---
Simply, without using techy and sophisticated terms, I will say that your steem power is your steem in the solid state, when liquidated (i.e. powered down into steem and maybe fiat), it means powering down to steem which could be used for any purpose including spending. But that is just tangential analysis; the main reason for my steem blog today is what organic growth of steem power which is your vested shares is.
If you must know, the different between you as a minnow and a Dolphin up to a Whale is your stake in the steem eco-system, meaning you must have invested in steem heavily or inherit some hefty amount of steempower if that is ever possible. Your wallet filled with Steempower can be grown (increased) by crook or by nook. However, my bone of contention is one of the legit ways to grow your stake which is your vested shares in steem, with that, you get to have more a tiny say on the steem blockchain.
WHAT DO I MEAN BY ORGANIC GROWTH OF STEEMPOWER?
These are slower and steady but legit ways of gathering your steempower, this is for those who had no resources to invest in steem. One of the ways to do this is to buy steem with fiat, that is if you are financially stable enough to do so, another way is to buy steem with other cryptocurrencies you have in abundance. When you do invest in steem does not matter, maybe when the prices were relatively low or you buy in during Bull runs (when prices of particular altcoin rise very high or steadily high).
Then there is the other way, by mining; you could mine several other cryptocurrencies, but on steemit, only witnesses running nodes do that and then it all goes to the reward pool where users now earn (gets their cuts) by publishing or by curating. Acquired here means, the rewards you get on your published articles on the seventh day after payout. Nowadays, users published and acquire upvotes from upvotes services to earn something tangible or something that satisfied them in terms of reward. But I will like to state that, this can't be considered as organic growth of steempower, buying upvotes on published articles rob a whole lot of deserving users something encouraging from the rewardpool.
Those manually curated upvotes a particular user get on their blogs/publications is what I considered organic growth because it follows the fundamental "blog and earn" that was initially the protocol on the steem Eco-system. Presently the system is what I refer to as "Blog-Pay for upvote services- and Earn!"
So to speak, the steem you acquire from upvotes you often receive from friends and random upvoters, and then claimed them a week after (that is; seven days later) and then powered it up as steempower could also be considered as an organic growing of your stake- your Vested shares- your Steempower.
---

---
Happy Weekend friends. Check out some of my latest Steem Blockchain writing below. I appreciate all the support I have gotten from you all!
---
---
---
FOLLOW-UPVOTE-RESTEEM AND MAYBE DROP A SUPPORTING OR CONTRARY COMMENT.....It's your friendly Neighbor @oluwoleolaide for Steem-Lagos-Nigeria-Africa-World!
---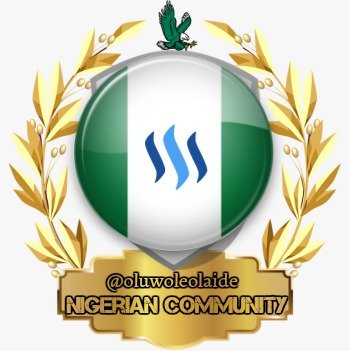 Badge was a Gift.