Hello every day, it has been a really good weekend for spinvest with over 2500 being issued in the past 24 hours alone pushing the total STEEM POWER held by @spinvest to 59,960 just shy of 60k. Today I will be showing charts of different stats that I find interesting and hope you will as well. Not so many updating, this is more of a visual post. haha.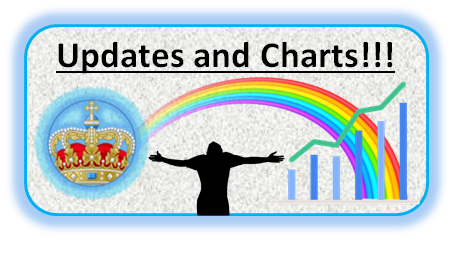 If this the first spinvest post you are seeing and your thinking to yourself, what is all this about? Let me break down for you. SteemPower Investments and its club have been set up to offer a liquid STEEM POWER token that is 100% backed by STEEM POWER. Spinvest converts all monies from tokens sales into STEEM POWER and uses that STEEM POWER to earn 18-20% per year thought filling lease requests. SPI tokens are shares in spinvest and all it's holding's.
If you want to make 15-20% per year on the STEEM blockchain you have to have your STEEM powered up which means it's locked away for 13 weeks which is enough time for the crypto bull market to and go. SteemPower Invests is the bridge between STEEM POWER and STEEM as token holders earn the great returns offered by STEEM POWER but have the liquidity of being able to sell on the steem-engine exchange.
SteemPower Investments has a strong community and is very active in promoting and engaging with investors and club members.
Let's have a look at some chart's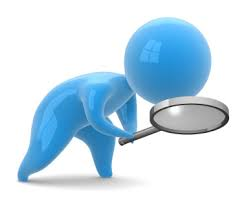 I did a post like this a few weeks back that included around 10 charts showing earning's so this time I thought it would be a neat idea to show some charts of current holdings. We start with total STEEM holdings. All of the charts below start from 4 weeks after @spinvest was launched when 10,000 tokens were issued and weekly reports began.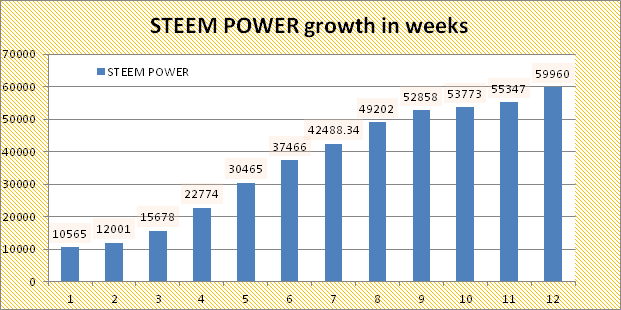 .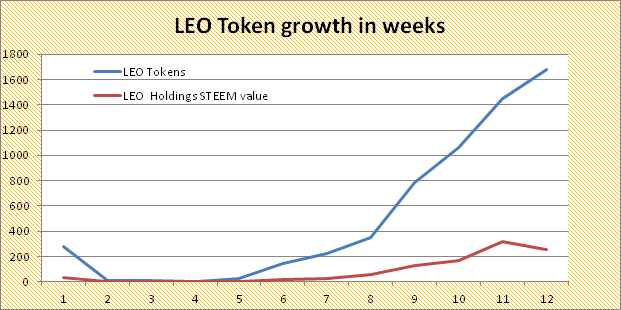 .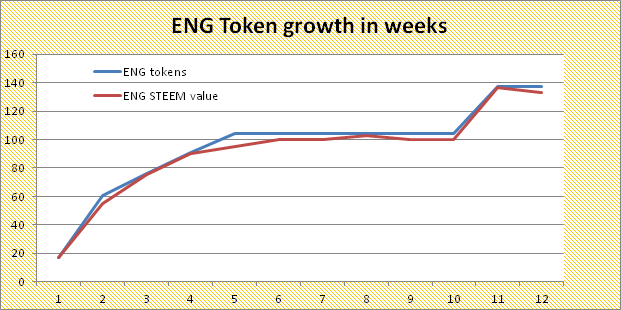 You can see the increase in ENG holdings at week 10 runs in sync with other token holding going down in the same week.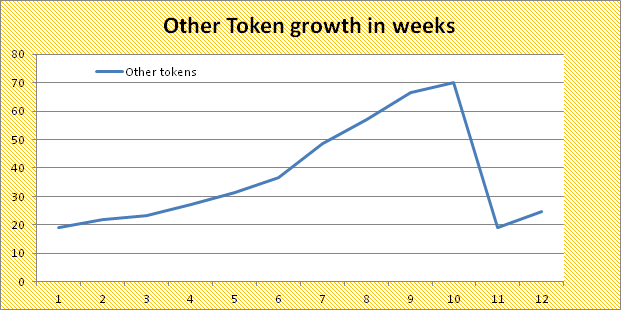 .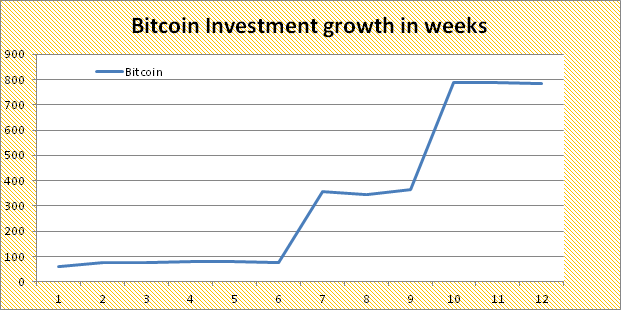 .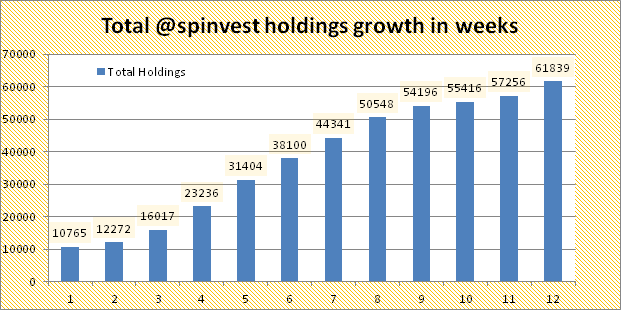 With the project being around 4 months old and holding 62,000 STEEM's worth of STEEM POWER and investments, I would say things are going well. If you have any questions at all, please use the comment below and I will get back to you


Below are steemconnect hotlinks that allow investors to buy SPI tokens directly from @spinvest. Each token is currently priced at 1.20 STEEM and beside each link is the true STEEM cost to reduce confusion. You can also send any amount directly to @spinvest and I will issue you SPI tokens to 2 decimal places for the value of STEEM to send. All tokens bought directly will be sent to investors SE wallets within 24 hours but most likely much sooner.
.
5 SPI tokens - 6 STEEM
.
10 SPI tokens - 12 STEEM
.
25 SPI tokens - 30 STEEM
.
50 SPI tokens - 60 STEEM
.
100 SPI tokens - 120 STEEM
.
250 SPI tokens - 300 STEEM
.
500 SPI tokens - 600 STEEM
.
1000 SPI tokens - 1200 STEEM
.
2500 SPI tokens - 3000 STEEM




| Information | URL Link |
| --- | --- |
| SteemPower Investments Introduction Post | Click HERE |
| SteemPower Investments Club Partnership Agreement | Click HERE |
| How to become a club member | Click HERE |
| How to convert SE tokens into SPI tokens | Click HERE |
| Join the SPI club Discord server | Click HERE |
| Join the SPI curation trail | Click HERE |
| What's best for the SPI Club? Centralized vs Decentralized | Click HERE |
| SPI tokens 95% buyback guarantee | Click HERE |
| SPI Club monthly Fiat to SPI token group buy | Click HERE |
| | |
| | |


All questions are welcome, please ask in the comments below