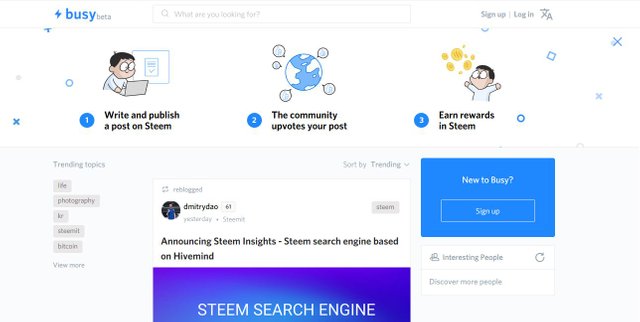 Busy
Busy.org is a decentralized dapp built on the steem blockchain which mimics activities carried out on steemit.com but with more options and added features.
Busy.org was built to give users a futuristic feel of how a modern social platform is supposed to act and interact with its users, with sophisticated tools, users now have more options to manage a steem based account.
To gain access to this dapp a steem based account is needed which can be created using different available options,
Before now, the default or rather popular means of creating a steem account is via https://steemit.com, but this has been improved on by various users on the steem blockchain.
Getting the various alternative is going to be hard, with that, I searched online and I was opportune to get a post made by @gmichelbkk with the title 4 Ways to Create a New Account on Steem!. He clearly made a well define and self-explanatory post that would enable anyone hoping to join the steem blockchain create a new account fast, easy and in a reliable way.
Although, the post is already a year old which some persons might consider outdated, due to how the blockchain was built, editing that post is now impossible.
With that been said, other alternatives to create a steem account has been developed from then prior to now and one of such is Steem Ninja
Here, the option to create/purchase a steem account with your credit or debit card is available.
I made a tutorial on how to create a steem account using @steem.ninja titled How easy it is to get a Steem Account.
After creating a steem account, to have access to Busy.org, you will need your steem active key.
This can be gotten using the steps below.
How to copy your active key via steemit.com

You will be presented with 4 different keys, each having their own use
Note: Each of the keys should be saved securely and you should never use your owner key unless when needed
Our main concern is the active key

Click on login to show and type in the required key

Go back to https://busy.org/

Click on Login

You will be directed to steemconnect, with a page that looks like the below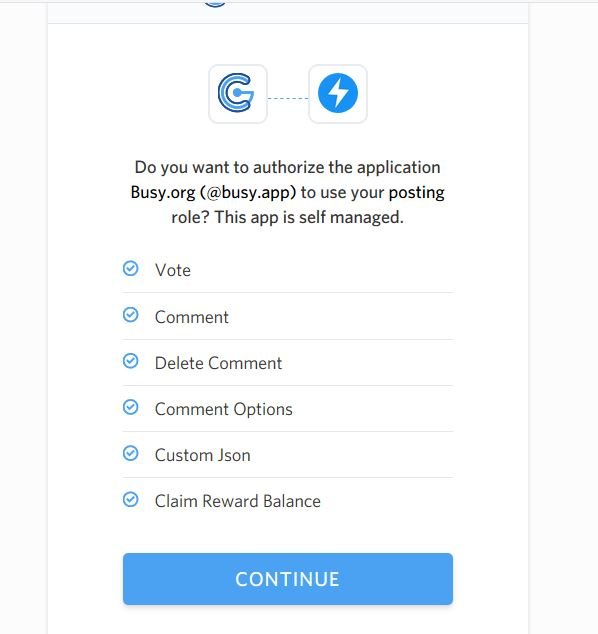 Click on continue

Fill in the required key and Sign In.
If all was properly carried out, you should have access to https://busy.org
---
Features of busy.org
---
As we said before now, Busy.org is a mimic of steemit.com but with added features that would make navigating on the steem blockchain as easy as possible.
Search option

Activities

Easy addition of BTC and ETH wallet address

Clearly defined and customizable voting percentage
---
Search Option
Users can easily search for a particular username,
It gives you suggestions of usernames assigned to the words typed in the search bar.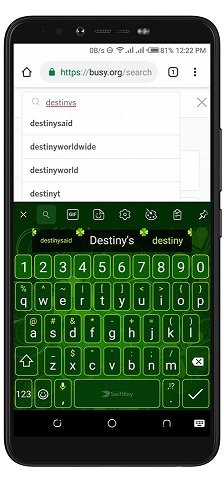 Activities
All activities carried out on your steem account can be gotten here.
With the use of different tools to streamline the particular activity you are looking for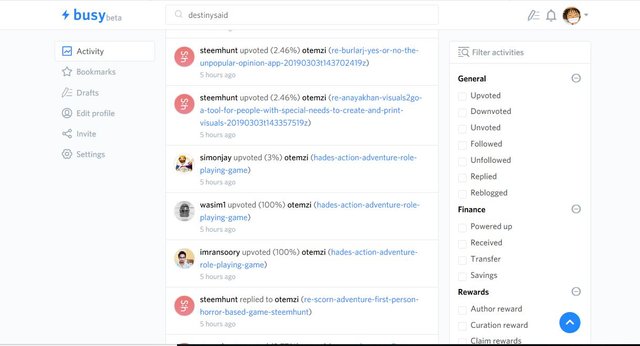 Easy addition of BTC and ETH wallet address
Busy.org is a decentralized social dapp where users can post any and everything at their own discretion.
Other steem users might see the need to gift you another cryptocurrency apart from steem and sbd, with this feature, the need to ask for your wallet address is no longer be needed.

Clearly defined and customizable voting percentage
The goal of Busy.org is to reward users while socializing and this can be achieved when you a vote a content you found worthy.
In other for the system to combat exploitation, steem is powered by steempower and in turn regulated with the use of voting power which recharges after a certain period of time.
On Busy.org, users are able to customize their voting percentage to a default vote value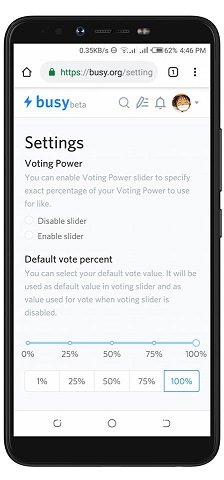 ---
Why use Busy.org?
Busy.org reward users with the busy bots when posts are made via https://busy.org
To get rewarded, different requirement are needed and these are,
Post from https://busy.org/
Add "busy" tag/topic
Have enough influence / "followers_mvest"
To find out your influence use jesta's site:
https://steemdb.com/api/accounts?account=YOUR_USERNAME
The exact requirements may fluctuate. If the bot does not have enough Voting Power to vote all the posts, it only votes for the most influential users.
The above was taken from Busy.org discord server.
Busy.org does not take any beneficiary reward when you make a post via it, rather you can get the beneficiary percentage from a post via Busy.org by simply clicking on the payout reward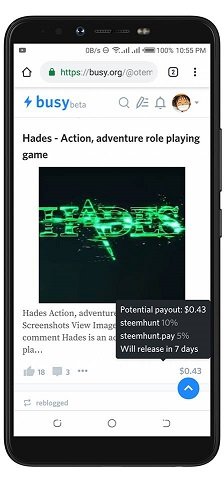 ---
The above is definitely a good enough reason to use Busy.org but due to minor bugs or probably technical issue, notification options usually give wrong or outdated notifications.
Recently, it started displaying notifications from 2 to 3 days back, while the newest notification is yet to come up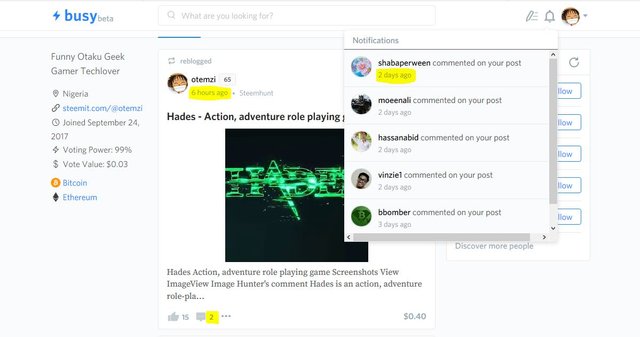 The above like I said is minor because users can easily get all activities done via the activity displayed section on Busy.org.
---
My Rating
4/5 due to its unique and interactive interface
---
You can get similar dapps like busy via Stateofthedapps
---
Useful Links