This is the question asked when you try to get a new user into the Steem blockchain, when will my account be open for me to start using, is there any limitations and when will I start making money.
Yes, making money is the goal here, then with time you get to love the community, but in other for the above for to be realized, you first need to gain access to the Steem blockchain and today, we will be looking at just that using Steem.Ninja.
---
Before now, say 1, 2 years back getting a Steem account was not the easiest thing to do, take me for example, I signed up August 2017 only to realize my account was activated October 2017, now the question you probably have is what happened?
Well nothing and something did happen, after signing up that month, days and weeks pass and the mail I was promised to received was yet to arrive and with time I forgot about Steem, only to be remembered by a friend in October 2017, I checked my email then and saw that my account had already been activated some weeks earlier.
Me and probably many others did face that particular situation and am sure many others actually left their account as well because of the above, but with recent tools, I can say, the waiting period is no longer there and creating an account on Steem never been this easy using Steem.Ninja.
---
Steem.Ninja
---
Don't know the history surrounding the name and how it came to be, but what I do know is, the project owners mean business and they are here not only for profit-making but creating an atmosphere that would make any new user hoping to sign-up on Steem have the best experience they could possibly get when it comes to account opening online.
An introduction post was created 27 days ago, a post that would give users a proper understanding of how to open a Steem account using Steem.Ninja
But for the benefits of all, let's make a brief explanation on how to open a Steem account using Steem.Ninja
---
Requirements
---
Valid Credit/Debit Card
Access to the internet, which I believe you already have if you able to read this
Task Level -- Easy
2.5usd for account opening
---
To get started, click Here

Next you will be directed to a page that gives you access to either create a new account or rent Steem Power for 90days.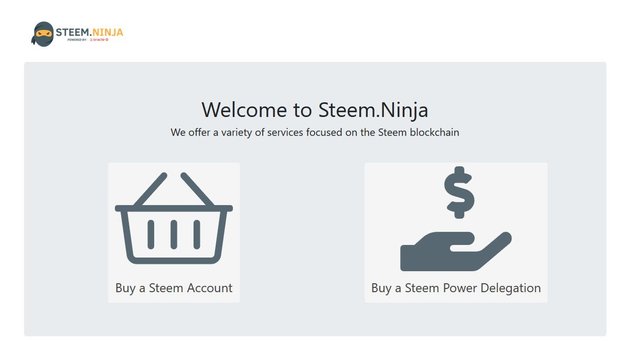 Image 1
As a new user, hoping to get your account activated and get started, will be looking at account opening, renting of Steem Power and the importance will be discussed on some other post.

Before we advance any further, you need to have gotten the requirements stated above, so let's get started.

Click on Buy a Steem Account

A new page will be shown to you

The new page should look like image 2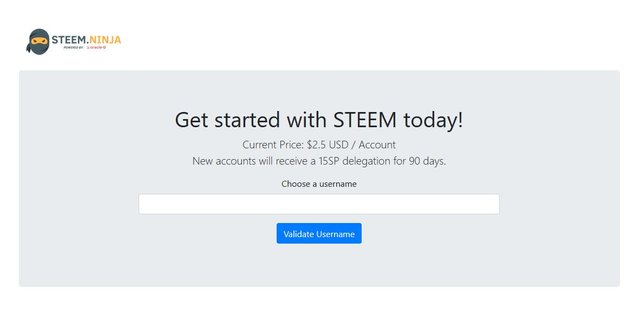 Image 2
Image 2 shows an empty box, Steem is a blockchain where different dapps runs on, these dapps, can either be community platforms or business oriented, to gain access to the various dapps you need a Steem account and each account comes with a username and that's where the box comes in.

No two user can have the same name on the Steem blockchain, before now, you might have been required to search if the name you probably have in mind is currently been used, but Steem.Ninja made it somewhat easy, you can easily input any name of your choice and click validate, if the name is available, image 3 will be shown to you.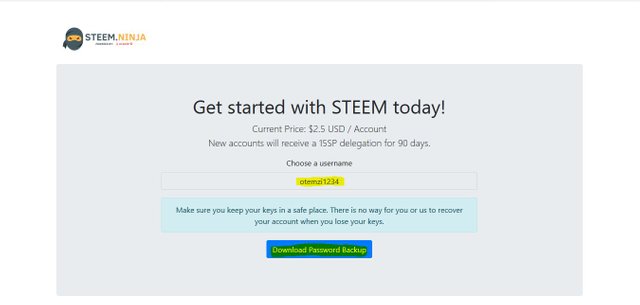 image 3
From image 3 shown above, the otemzi1234 should be the required name you looking to use

If available, you will opt to download a backup password, this file should be kept in a secure place, for account recovery to be carried out, you need to have the file and failure to do so, means your account is lost and any fund you most have gotten prior to then will be lost as well.

After the above has been carried out, click on checkout and input the required information needed.

All accounts created via Steem.Ninja will receive a delegation of 15sp for a period of 90days
Easy right?
The above is one of many services Steem.Ninja currently offers
You can get additional information from the introductory post which is found Here
---
Unlike other existing services,
Account creation is instant

Account can be activated anywhere without the confirmation or assistance from anyone

The new referral program pays referral in Steem and they also have the feature to choose the price for Steem account

Services can be integrated on different platforms
---
Others are:
Account recovery
Referral program where users have the option to get paid in steem when they refer others
Integration of Steem.Ninja services on dapp, app, and website
Steem.Ninja Discord Bot
I did make a little review about the above Here
---
Upcoming service
---
Instant Purchase of Steem using a credit card.
Steem as we once said is the blockchain name but also the cryptocurrency used to carry out different activities on Steem. When I say activities, am not making reference to transaction fees, as Steem offers a transaction free platform, meaning you can transfer funds worth thousands of dollars without paying a dime.
Steem is used in generating reward when you power up and it is called Steem Power, this process is done by powering up your Steem and we are going to look into this some other time.
---
Useful links to get started with
---
---
If you looking to register new user, do direct them here @valchiz, @destinysaid, @africaunchained, @wafrica, @menoski, @tezzmax