Hello steemians, there is an ongoing task for Social DApps lovers. For some of you, who don't know what DApp means, let me help you guys.
DApps is a curated directory of Decentralized Applications. It was created to categorize and showcase developed projects built on the Ethereum, Steem, POA and EOS blockchain. It is also called State of the DApps.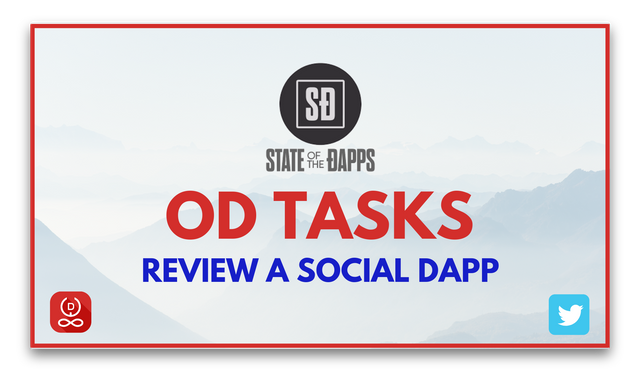 Review Of Social DApps.
Now you know that, DApps are projects built on the already stated blockchains, let's move on to the Social DApps category. As we know, DApps has different categories, for example Game DApps category, where you have games like Hyperdragons, CryptoKitties, Axie Infinity and many more, but for this task, we will be looking only at the Social DApps category, which some many of you know of, examples include; Steemit, DTube, Steemstem, Oracle-d, Karma, Tasteem, and many more. You can check out the list of Social DApps on State of the DApps rankings.
Guidelines
You are to review any Social DApps other than Steemit. After you are done with your review, you MUST share your review( be it blogs or vlogs) on your Twitter and Medium account and use these hastags #stateoftheDapps, #DAppReview, and #SocialMedia and name of the DApp you reviewed. For example, you reviewed Steemstem, after using the already stated hastags, add #steemstem. When you sharing your review on Twitter also make sure you tag @stateofthedapps.
Your article has to be high-quality, it must be at least 600 - 1000 words in length and you must ensure that it is an original content i.e it must be free from plagiarism.
After you are done with your review and shared it on both your Twitter and Medium account, drop your links(your Steemit, Twitter & Medium link of the reviewed Social DApp) in a single comment in this post. You must also have to upvote and resteem this post.
Rewards
Yeah, I know this is the part of the article that most of you have been waiting for(smiles). If you follow all the guidelines stated above, you will be rewarded. An average of $7 - $13 for an average entry, which I must say is massive during this bear period. An average of $17 - $23 for enteries that are excellent. And a full upvote from the sponsor account, if your entry is among Top 5, which will be an avearage of $37 - $43. Although reward distribution is based at their discretion, I'm just giving an insight to how the reward might look like based on their previous Game Review Task, that been said, there might be changes in the manner of rewarding entries.
Sponsors
This lovely task is sponsored by the best community on Steemit(to me) @Oracle-d in association with @dapplovers and State of the DApps. The goal of this task is to promote Social DApps.
I strongly advice you read this post for more info about the task.
Task Duration
The task has already started on the 27th February, 2019 and will end on 5th March, 2019. What are you waiting for then, Join the fun NOW.
Follow @oracle-d
Follow @Dapplovers
Follow @Oracle-d.tasks, for other future tasks.