Step by step smoke.network airdrop guide.. get them free smoke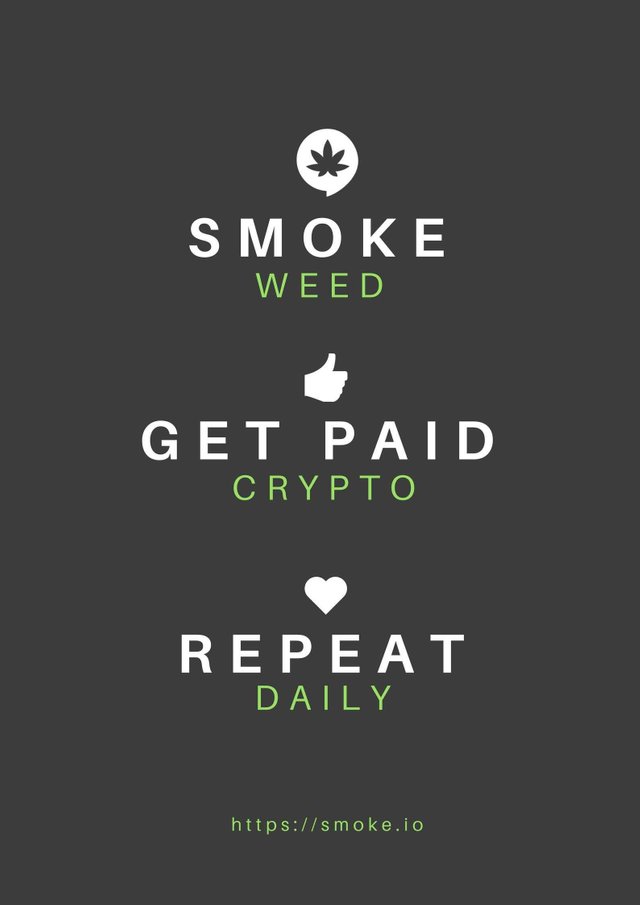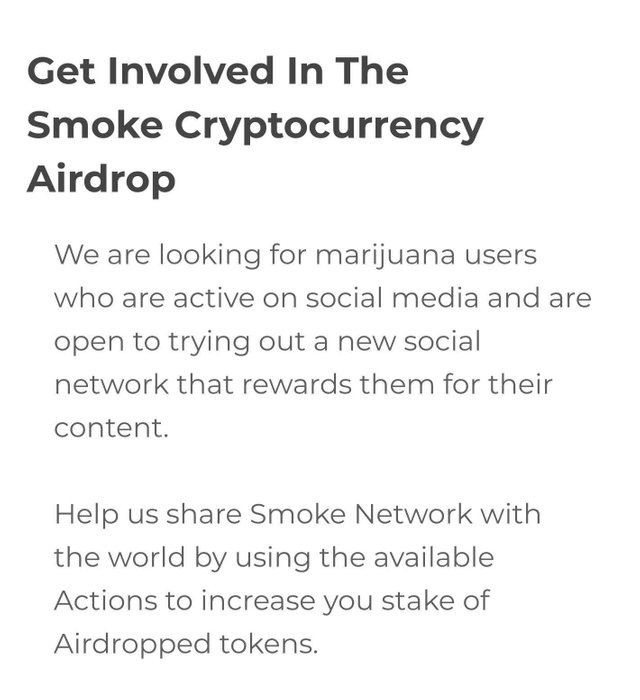 So you wanna join the hottest airdrop of 2018
This guide will help you join and earn some free smoke for the greatest platform to enter the cannabis and crypto space.
Well in this guide I had step one as getting a protonmail email and I strongly recommend doing that if you have not already done so.
First let's explain what smoke is and what the airdrop might be.
What is smoke:
Smoke is the cryptocurrency that is going to power the smoke.io platform and other frontend application's once smoke blockchain is live.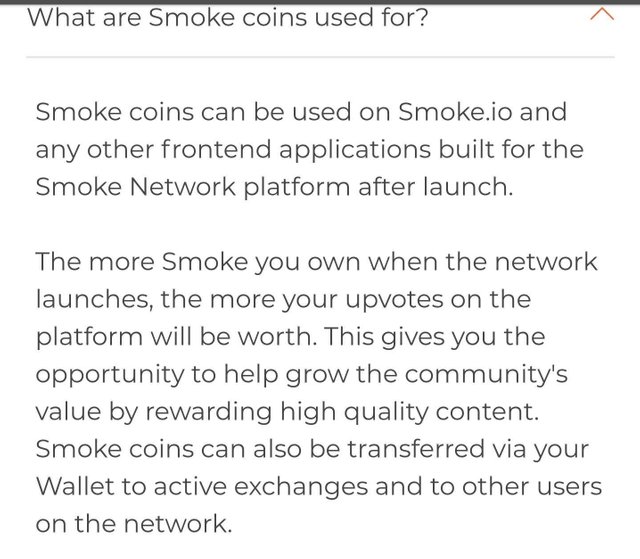 So now I will do a step by step guide on how to join and earn some free smoke tokens for the smoke.io platform when it goes live in q3 2018.
Step 1
First thing you need to go do is head on over to the smoke airdrop page This is were you are going click the join airdrop button.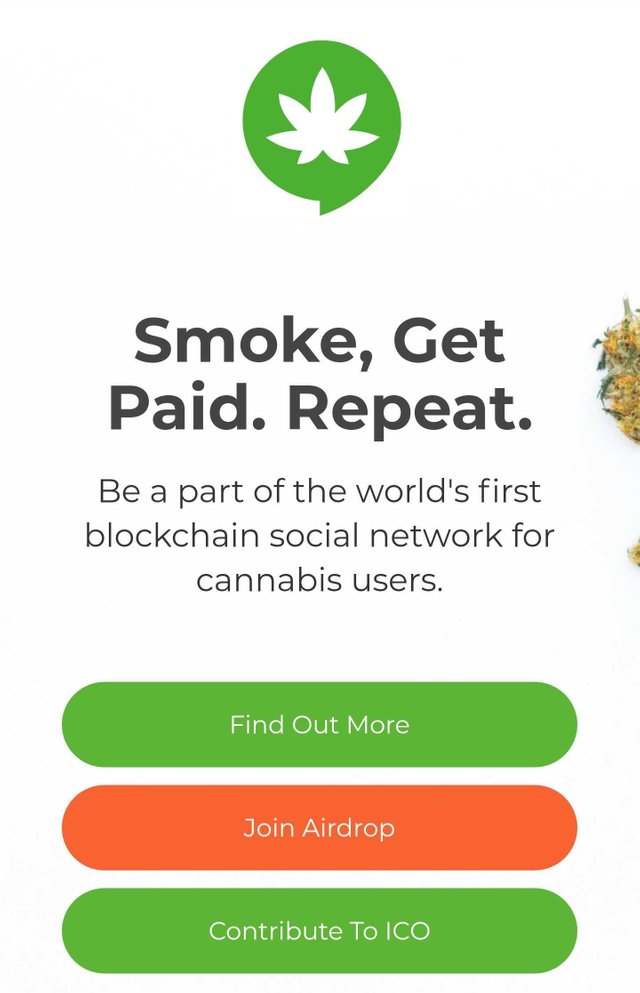 Step 2
So we got you to the smoke.network airdrop page and you have now clicked on airdrop and it has brought you to the smoke.network airdrop sign-in page.
From here you can see they have all kinds of ways to sign-up from email Twitter Facebook you tube.
After you have signed up with you preferred method you will now be able to earn some that precious smoke tokens for the smoke mainnet when it goes live.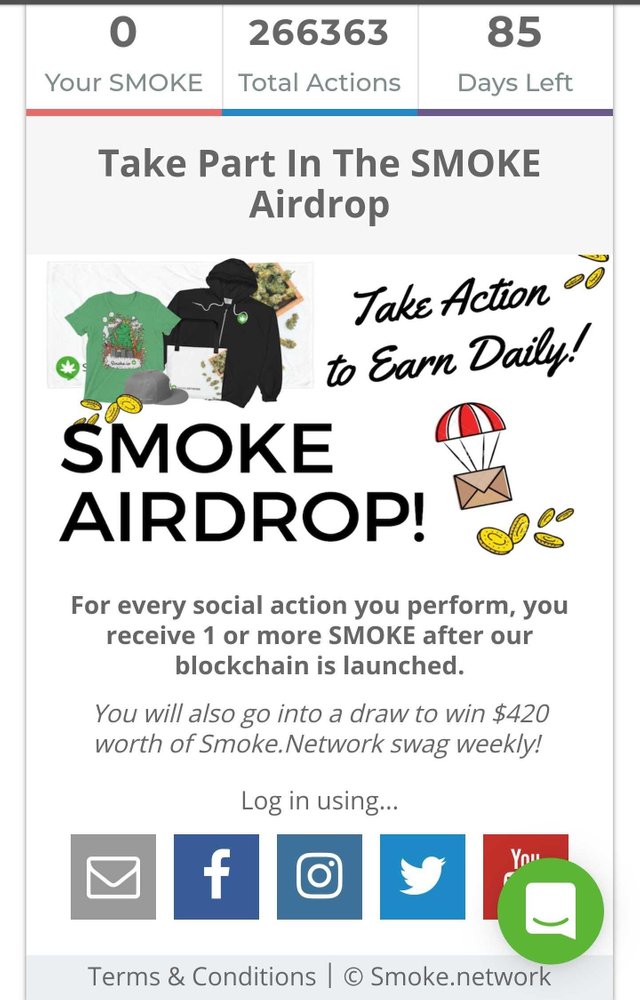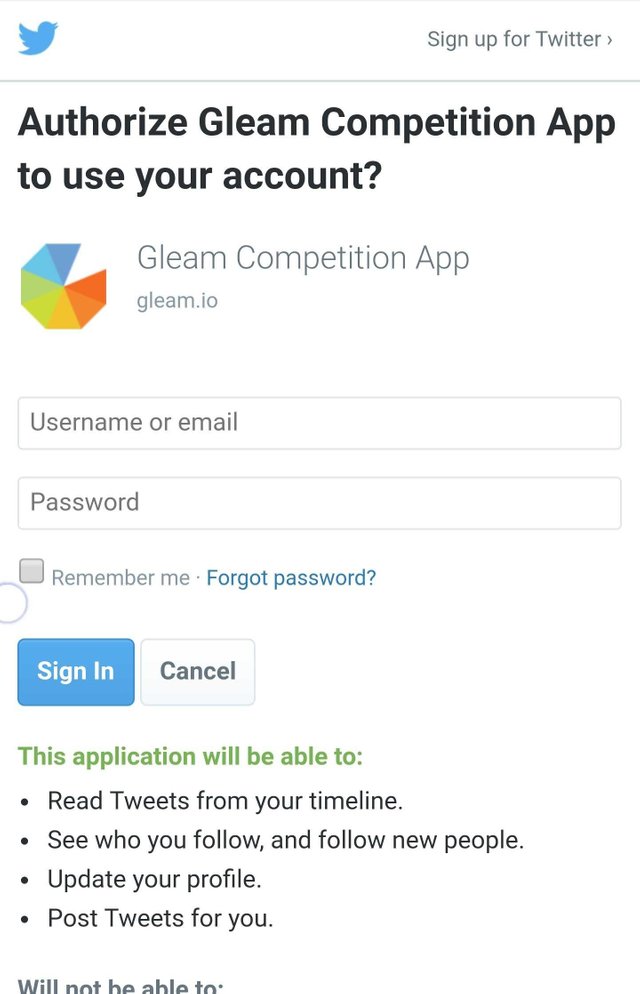 Step 3
Now you have signed up and we can get to earning some smoke tokens.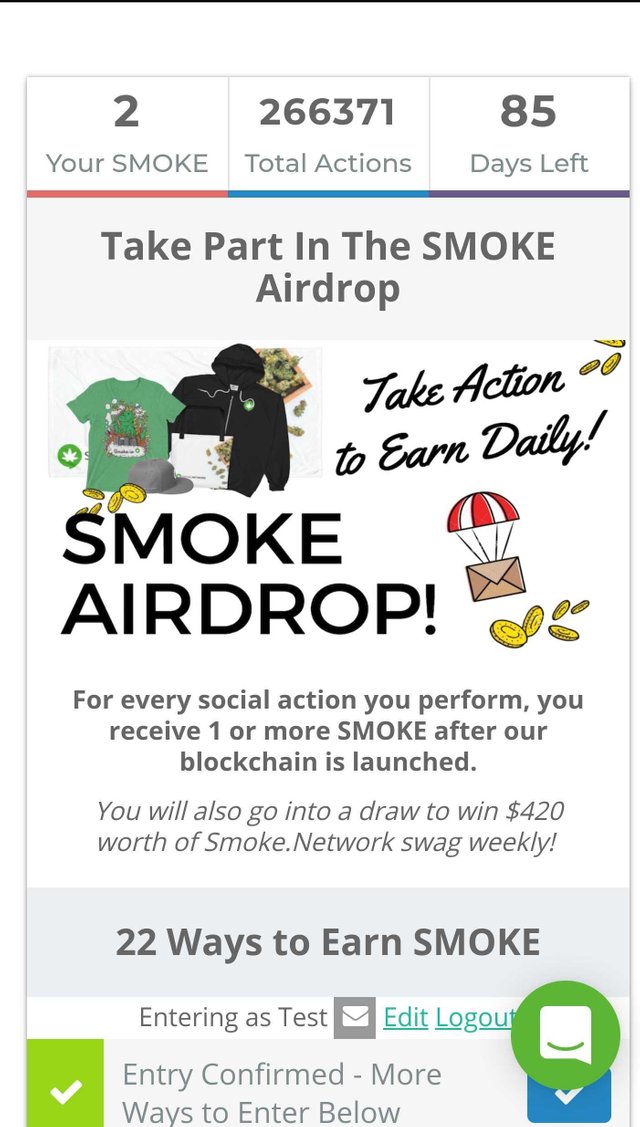 See in the top left corner we have earned 2 smoke for signing up.
Step 4
Now I will walk thru each way to earn smoke from the airdrop. Most of these are pretty straight forward.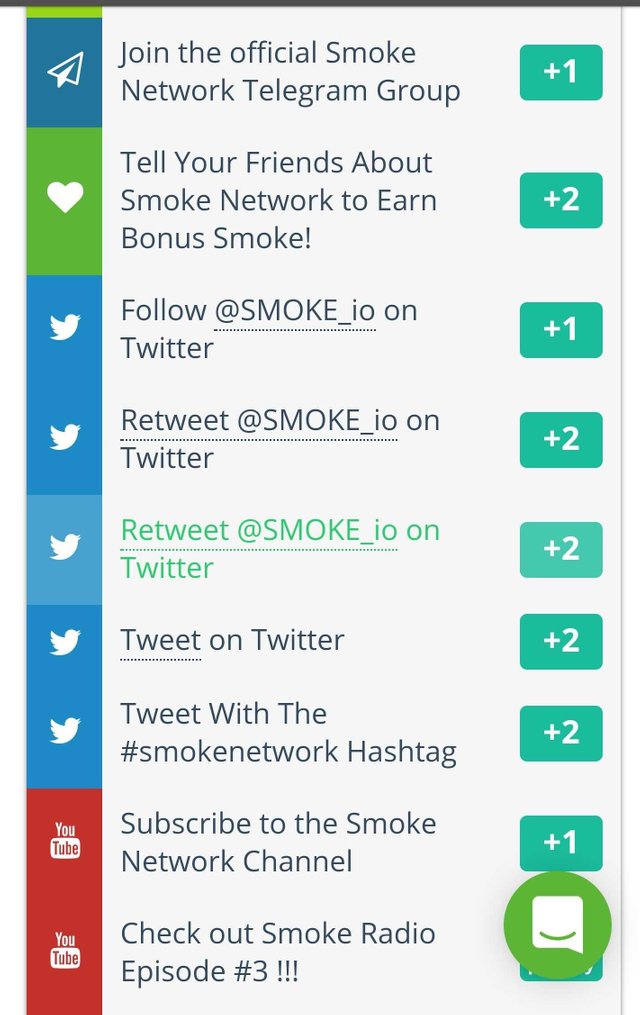 #1 Pretty easy come join the rest the smoke community over at telegram.
#2 This is one you can earn a lot smoke tokens daily by getting your friends family coworkers and fellow stoners to join the airdrop
#3 I am gonna sum all the Twitter ones up in one step just click the + and it will take you to Twitter to retweet or like and post on your profile.
This sums up 3-7.
#4 This one explains itself with click that subscribe button to smokenetwork you tube channel.
#5 This one just sit back roll and nice fat blunt and enjoy the next hour of some great music and talk about the smoke.network. This week was special as we now have a new host with @kiefpreston.com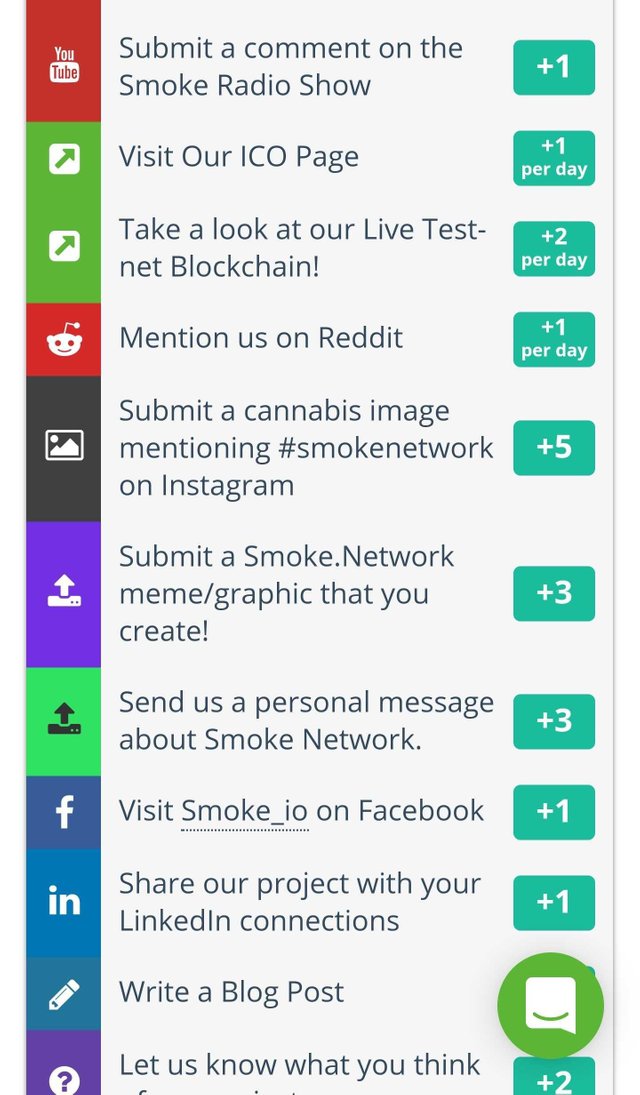 #6 just leave a comment on you tube on how amazing the smoke radio show is or how excited you are about smoke network.
#7 This one you can do daily and you may even see some updates on the ico that starts on none other then 4:20.
#8 This one you can come checkout the testnet for smoke.io and earn some free smoke while your at it.
This is a guide I wrote up to set up your smoke.io test net account.
#9 This one explains it self really and is fine daily.
#10 This one you can just go take a picture your nicest buds or make a smoke image and tag smokenetwork on instagram.
#11 This one go be creative and make your self a meme and submit it to the smoke.network.
#12 Why not send smoke team a nice friendly word about how great a job they are doing.
#13 Go on over to Facebook and visit the smoke.io page.
#14 Why not go on over to linkden and share with all your contact's to come join smoke.io
#15 Why not do some research and make a blog on steemit or Reddit or your website and post about smoke network and get some extra smoke.
#16 Tell them about the great things they are doing and come back daily and get your free smoke.
Well that's is the steps to join and earn some free smoke before the mainnet platform goes live.
Some very usefully smoke information.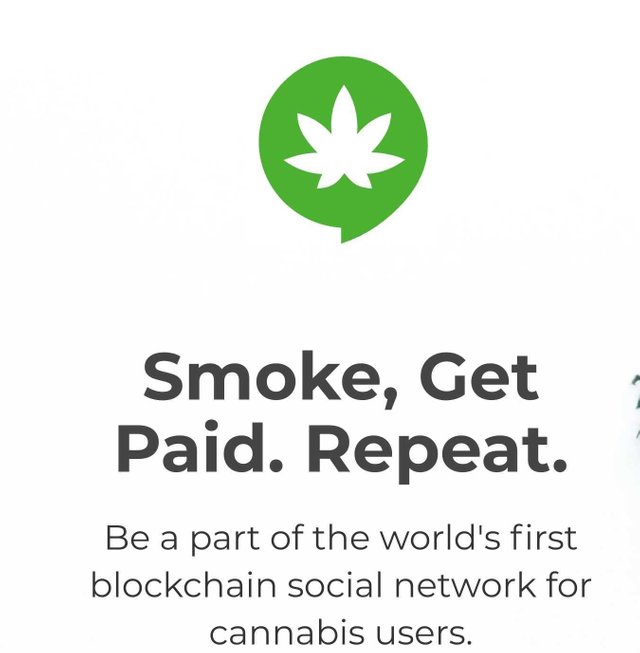 Smoke airdrop
Smoke ico page
Smoke test net
Smoke whitepaper