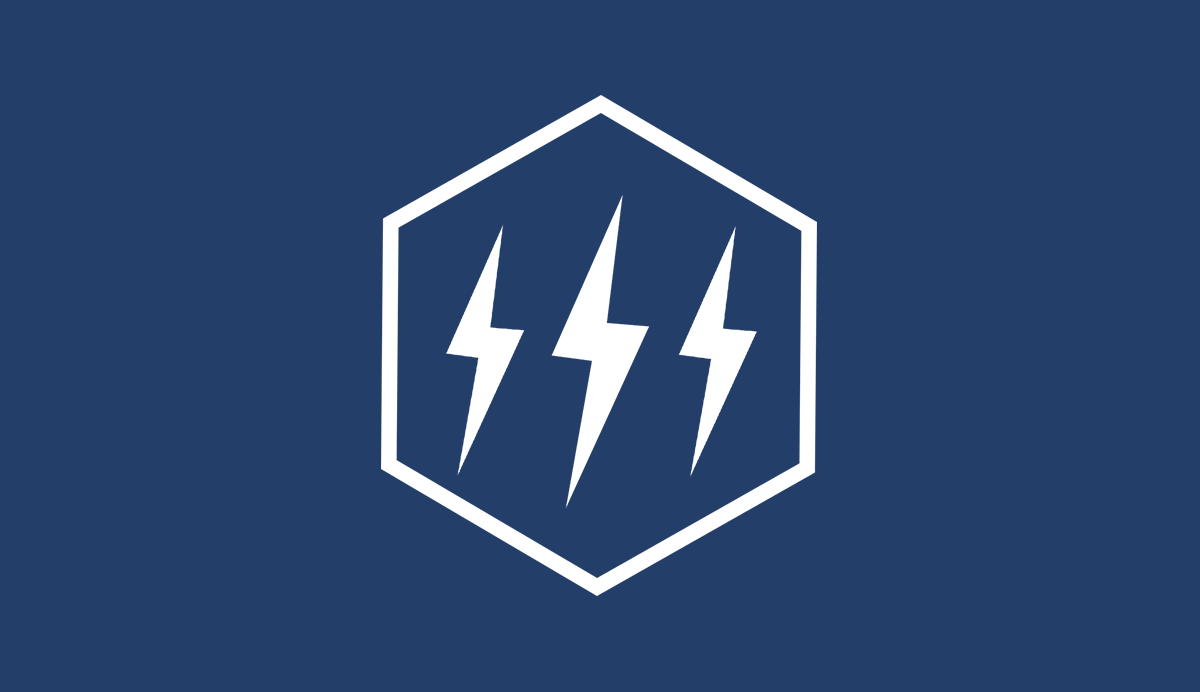 Can I easily buy and sell upvotes at smartsteem? How can I delegate STEEMPOWER to smartsteem? And: Is the use of smartsteem profitable?
In this article I will try to answer all these questions and many more. I will show you the advantages and disadvantages and also clarify the question: Is the use of smartsteem recommendable at all?
Since I'm here on Steemit I've been dealing with the bots and use various bots regularly. Not all of them are very advisable so I only use a handful of them. For a few weeks now I've been grabbling with smartsteem and so far I'm keen and would like to share my experiences with you. Let's go....
Click here for the German version of the article
Table of contents:
What is smartsteem?
Buy Upvotes
2.1 The Market for Vote Sale
2.2 The bid-bot
2.3 Account Status: Whitelisted
Sell Upvotes
Delegate SPEEMPOWER
Referral System
1. What is smartsteem?
---
Smartsteem was developed by my compatriot @therealwolf and it could absolutely take up the cause of "Made in Germany". Additional it shines with its absolutely cool design. The function of smartsteem has been reduced to the essentials, but has been continuously further developed. The handling and functionality of smartsteem is flawless and simple. In many respects @therealwolf clearly sets new standards in the botscape with smartsteem.
Smartsteem offers various components. There is a bid-bot with more than 150,000 STEEMPOWER and the Vote-Selling Market with more than 1,020 sellers. Thereby @smartsteem acts as bid-bot and @smartmarket represents the market for vote sales. I will explain the difference in more detail below.
2. Buy Upvotes
---
Buying Upvotes is a great way to promote your article on Steemit. Your article will be listed in the tag-lists much better and your purview will getting much wider which will result additional upvotes, comments and followers.
Buying upvotes doesn't necessarily mean printing money. Since the STEEM/SBD course is constantly changing you have no guarantee to get out more after 7 days than you have deposited. This can result in a monetary increase of zero rounds. Therefore, please consider Upvotes as a promotion tool and not as a money printing machine. That doesn't work out and also it isn't the sense of the community.
There are two ways to buy Upvotes via smartsteem:
A. The market for vote sale under @smartmarket and
B. The bid-bot under @smartsteem.
The value of an upvote is not fixed by the bid-bot because the upvote comes from the account @smartsteem. The value fluctuates because it is dependent on the respective point in time. The value could be very high (e. g. 3x) or it could be very low (e. g. 1.8x). You can easily track the current value by using steembottracker.com. In contrast to this the value by the voting market is fixed under @smartmarket.
2.1 The Market for Vote Sale
I prefer the Vote-Selling Market. The value of the vote is fixed between 2.2x and 2.5x. What I also like here is the fact that the Upvotes don't come from a single bot account but from different accounts (sellers). It is also not necessary to leave a comment after the upvote because for me the comments of the bots afterwards are very unattractive.
To take advantage of the voting market simply send your desired amount of SBD/STEEM to @smartmarket via your wallet and the link to your article in the memo.
Alternatively you can also use the smartsteem website. Simply register with smartsteem via steemconnect.com and grant the necessary permissions. Afterwards this comfortable form is at your disposal: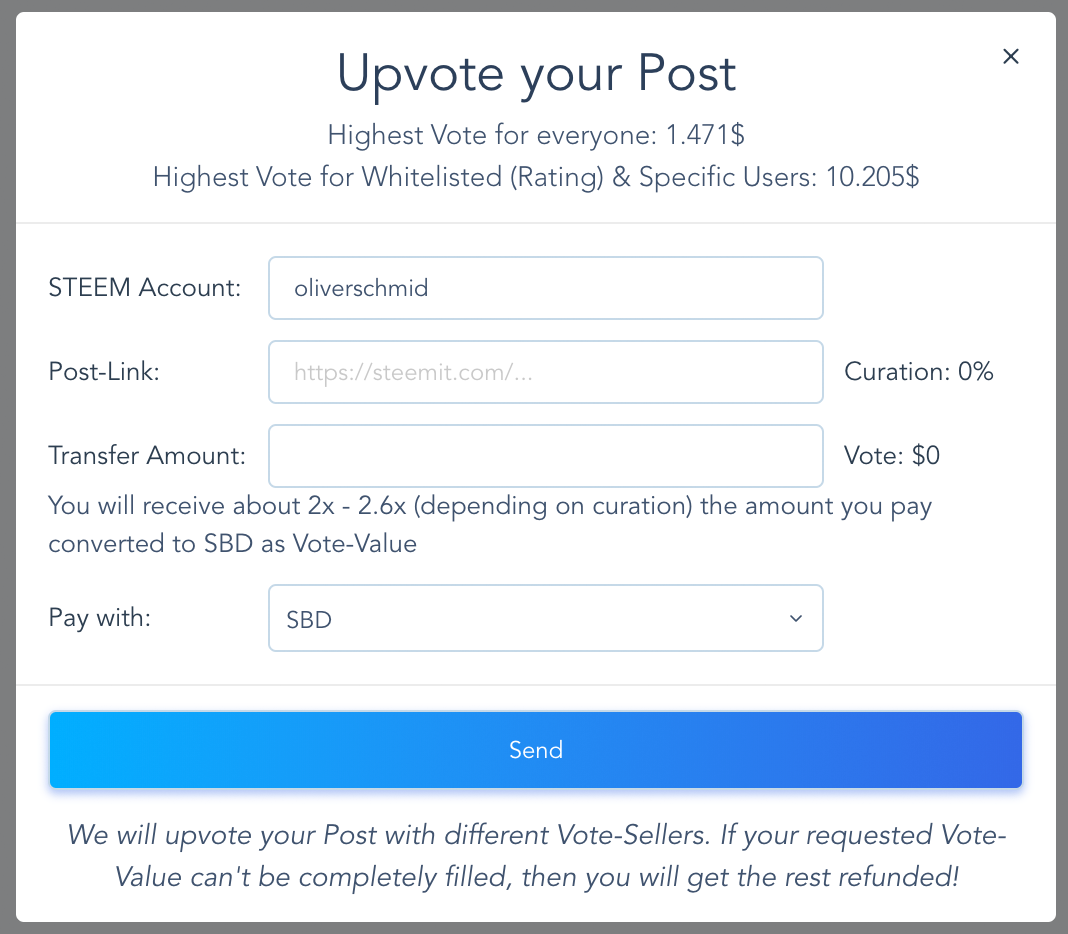 All purchased and sold Upvotes are stored in your account and can be traced retroactively.
2.2 The bid-bot
If you have already exhausted the market for voting sales and need another big vote you can use the bid-bot afterwards. This order is recommended and it's a part of my usual procedure. Mostly you don't need the bid-bot because the number of participants (currently 1,020) in the market for voting sales is already sufficient.
2.3 Account Status: Whitelisted
After you have registered on smartsteem you should make sure that your account is whitelisted. For this you have to write a mini-application which is also checked manually. Your account will be scrutinized carefully so make sure you try hard. Write about who you are, what you intend to do on Steemit and give an overview of the current and future topics. It will take a while until you get unlocked because the waiting list is very long. You will then receive a rating between 1-3 stars. I have received 2 stars and I'm pleased with this. Only then you will get the bigger votes.
3. Sell Upvotes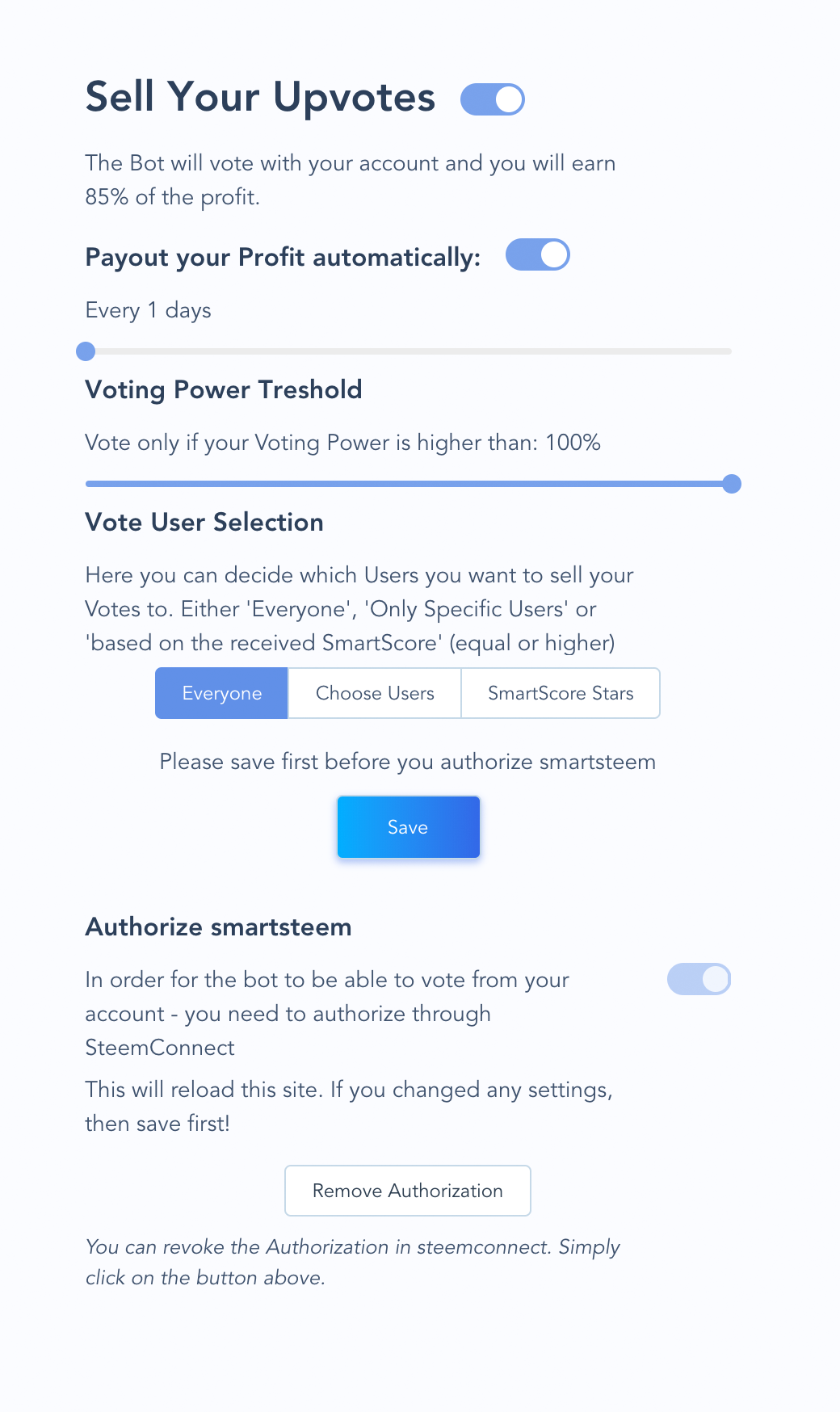 For me the selling of upvotes on smartsteem is extremely exciting and I've been testing it since February 1st, 2018. Just click in the menu above on "Sell Upvotes".
You will then have several options for configuration. Visualized on the screenshot (right).
Sell Your Upvotes: Activate bot.
Payout your Profit automatically: Activate automatic payouts and set interval.
Vote User Selection: Who should be allowed to buy votes from you? Option a) Each, option b) User-defined list, option c) Predefined list of users by star (1-3 stars) of smartsteem.
Autorize smartsteem: Give the bot the final permission to place upvotes in your name.
As you can see I've activated the bot and have it paid out daily. The bot only becomes active when my voting power reaches 100%. On days - and now it's getting exciting - when I don't publish any articles, not voting or I'm not logged in on Steemit the bot starts voting at 100% voting power. And the whole result since 01. February looks like this...
My previous payouts:
---
| Amount | Asset | Date | Status |
| --- | --- | --- | --- |
| 1.400 | SBD | 02/12/2018 | Paid out |
| 2.053 | SBD | 02/11/2018 | Paid out |
| 2.328 | SBD | 02/10/2018 | Paid out |
| 1.838 | SBD | 02/08/2018 | Paid out |
| 1.626 | SBD | 02/08/2018 | Paid out |
| 0.692 | SBD | 02/04/2018 | Paid out |
| 0.067 | SBD | 02/01/2018 | Paid out |
---
Here is an example based on a single vote:
My last sold vote had a voting value of 0.744 SBD (02/11/2018). I received 0.277 SBD as revenue for this vote which corresponds to 85% of the total revenue. For this service smartsteem retains 15% which in this example corresponds to approx. 0.049 SBD.
Add to that my curation rewards. If I wouldn't vote it would probably be currently about 2.5 SBD per day.
4. Delegate STEEMPOWER
---
Before I started to deal with the sale of Votes I delegated 100 STEEMPOWER. STEEMPOWER is delegated directly to the bid-bod @smartsteem and you get a distribution of 95%. This sounds better than the 85% when selling votes. But all curation rewards are dropped. However I resent it that I'm not very flexible on this subject. The delegated STEEMPOWER is "permanently" delegated and cannot be activated or deactivated as with the sale of votings. A delegation cannot be discount immediately because it takes exactly 7 days until the STEEMPOWER is available again.
In my opinion a delegation is only worthwhile for very large accounts that can easily delegate 10,000 STEEMPOWER and they still have enough STEEMPOWER in their account to "work"with it. Basically this option makes sense but it is probably practicable only for the fewest.
5. Referral System
---
A few days ago the referral system was introduced. Here you get 0.5% of every sold vote. You also have this access without using smartsteem actively. Just register on smartsteem and get started.
Kind regards
Oliver
You might also be interested: