Getting High on the Mountain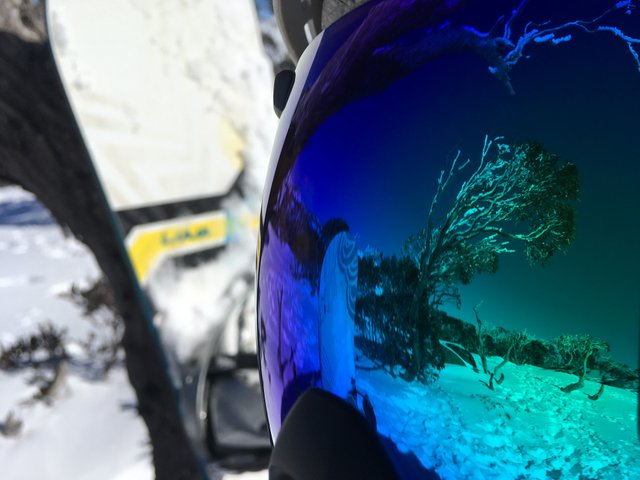 I'm kinda proud of this photo that I took while I was high on the mountain... not the kind of high you might be thinking though. Does it sound better if I say I was high on white powder?
I've been working my butt off lately and my hubby agreed with me when I said I need to go to the mountains to get away from it all. I think that might be his nice way of telling me that I've been a bit painful to live with - but either way I was so bloody happy to get there.
Our Aussie Alps are so incredibly beautiful, and by this time of year I'm always ready to 'lay it all out on the mountain'. I took this photo when my family and I were stopped for a drink and figuring out which go to give ourselves the best chance at fresh untracked powder. I love the reflection of the snow gums and my board in my hubby's goggles, and my hubby's out of focus board in the background.
To be honest I probably just love the photo because we were able to find a good little stash of powder straight after I took it, so the photo is just a great memory.
Cheers all!
Bec.