Announcement: Delegation from Stellabelle is Being Withdrawn From @slothicorn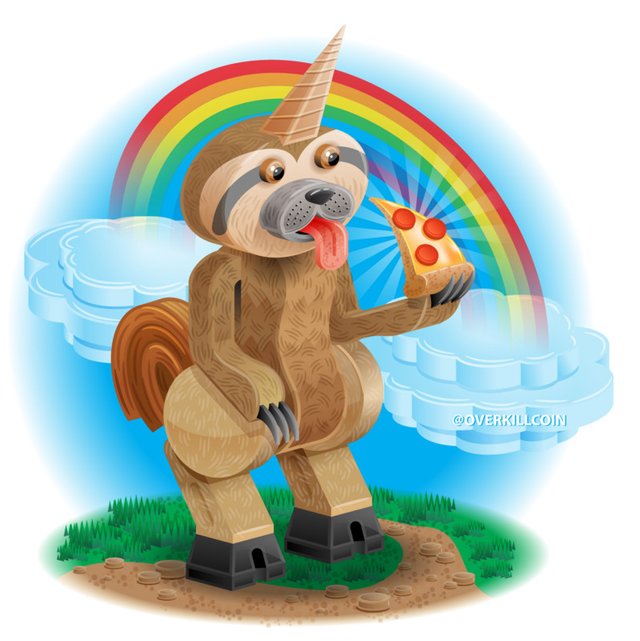 image by @overkillcoin
I wanted to make sure everyone is aware that I (@stellabelle) am removing my delegation from the @slothicorn account. There are many reasons I decided to do this and I want to explain in depth so that everyone understands.
My Steem delegation earns zero in ROI. Slothicorn is a charity project, and I am earning zero from it. My financial situation has undergone an extreme situation and I can no longer just run the @slothicorn project alone that I founded (as far as delegation).

There are two projects, possibly three that are currently on the Steem blockchain that I feel could save Steem from an irreversible decline. I am speaking mostly about the dismal retention rates on this platform, and I've known since the beginning that the reputation system is not functioning to any significant degree. As it stands right now, reputation can be bought, and the system was never designed that way.
I feel that this is an urgent need right now, more urgent than anything else. The two projects that I feel could bring mass adoption to the Steem blockchain are @partiko and @userauthority. I will be partly delegating to the @userauthority account and may also invest in @smartsteem.
Briefly let me explain these two projects and why they are essential to the long-term health of the Steem platform.
The Partiko app is a mobile app which is in the Google play store and Apple Appstore. I've been using it for many days now and it's very fast and user-friendly. But it's not just the speed that makes me think it has mass adoption possibilities, it's equipped with activity points that you get just by logging in, commenting, upvoting and posting. Essentially, it is how steemit.com should have been designed from the beginning. Activity rewards make people want to check in daily, and be active. I don't know exactly how the points we earn in Partiko will be used in the future, but they will have some kind of system. Activity points make people feel like they are using their time wisely, it's a very psychological aspect that I know is necessary for retention.
The other project, which @scipio and some others are working on is quite involved and it's being created in order to fix the broken reputation system. UA (User Authority) is programmed to detect people who have solid, engaged followers and activity. Right now, there is nothing on Steemit like UA. Only whale votes are used to calculate reputation. That system is broken actually. I want to see UA adopted, to find out if it can repair the reputation system in a meaningful way, because I don't think that Steem will be able to compete with other social media blockchain competitors if it doesn't fix some fundamental aspects, and retain users. This is a critical time.
In order to better address these more serious issues, and to raise awareness of these projects, I have started something called the BANANA PROGRAM. It's basically a very simple task-based project that rewards people who complete 3 tasks per week. It also gives a lot of room for randomness and it's main purpose is to provide users with easy tasks to complete in order to get an upvote from me. Part of the program's purpose is to introduce new people to the Partiko app, which I think has all the elements of mainstream adoption, including customer service.
The developer of Partiko is an AirBNB developer, and he answers all the questions that people ask of him. This aspect plus the fact that the app works so seamlessly, made me realize that if only people knew about it, I believe they would become more engaged on here. I know it has been having that effect on me, and I am picky as hell.
But what about @slothicorn?
The real issue is finding delegators and I'm looking into fundition.io. I don't know exactly how fundition works, but I'm researching it. I am not ready to make any other final decisions regarding slothicorn, as I am still thinking about it. It's not an ideal situation, I realize, but the fact that I am the only delegator is also not an ideal situation. There are other reasons I am removing my delegation and the other reason is that my passion for this project has waned considerably. Being a starter, not a finisher is another reason. The crypto markets crashing is yet another factor.
Credit has to be given to @justatouchfey, @ghulammujtaba, @inquiringtimes and all the others who basically are running slothicorn project. I think finding solutions (delegators) is what needs to be focused on. I'll be in discord in the next days hearing various solutions.
Is this an ideal situation? No.
Is it fixable? Yes, with more knowledge and more people coming forward who want to support the @slothicorn project. If you or anyone you know is familiar with how fundition.io works, have them reach out to me.
I'm still thinking about what the right course is, and to be honest, I don't have a definitive answer right now, but I wanted to let everyone know what is going on.
Thank you,
Stellabelle