The group home and residential 'treatment'/'care' center industry is largely federally funded. They present themselves as "home-like" and "therapeutic" as they serve as a replacement for real homes with family, or foster parents if need be.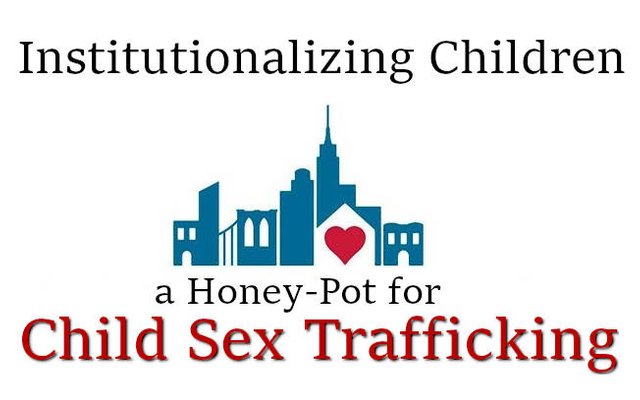 Made from Source
Many residential "care" centers receive funding as refuges for *"children and youth who have been found to be, or are at risk of becoming, sex trafficking victims." Yet they don't actually protect children from being victims of sex trafficking. Instead, some of these places enable sex trafficking by making a honey-pot for criminals to target.
The closing down of some of these places is good news for children. Take for example Hawthorne-Cedar Knolls in Westchester County, north of New York City which institutionalizes children. It's scheduled to shut down. The Jewish Board Family and Children's Services that runs the place is doing so because of pressure from upset local residents who brought about it's closure.
What do they have to be upset about, right? After all, this is a place to help children. Well, it turns out this place, like other child institutions, was full of violence and sex trafficking.
The children who get sent to these places often have better options, and don't need to be there in the first place. Some are even taken from parents and family where they would be better off. Anything these "care" centers claim to be "authorized" to do better, can be done in wraparound programs that target a child' original family home or foster home. These residential centers often end up being environments that promote greater trauma and abuse.
Back in 1990, the New York Newsday exposed Hawthorne-Cedar Knolls and sister-institution Linden Hill as being "plagued by violence, unchecked sex, and poor supervision. … Said one counselor: 'They have lost sight that the program is no longer safe to kids. It's outrageous.'" At the time, they blamed the children. One case of a 14 year old girl being forced to have sex with another boy was said to be consensual by the director, saying:
"Do you set up a situation that is locked down or do you allow kids to try their wings? [You ask] how could it happen? Well, it's almost inevitable. Love knows no locksmith."
In 2017, Hawthorne-Cedar Knolls has a history of massive runaways, at 73% a year. Runaways were falling victim to sex trafficking, as reports a New York Time story. But they painted the institutions as being stuck between giving children their freedom to runaway, or be a prison that keeps them locked up.
But, what about the logic of realizing the problem may be the institution itself that the children are running away from? With 73% of children running away, that points a big finger at the source that being run from.
In 2018, the NTY did a follow up report on Hawthorne-Cedar Knolls:
On Thursday, the breadth of a pipeline carrying young women out of Hawthorne and into prostitution became clearer. Nineteen people were charged in a sex-trafficking ring that exploited young women and girls as young as 13 years old, federal prosecutors said.

At least 15 victims were in the child welfare system, including nine who were residents of Hawthorne, the prosecutors said. …"These were especially vulnerable victims," the prosecutor, Elinor L. Tarlow, said. "They didn't have stable residences. They didn't have family support. They didn't have guidance."

She said the accused traffickers capitalized on that vulnerability. "They approached victims as if they had a romantic interest in them," she said. "They offered them a place to stay and then they pushed them into prostitution."
This is a classic tactic by pedophiles and sex criminals. They deceive young people trying to find a real connection and go somewhere better. They have no real connection to an impersonal "care" center that is often full of violence and other abuses. Child "care" institutions and group homes act like a honey-pot to serve up these vulnerable children. Thus, sex trafficking proliferates more.
These centers the institutionalize children can easily get funding thanks to the "Family First Act". Rather than provide help to real homes, this act has nothing to do with real family. The loose requirements to get funding makes these intuitions cash cows that use kids-for-cash. The federal money can be obtained just for:
A setting providing high-quality residential care and supportive services to children and youth who have been found to be, or are at risk of becoming, sex trafficking victims.
Residential treatment centers or group homes can get hundreds of dollars per day, per child, just for meeting that criteria and claiming they actually "treat" children despite being failures at it. Child are being exploited for money, and funneled right into the hands of sex traffickers that they are supposed to be protected from. What a joke.
---
references:
---
Thank you for your time and attention. Peace.
---
If you appreciate and value the content, please consider: Upvoting, Sharing or Reblogging below.


me for more content to come!
---
My goal is to share knowledge, truth and moral understanding in order to help change the world for the better. If you appreciate and value what I do, please consider supporting me as a Steem Witness by voting for me at the bottom of the Witness page.