SevenFingers Creators WEEKLY CONTENT [ Bulletin #15 ]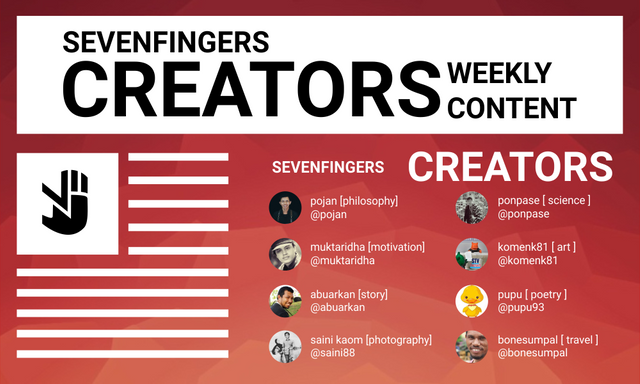 Hi everyone. Steemit is where we share and create informative and educative content for all readers. therefore, sevenfingers built a great team of great creators and we summarize their writing in Sevenfingers Creators Weekly. this is a bulletin of content already creatd by our creator and we make weekly reports for the 3 best post they have created.
SevenFingers Creators is a person who has become a model for sevenfingers community in guiding beginners in creating content as well as maintaining the quality of sevenfingers tags to be filled with content that is worth reading.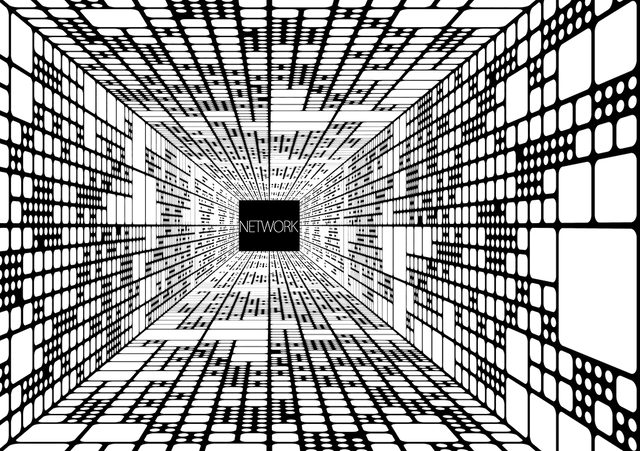 Good night, motivation to live, I am sure that we are all motivators for others, why not. When you do something that might be worthy of exemplary, then at that moment without realizing that you have provided real motivation to many connoisseurs so they are inspired. Maybe we just judge that motivation comes from words published on Instagram, but it's actually not the case, because the best motivators are those who show all their behavior with perfect examples. But what about me who just likes delinquency in all fields, am I also said to motivate you? Yes, I think you are also a motivator with the ignorance you have. At least some people will learn from your behavior that the problem is not worth continuing. Maybe there is one thing you need to correct, you have to do transformation, right. You need the biggest transformation of your stupid movements, because after this problem is successful, you have shown an extraordinary motivational drama for all humans who learn from the story of your life. Prove to yourself, that they are inspired by your situation.
---
If indeed it is something real, then hopefully now we all feel our own happiness. It is true that feelings cannot be deceived, but it would be better if you forget all the lies to show the feelings you have, if you are happy, then tell a few of your friends that today you are happy, proud, because happiness will be very difficult for you to get when you will forget some people who help you happy. Because I think friends are all from the peak of happiness. I don't know where your happiness is, I also don't know where it makes many people happy. But I believe that you who express happiness through your body movements are someone who is truly happy compared to those who only express through words. Sometimes we also judge someone from the outside, but in essence it is a big mistake, if today you see someone with the simplicity he has, even his days are always passed by hard work. Call it scavengers, they will come out early and return at dusk, it is clear that our minds are very unhappy. But realize you, that basically they are someone who enjoys life in their own way, making money while adventuring, maybe that's what they feel, obviously it's very very entertaining for those who enjoy it all. If indeed it's something real, then hopefully today we all feel our own happiness. It is true that feelings cannot be deceived, but it would be better if you forget all the lies to show the feelings you have, if you are happy, then tell a few of your friends that today you are happy, proud, because happiness will be very difficult for you to get when you will forget some people who help you happy. Because I think friends are all from the peak of happiness.
---
Warming life, sometimes I need a blanket to care for this body, it doesn't mean I'm afraid of cold, it's just that I need it for comfort. I believe that you, me, and all of us will do anything to enjoy comfort, even to the mountains I will seek that comfort. But will I get all this with my struggle? Yes, I am sure we will find everything from the struggle we have done. Sometimes it's not right, right! because not everything you want will be achieved perfectly, keep going, continue the journey, and never be satisfied with what you get. If dusk is a barrier day and night, then I have to make a pause between success and failure. Right, you need to rest if you feel that the conclusions you have are not in line with the targets you set, otherwise it is not the word surrender, because it will kill a long future in your life. Twilight is a sign that the end of the story today, but that does not mean that night is a barrier to returning to work tomorrow. The story will remain in accordance with the theme you are playing, the error will always consist of a series of news that you collect, but that does not mean it is a burden on your journey, again remind your mind that the main target is to achieve the goal.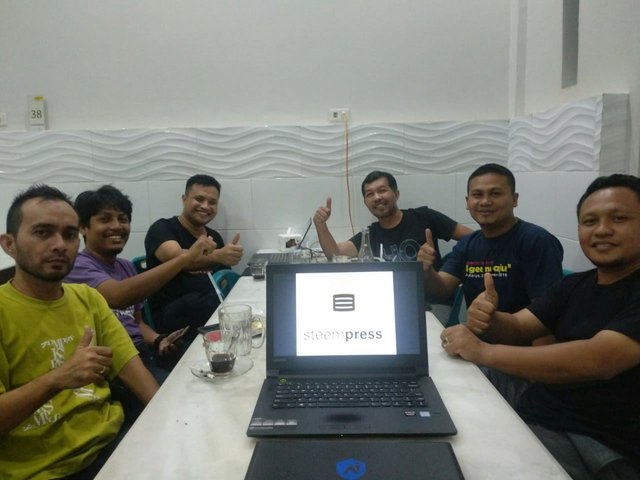 original photo
Personal experience using plastic steempress for the past three months. The results were amazing, only two hours later @ steempress-io came to give upvote of 30 percent, with a figure of approximately $ 30 SBD at that time, with steem currency exchange rates still good (Rp. 20 thousand / SBD). It became the highest vote I received since I joined here, January 2018 ago. The next post gets an average vote of around 7 percent or equal to $ 7 SBD. And until now, on average I got a vote from @ steempress-io with that percentage, only with the current low SBD value (Rp. 13 thousand / SBD), only got $ 3.8 SBD. I really admit that
@steempress
has made an unbroken spirit to write in steemit, even though some friends have given up on the low prices that hit the entire crypto currency. That reason also made me never withdraw a dime of STEEM or SBD for RUPIAH. The reason is simple, waiting for the price to rise again. []
---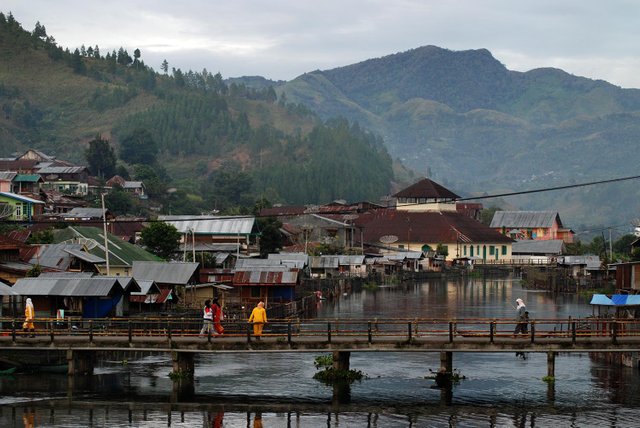 original photo
Continued story when attending anti-corruption socialization in Aceh, 2006 ago. During the activity in Central Aceh, there was a critical question raised by the participants. "Does the KPK participate in monitoring the military operating costs used during martial law in Aceh? If there is, what are the results, "asked one young man who worked at the International Organization for Migration (IOM) in Central Aceh. Again, in a workshop at the council building adjacent to the regent's office, a number of councilors raised questions about the audit of state funds destined for two years of military operations in Aceh. Please read more.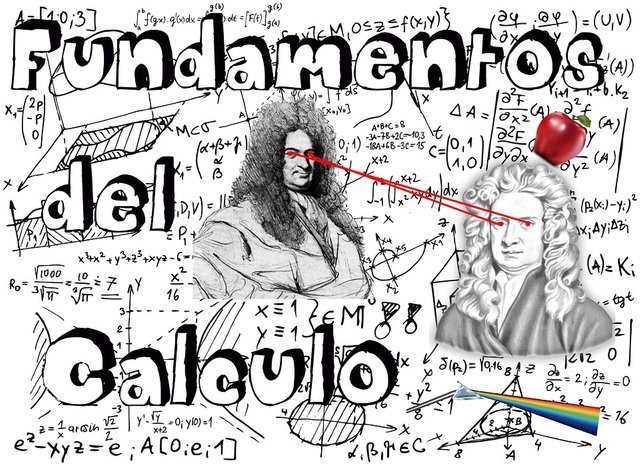 image by pixabay
We might understand that balance is about harmony. In living this life, we are often advised to be able to balance everything. Both the balance is in the form of material and non-material needs. When we want to consume a food we will balance the amount of consumption with the amount of production available. In addition, what we need to pay attention to is our ability to be able to buy all the needs that will be consumed. This is an alignment between the amount of income we have and the amount to be spent.
---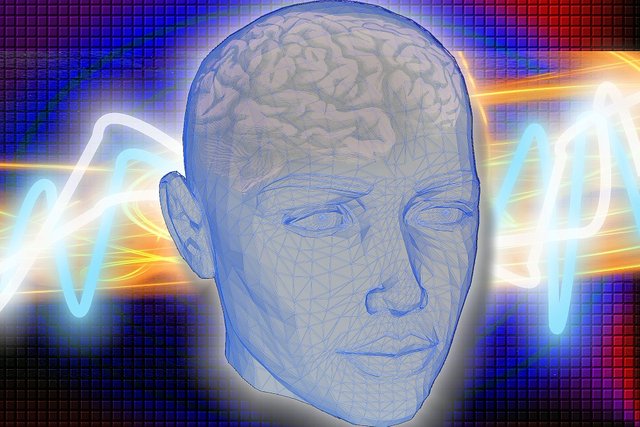 image by pixabay
Emotional and schological we begin to feel uneasy. That is what I mean that energy can be transferred because we have an inner connection with family or loved ones. We feel all that and I am sure we have experienced it. This of course arises a sense of curiosity for ourselves from where it all happened. Science comes from God and the universe is a field to seek that knowledge. All hunches and prejudices are transferred like a signal to us. Balance must be implemented between science and action (practice), between hope and fear, between religious life and the life of the universe.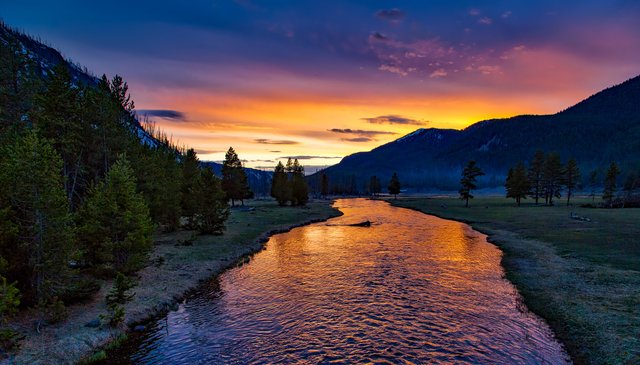 image from pixabay
The poetry "Be Yourself" is a poem that tells about life. Everyone has various characters and perceptions in living his life. Likewise in determining in each choice is implemented. Various possibilities can occur from every choice we choose. It is important for us to determine the right direction according to our ability to do something useful for us and others. Being yourself the right action as a solution to the complex problems we face. We do what we want, what makes us happy and beneficial to us and others.
---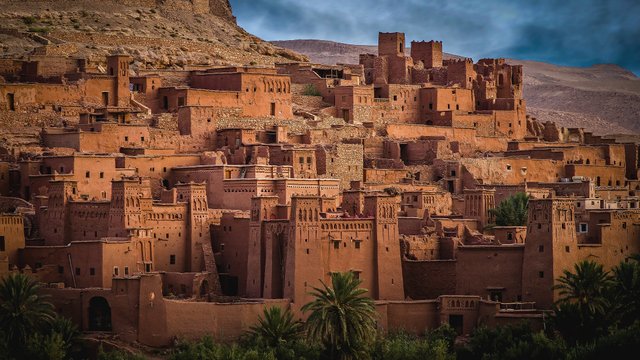 image from pixabay
This is poetry with educational character. The poem, which is categorized as a rhyme, tells the story of God 's Apostles named Ibrahim. This story consists of several chapters and on this occasion the first part explains the birth of Ibrahim. The purpose of making this poem in addition to an appreciation of the preservation of Aceh's old poem culture is also an educational medium. Why can it be said because this is purely a history of Islam that must be preserved for future generations. Linking it in the form of poetry is to attract readers. Imagine reading a story in a book that is many pages, but this is presented in interesting rhymes and is easy to remember. This may be almost the same as a synopsis, but in a different package. Hopefully useful!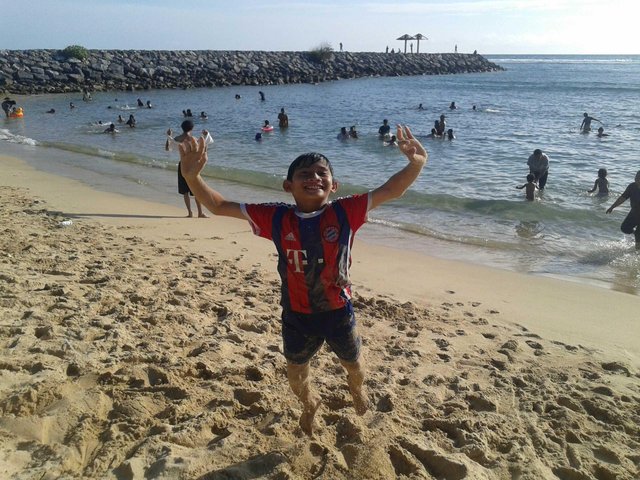 original photo
Babah Kuala Beach is one of the great places to take families on vacation, because this beach is safe for children who want to play water and enjoy other things. This location has also been managed well, because of the huts that sell fresh food and drinks. For those of you who are in the Banda Aceh area and its surroundings, Babah Kuala beach is perfect for bringing families on vacation. Remember, children's growth and development depends on us as parents how to educate them. I suggest as an education about the importance of children recognizing nature. Thank you for reading this content, hopefully useful.
---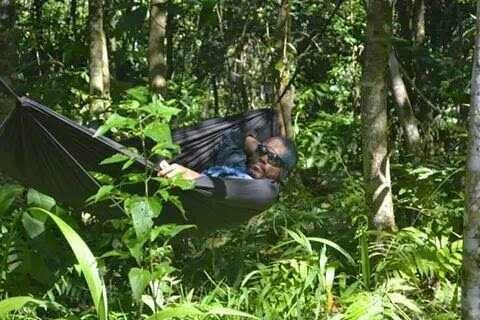 view post
Everyone has their own way of looking for identity for a better life. Some spend their time having fun, some spend their time to worship and peace with nature. Basically, the nature of humans is never satisfied with what they have obtained, depending on whether we can control ourselves or not. On this occasion I would like to tell you about what I have done while working freely, certainly not an easy thing to do but worth doing. I am aware that the more we are mature in thinking, of course about the purpose of life. After entering into an outdoor activist organization, I began to realize that identity needed to be sought. I began to search and keep looking, whether it was going to climb mountains and other natural activities.

Thank you for looking at the summary of content already created by sevenfingers creators. this bulletin has been written and noticed by all creators above. hopefully with this creators can try to keep making great content every day and become a model for other creators.
This proves if sevenfingers are serious and highly appreciative of content creators in providing information and will continue to be a great community to help newbies and help great creators achieve success.

Author: SevenFingers Creators
Chief Editor: @pojan | @ponpase
Courtesy : @arie.steem | @coretan | @podanrj | @team2dev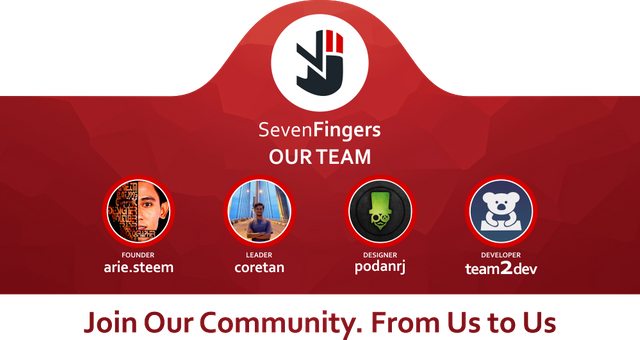 ---
Posted from my blog with SteemPress : https://blog.sevenfingers.io/2018/09/11/sevenfingers-creators-weekly-content-bulletin-15/
---