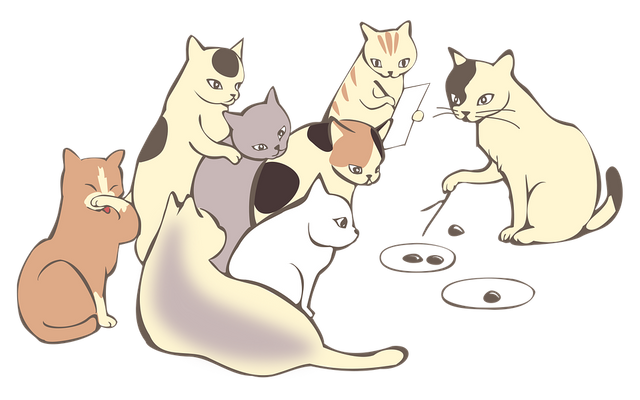 By naobim on pixabay.com
"But everything is made up of amino acids, right?"
Sometimes, I forget that biology is not easy. Sure, I know that advanced techniques are far from common knowledge, but there are many things that I assume everybody just knows, because I learned them in school. But I tend to forget that biology was one of my final exams and that even some of my peers never had biology after the age of 15. And that creates a huge gap of knowledge, of which I am often not aware.
Most, if not all of my posts serve the sole purpose to bring some interesting facts or methods in biology closer to those who have never, and will never work with them because it's still interesting and I think every educated human being should venture into unknown terrain from now and then. Because if we don't, we might be specialists in our fields but lose sight of all the other marvelous things that exist.
To help my readers that share my excitement but not my knowledge, I decided to write some slightly more basic posts, to which I can refer to when I'm trying to explain something more complicated. It still won't be super detailed, you still won't be able to join a highly specialized discussion, but it should be enough to understand the basics and maybe even understand what's going on when someone doesn't make the effort to try and explain it.
So, here we go with my first part of this, "The Building Blocks of Life".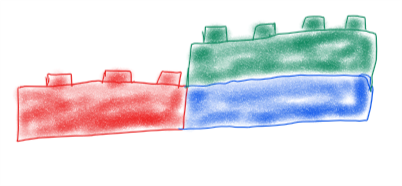 ---
What are we made of?
---
If I ask you this question, some of you might answer "cells". Others might counter with "proteins!" and I'm sure someone will say "atoms of course". They're all right – kind of (the atoms guy actually more than the other two).
The main atoms our body is compromised of are carbon, hydrogen, oxygen, and nitrogen. There are some others like sulfur and phosphor (and several more), but these four are technically the most important ones, as they appear over and over again in various ways:
• Carbohydrates, like glucose (what we generally call "sugar")
• Fats
• Proteins
• DNA
• RNA
• Other molecules I won't list because I won't explain them in detail anyway
I won't force you back to chemistry class (if you ever took one), just want you to keep in mind that most things that make up our body are built from the same atoms, just in different structures.
For this post, I will explain DNA/RNA and Proteins a bit in detail.
---
Proteins
---
I'm starting with those as I assume most of you already have a vague idea what proteins might be. We have to eat them, they make up our muscles and there is something about amino acids, right? @suesa
Amino acids are acids with an amino group. I know, super helpful. To help me explain, please look at this picture: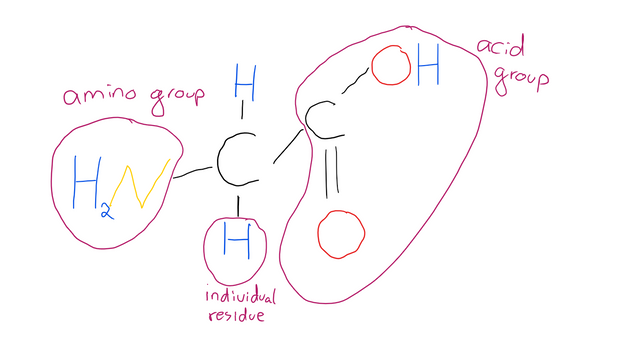 Okay, what do we have here? The letters stand for specific atoms, C for carbon, H for hydrogen, O for oxygen and N for nitrogen. You can see that I circled three parts, the amino group (this gives the "amino" part of the name), the acid group (this gives the "acid" part of the name) and an individual residue (excuse my v that looks like an u).
This is the basic structure of all amino acids (that make up our proteins), the only thing that's different each time is the individual residue. In this case, it's just hydrogen, which makes it the amino acid "glycine" which is the simplest one. But shit like this exists too:


Structure of Tryptophan, public domain, taken from Wikimedia.org
You can still see the basic structure in the right corner (the carbon atoms are symbolized by the "kinks" in the structure), but the left side … that's the individual residue. In our body, 21 amino acids are the building blocks of our proteins. Try remembering the structure of all of these …
Or not. You'll probably never need this.
Each protein consists of a specific set of amino acids in a specific order. How many amino acids that are varies greatly and a single exchange of two amino acids can render the whole protein unusable – or have absolutely no effect. That can happen too because nature is amazing.
After the amino acids are "glued together" (they interact with each other, forming bonds between the "acid" and the "amino" group of two different amino acids, which is organic chemistry so we sweep that under our rug to never look at it again), they form a long string. Sometimes, that's enough, sometimes they fold in a certain way, sometimes several folded proteins come together and form a bigger complex. It's all very neat, but not as basic anymore and we want to handle the basics, right?
Right. So here's the question: How do amino acids know how they're supposed to interact?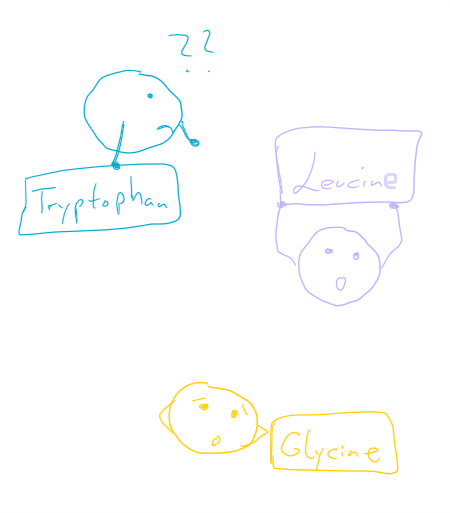 Yes, I added the "e" in "Leucine" later, because it's "Leucin" in German and I failed. Just ... ignore it. Look at their cute, confused faces instead. Aren't they adorable?
---
DNA and RNA
---
Your genetic code! It holds all the information on how to build your body!
But … how? What even is DNA?
It's Deoxyribonucleic acid! Okay, here we go again …
Deoxyribose is a sugar, that was created by removing one single oxygen atom from the sugar ribose (de-oxy = removed oxygen) and looks like this: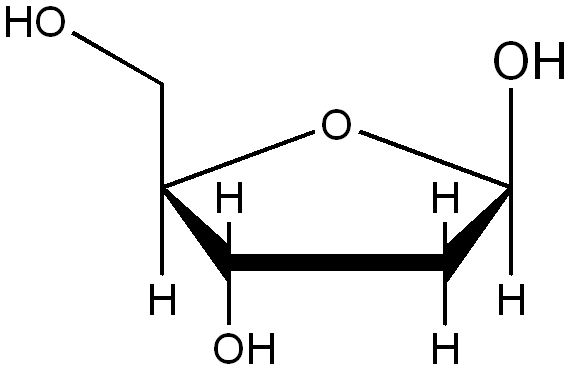 By rozeta, taken from wikimedia.org
Again, you can see carbon (the kinks), oxygen and hydrogen, the usual. Attached to that sugar is a phosphate group (the structure is not that important for you) and a nucleobase (I'll just call them "bases" from now on). The sugar and phosphate build the "backbone" of the DNA and are vertically connected to each other. The bases point "inside" and are horizontally connected to the bases of the other strand … but I am getting ahead of myself.
Let me introduce the nucleobases to you!
Their structure is not important for you right now, you just need to know their names: Cytosine (C), Guanine (G), Adenine (A), and Thymine (T). G always forms a bond with C, A always forms a bond with T. A typical DNA segment would be like this:

As you can see, we have two strands that are exactly complementary to each other. That's what's usually meant by "DNA" and that's what forms the well-known helix that always pops up when someone tries to show "DNA".
The order of the bases is important. There is a specific direction in which DNA is "read" by certain enzymes. Those enzymes start reading at specific points, under specific conditions. For that, a different enzyme separates the bond between bases, which allows the first enzyme to copy the info, which creates a single strand that is A LOT shorter than the complete genome.
Imagine it like two ropes, twirled around each other and fused at the ends. Untwirling the ropes would be a super annoying process and they would constantly try to get back into the "twirled" state. But you can just pick a single point and pull them apart, creating a hole. That's what the "separation enzyme" (helicase) does.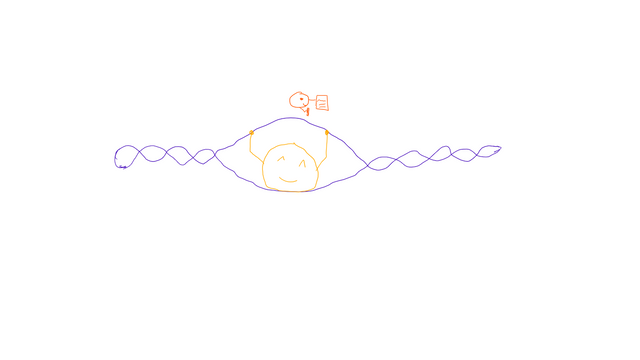 But the copy that's created by the enzyme isn't DNA! It is …. RNA. Ribonucleic acid. Remember how I said that deoxyribose is ribose just with an oxygen atom missing? RNA has ribose instead of deoxyribose. The phosphate group is the same, and the bases too … aside from one. Thymine doesn't exist, instead, we have Uracil (U). U only bonds with A.
RNA is usually only a single strand (there are several sub-forms though), not a double strand like DNA. It's also typically shorter. The current theory is, that life started out with RNA but switched to the more stable DNA. Some viruses still have a RNA genome and we need RNA for many things too.
The RNA copy of a gene is then transported to the "ribosomes", those are tiny units in the cell specialized on translating the RNA code into … an amino acid sequence! Finally, now you know how DNA can encode your genetic information. It serves as a template to build proteins out of single building blocks (like lego!), the amino acids.
And that works with base triplets. Remember how I said the order of bases is important? If the bases AUG come after each other on the RNA strand, they give the ribosome the "Go!" signal and the ribosome starts reading the bases that come after in pairs of three. Each tripled stands for one amino acid … okay, well, not really. There are amino acids that have several triplets that encode them. But look for yourself: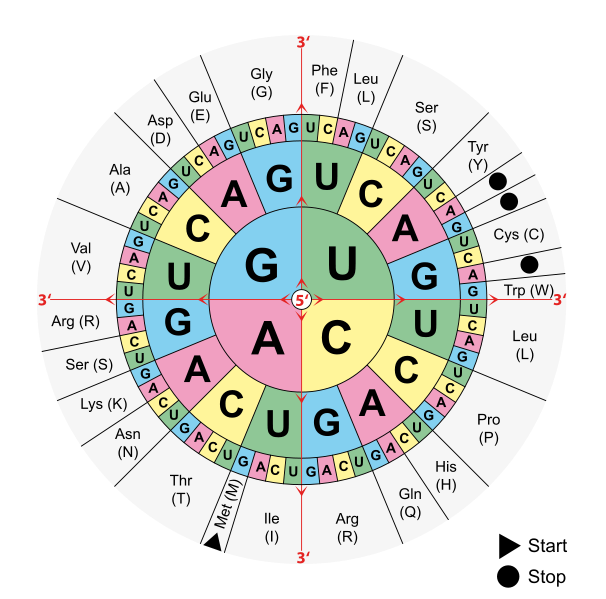 By Mouagip, taken from Wikimedia.org
You start in the middle and go outside, this leads you to the amino acid. What you can see in this figure is the "three letter" and the "one letter" code of the amino acids, those are used to not be forced to write something like "Glycine-Leucine-Isoleucine-Asparagine-Tryptophan" but instead, make it easier and just write "G-L-I-D-W". This also eliminates potential errors when switching between languages.
The ribosome reads the RNA and attaches amino acid to amino acid, according to the template. And when it is done, it releases the newly formed protein so it can be folded or … do whatever it needs to do.
---
That was a lot, far above my usual 1000 word maximum. I hope that you either learned something new or were amused by my attempts to explain something you already knew in a basic way. Maybe you came for the drawings. If you came for the drawings, have a Drosophila melanogaster for your troubles.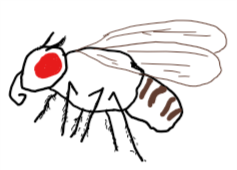 ---
References:
But mostly knowledge I have from studying this.
---

GIF was created for me by @saywha and @atopy , rest of the signature by @overkillcoin