This Post Shows How a Community of Science, Technology, Engineering and Mathematics (STEM) Writers Was Born On Steemit
The steemSTEM Team: @justtryme90 (a biochemist), @lemouth (a theoretical particle physicist), @coinbitgold (a science and technology writer), @cristi (an independent researcher and writer) and @herpetologyguy (an ecologist) plus contributions from @donkeypong, @wingz, @gavvet and others. Several team members volunteer and dedicate both their time and knowledge to this project for free.
The Steemit Chat Channel: #steemSTEM
Announcing steemSTEM, a Science - Technology - Engineering - Mathematics Project on Steemit
The Origins
Everything began some time ago when @coinbitgold initiated the academiaspotlight series to promote the work of new Steemians who are engineers and/or scientists in their day jobs. She quickly realized that she was only able to help one person at a time with each review post, and that many other good science posts still went unnoticed and silenced. Moreover, she became frustrated seeing some outright-plagiarized science content rewarded more than the good content! At this point she considered leaving Steemit for good.
Yet just as things were looking their worst she met @wingz who suggested starting a science community on Steemit! At the same time, she met real-life scientists and active contributors like @justtryme90 and @lemouth who were also working to grow the Steemit science community day by day.
Together, a community of science writers on Steemit was born.
A New Hope
And do you think they lived happily ever after? Of course not. The group still watched as some partially or totally inaccurate science content got trendy and upvoted a lot! Still they did not give up, they pushed forward and kept supporting each other.
Soon, an Initiative Started...
This group now consisting of scientists, engineers, mathematicians, science and technology writers, @justtryme90 @lemouth @coinbitgold @herpetologyguy @pjheinz @team.leibniz @cristi @valenttina @krishtopa @deviedev @daut44 @logic and others. Everyone shared their views on the future of science on Steemit.
The Initiatives
And we are here today to announce the steemSTEM initiative!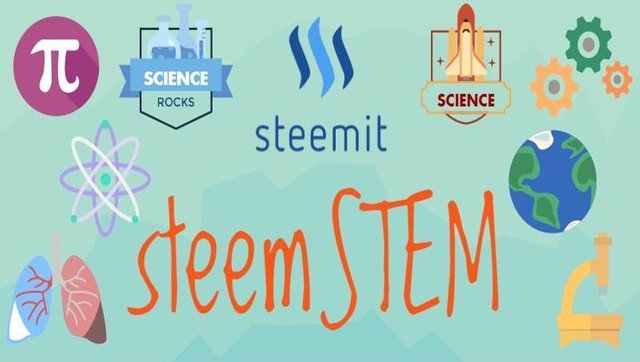 Goals
Foster the STEM spirit and a constructive STEM environment for STEM writers on Steemit.

Raise the quality of the current STEM content via feedback to authors.

Increase the quality of the discussions originating from STEM posts (as comments to the posts).

Recruit established STEM bloggers to expand the content already discussed on Steemit.

Organize events such as interviews, AMAs and competitions.

Promote the work of current and future STEM writers on Steemit.
How Can You Help The steemSTEM Initiative?
Spread the news about the #steemSTEM channel on the Steemit chat!

If you identify a new STEM writer, please do not hesitate to direct them to the #steemSTEM channel.

If you are a real-life scientist/engineer/mathematician with expertise in a STEM field and feel that you can fill in some of the gaps currently lacking in background and knowledge, please do not hesitate to join the #steemSTEM channel and discuss with us.

From time to time, we will be holding STEM AMAs, competitions and interviews revolving around STEM. Do watch out for them and show your support with comments, votes and participation!
Resteem, resteem and resteem!
ALL funds raised by posts of the @steemstem account will be used by the steemSTEM initiative to recruit established STEM bloggers, provide rewards and prizes for STEM events and competitions, and provide additional curation and upvotes for STEM posts on Steemit.