Welcome to the 4th of this 4 part series on debunking a very long and complicated conspiracy theory about Antarctica that flat earthers have concocted. In this part, we'll discuss the very real belief by flat earthers that there is no 24 hour sun in Antarctica.
This article started out as a single article about debunking this conspiracy, but because there are so many convoluted aspects to this conspiracy theory, it turned into a 4 part series in order that the conspiracy be debunked thoroughly such that flat earthers could not come back and have an objection to any part of the debunk and that, by the time the series is complete, any rational person would be able to see that there absolutely is no conspiracy theory about Antarctica.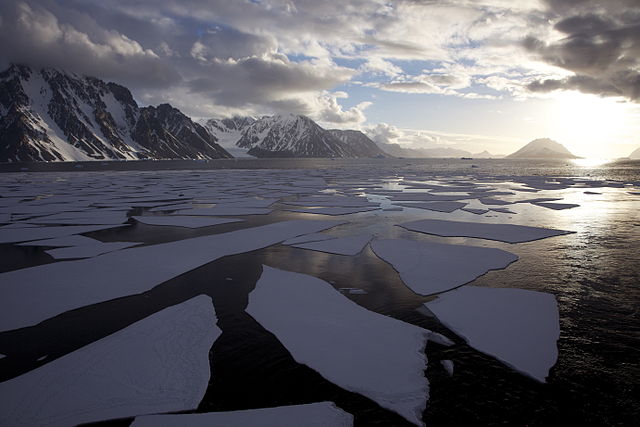 Image Credit By Jason Auch - originally posted to Flickr as IMG_0252, CC BY 2.0,
I hope you'll also read parts 1-3 below:
Part 1: Debunking The Ice Wall
Part 2: Debunking the Antarctic Treaty
Part 3: Debunking the Admiral Byrd Myth
Where Does this Denial of 24 Hour Sunlight in Antarctica Come From?
First of all, the question is why do flat earthers believe such a thing? Well, as you'll see, a [24 HHour Sunlight Sunlight in Antarctica is Impossible is Impossible on a FlaFEarth. There is simply no flat earth model possible-series) that can account for this known and provable phenomenon. Therefore they have a great need to deny anything that will prove their belief is impossible.
However, as we'll also show, denying 24 hour sun in Antarctica is actually irrelevant, and simply having days with more than 12 hours of sunlight in the southern hemisphere is impossible anyway, so their denial of 24 hour daylight in Antarctica is pointless to maintain their delusional impossible belief system.
It's Simple Logic to Believe There is 24 Hour Sun in Antarctica
Until I started looking into this flat earth discussion, I had no idea that anyone even questioned such a well-established fact! It seems ridiculous on it's face and, upon further investigation, I found it to actually be as ridiculous as it sounds.
So, first of all, just a small investigation would allow one to accurately predict that Antarctica would have 24 hour sunlight. Even flat earthers do not dispute there is 24 hour sunlight in the Arctic in their summer and 24 hours of darkness in their winter. They also do not dispute that the equator has 12 hours of sunlight every day all year.
But, as with most flat earth concepts, things start to go haywire in the southern hemisphere because the Flat Earth Map is Actually a Globe Projection Map and, as such, the southern hemisphere is incredibly distorted. Things that are possible on a sphere due to it's symmetry become impossible on a flat model that does not have such symmetry, and so they are forced to build crazy explanations around these discrepancies. And this model of a flat earth sun shows that there is no possible way for the sun to light up Antarctica 24 hours a day, so they simply MUST reject that it really happens. In fact, I had one guy argue so circularly, that he showed me how it was impossible on this flat earth model, and how that 'debunked' that it actually existed in reality!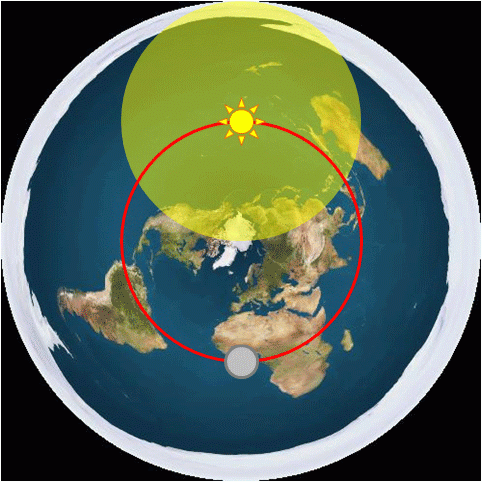 Image credit: my own
We can show, through simple logic, that Antarctica SHOULD have 24 hour sunlight on December 21st, the southern hemipshere summer solstice. See image below.
Note, the latitudes and lengths of sunlight are APPROXIMATE. It is not meant to be an exact model of the exact times of daylight at the exact latitudes (flat earthers focus on minor details and will reject an image such as this because it's 'a cartoon' and it's not exact to the minute). Instead, this is intended to be an approximation. A visual of how much daylight occurs in each of these approximate areas on earth. The big picture. An overall view of how sunlight WORKS on earth in reality.
The length of daylight for these areas were taken from SunCalc.net and so far as I know, flat earthers have no argument with any of these times taken from these types of websites, such as this one or DateandTime.info except in regards to Antarctica.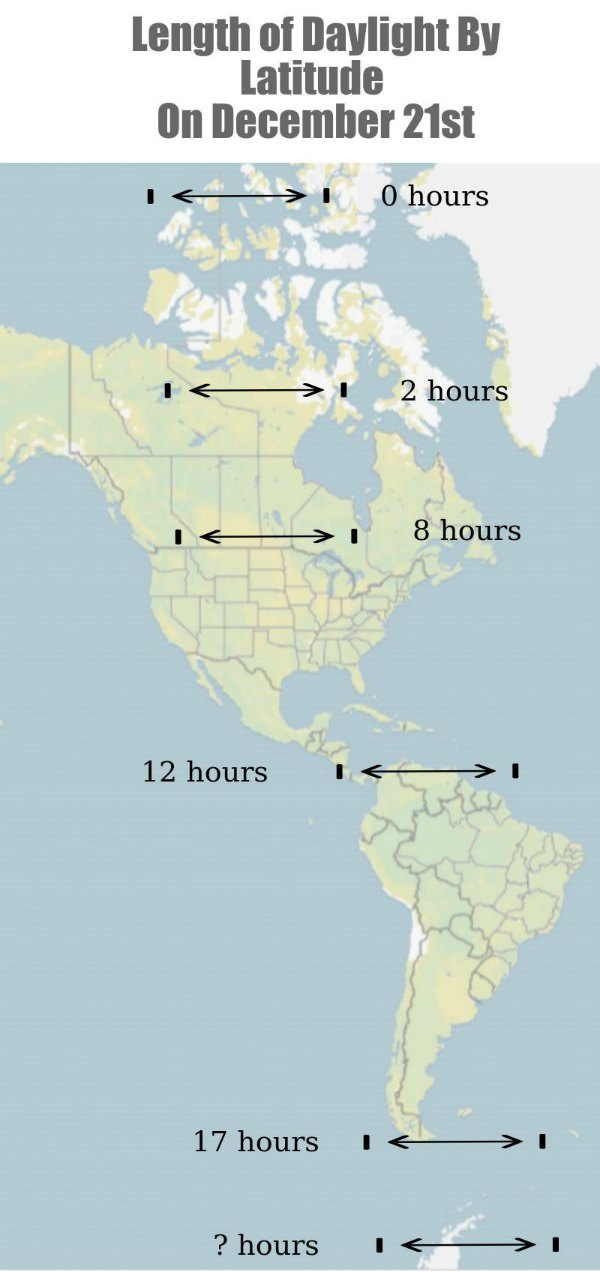 Image credit: my own
So, what time DO they think it is in Antarctica on December 21st? Most will just simply not answer that question even though it would seem perfectly logical for Antarctica to have 24 hour days at the peak of it's summer.
Flat Earthers Don't Agree On This Either
As with most of their ideas, flat earthers are divided on the subject (or simply ignorant of their topic), and flat earthers will sometimes claim that a map called the Gleason map is actually a map of flat earth, despite the fact the patent itself says it's a azimuthal equidistant projection map, but that is another topic for an article I'll do in the near future. The Gleason Map actually shows 24 hour sun in Antarctica on the winter solstice through a clever calculation key.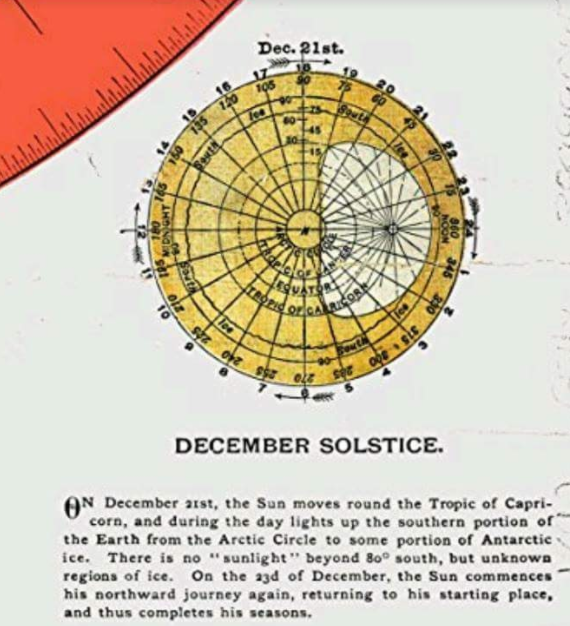 Image Credit: Digital commonwealth
Note that the white part in the center is what would actually be DARK on earth. Unfortunately, this would require the sun to have an oblong hole through the center to accomplish this, as you can see above. Obviously, this does not comport with reality, nor do they have an explanation as to how the sun could cause such a pattern.
Evidence for a 24 Hour Sun in Antarctica
We first came to know Antarctica had 24 hour sun by the anecdotes of the original explorers. We discuss the Admiral Byrd Antarctica Conspiracy Theory on that page, and it's in some of the writings of his company in which the midnight sun is discussed. Bob Young did a Handwritten Narrative of his expedition with Byrd in 1933-1935 and he mentions it several times.
Since then, we have possibly thousands of references to it on travel blogs, people on expeditions, people doing research, and even in documentaries such as Antarctica: A Year on the Ice. There are also some nice time lapses of the 24 Hour sun in Antarctica, such as this one done at the Scott Base:
Predictably, flat earthers have done debunk videos declaring every one of them 'fake' for various reasons they can never quite explain, even though the end of video actually shows he used ANOTHER camera to take a time lapse video of his camera taking the time lapse video for verification! It's amazing the amount of hate and anger by flat earthers in the comments section, who accuse the photographer of faking the video over and over, but provide zero evidence that he did.
However, This Page on Metabunk adds the video above and many other time lapse videos from 24 webcams in the Antarctic, and goes into great detail to debunk the claims that these are faked. Basically, the argument from flat earthers is that the watchers of these videos cannot be 100% sure that they are not faked, and somehow that is proof that they ARE faked! No evidence required. Their bias confirmation is such that they seem to honestly believe that the fact that these videos exist is proof they are faked! Circular logic anyone?
So, since this is a discussion of science, the next question would be what evidence do we have of a 24 hour sun in Antarctica. Well, just a few minutes of research shows that hundreds of studies have been done on the effects of 24 hour sunlight and 24 hour darkness in Antarctica. Here are just a few:
I could literally go on and on showing the different studies that confirm this 24 hour sunlight and darkness phenomenon in the south pole that are perfectly symmetric to the north pole. But I would bore you with the length of the list, so I'll stop at just those few studies done by different research teams, and even from different countries. According to flat earthers, these are simply all lies and made up to simply hide the flat earth from us.
They will not concede that any study is correct... and quite literally reject ALL scientific studies claiming that all scientists are just in on the conspiracy and are paid to fake these studies (unless one happens to have something they latch onto as 'evidence' of a flat earth. In that case, science is good!). Really, I could not make this up. If you cited 1000 studies on any particular subject, they will simply dismiss them with a laugh, tell you that you are brainwashed, and probably post a meme such as this one with no supporting evidence of how or why the study is wrong or faked. They just make blanket statements that outright reject anything that contradicts their belief system.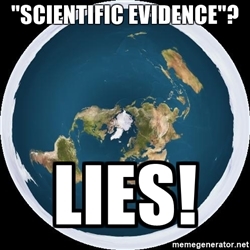 Image Credit: The memes factory
The Globe Model Explains this Perfectly
However, the globe model explains this phenomenon perfectly. It is not for nothing that the current scientific consensus is overwhelmingly on the side of the sphere model and not the flat earth model. Here is a depiction of the Sphere Earth Explanation for 24 Polar Sunlight.
Now, which of these makes more sense to you?
Complete denial of a phenomenon that has been soundly proven to exist
This hand drawn key on a Globe Projection Map from the 1890's that requires the sun to have an oblong-shaped hole in it that we do not see in reality and that no flat earther in the over 100 years since it was created has made an actual 3d model of in over 100 years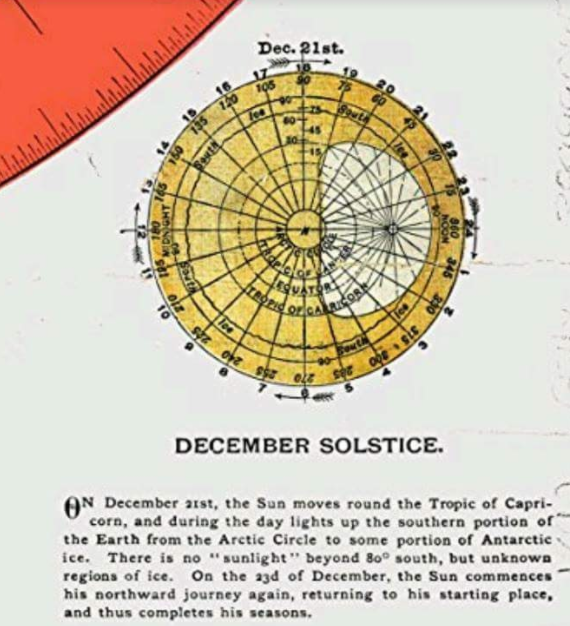 Image credit: Digital commonwealth
A fully formed 3d model that has been tested and honed for hundreds of years by scientists and researchers, that is undistorted, that GPS coordinates and Google maps that tens of thousands of people use everyday is based on, and that you can test with a toy globe and a flashlight to see if the model works properly?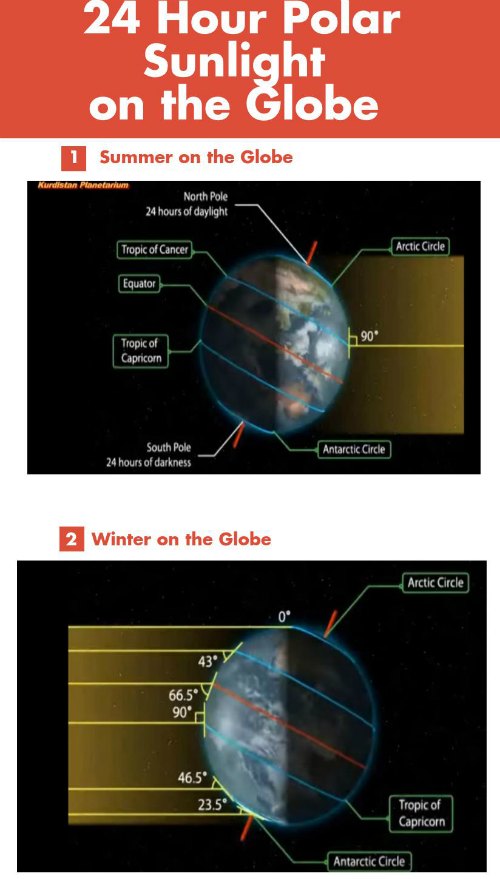 Image credit: Kurdistan Planitarium
Flat earthers COULD just go there on one of the dozens of cruises and adventure tours that go there and find out for themselves what the sun is like in Antarctica on the longest days of the year in the southern hemipshere summer. But flat earthers, despite claiming that they want 'real science' and that everything should be observed to be proven, that they do not seem actually willing to do anything that would prove their contentions incorrect. They claim to be scientists, but will only believe or take as evidence that which confirms their bias.
Thank you for reading. Please continue reading the other articles in this series and resteem, upvote, follow, and comment if you like to see more science-based articles debunking the half-truths and lies of this flat earth phenomenon, to provide common sense answers to those who are looking for them.
Part 1: Debunking The Ice Wall
Part 2: Debunking the Antarctic Treaty
Part 3: Debunking the Admiral Byrd Myth
And let us know in the comments if you've ever been to Antarctica and seen the 24 hour sunlight there.