Strange Medical Conditions | Episode 1 : Cotard Delusion...These people think They are DEAD!
Hello My Fellow steemians. Welcome to my series of Strange Medical Conditions, where I will be sharing some of the Weird and strange Diseases and Disorders you had not heard before or had not imagined of.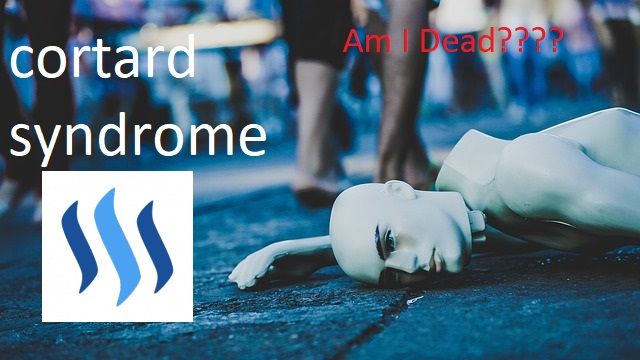 picture from pixabay
Have you ever felt like you are already dead?... I do not think you have..unless its your dream or you have this disorder known as Cotard Delusion.. Yes friends, I 'm not kidding, people with disorder think they are dead !!!
True Case stories of Cortard Delusion:
Ms. L, a 53-year-old Filipino woman, was admitted to the psychiatric unit when her family called 911 because the patient was complaining that she was dead, smelled like rotting flesh, and wanted to be taken to a morgue so that she could be with dead people. Upon interview in the hospital, the patient expressed fear that "paramedics" were trying to burn down the house where she was living with her cousin and her brother. She also admitted to hopelessness, low energy, decreased appetite, and somnolence. [1]
2.This is a story from 1990,..A scotsman had a brain injury following a motorcycle acciedent..after his discharge from hospital in Edinburgh, his mother took him to South Africa. He was convinced that he had been taken to Hell (which was confirmed by the heat), and that he had died of septicaemia (which had been a risk early in his recovery), or perhaps from AIDS (he had read a story in The Scotsman about someone with AIDS who died from septicaemia), or from an overdose of a yellow fever injection. He thought he had "borrowed [his] mother's spirit to show [him] around hell", and that she was asleep in Scotland.[2]
Introduction : What kind of Disorder is this?
This is not a disease itself but a part of various of mental disorders and brain damage, it is a delusional disorder where person thinks his existance has disappeared from the world, his body has started degrading and he is nothing but a corspe. Most of the patients think their body parts are not there, they have lost their organs and blood and some think they are being immortal.
The type of Delusion occring in cotard syndrome is Delusion of Negation. If you already do not what a delusion is then let me explain it to you.


(credits)
Delusion is a strong unshakable belief of somthing without evidence of it or with evidence against it. It is seen with patients of psychological disorders and it has many types. In Delusion of grandiosity person thinks he is from a royal family and he is known all over the world;In delusion of control person thinks his thought process is controlled by other people ;In persecutory Delusion person believes some people or group are trying to harm or kill him; In Nihilistic delusion person thinks the world is about to end....
Likewise as the name suggests, In Delusion of Negation a person--
Thinks he does not exists
Thinks his internal organs are lost
Thinks he does not need to eat, this symptom leads to self-starvation..
What makes them to Believe like that??
Damage to the areas of brain responsible for facial recognization and emotions associated with them is found to be the cause of this disorder. Ventral part of temporal lobe of brain helps in facial recognition and amygdala, a part of lymbic system helps in co-ordianting this with emotions. Damage of parietal lobe, somatosensory area is also found to be associated with this disorder.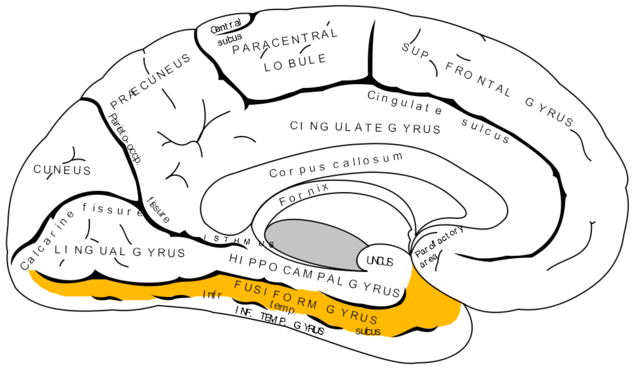 Fusiform Gyrus (credits)
As you can see in the picture above, the highlighted part is the fusiform gyrus of temporal lobe which is responsible for facial regcognition and it is co-ordinated with amygdala for the emotional interpretation of face a person sees.
The neural disconnection creates in the patient a sense that the face they are observing is not the face of the person to whom it belongs; therefore, that face lacks the familiarity associated with it. This results in dissociation from the surrounding reality. If the observed face is that of a person known to the patient, they experience that face as the face of an impostor, a person trying to harm them. & If the patient sees their own face, they might perceive no association between the face and their own sense of Self—which results in the patient believing that they do not exist.[3]
Damage may be simply due to accidents causing direct brain damage or due to other associated medical condition. Mostly this disorder is associated with Schizophrenia and depressive illness.
In some cases it is associated with use of drug like Acyclovir/valaciclovir.[4]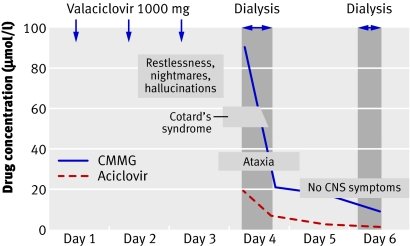 Andres Hellden et al, High level of Valaciclovir associated with cotard delusion (credits)
Aciclovir/valaciclovir is an antiviral drug commonly used for Herpes-Zooster infection.A study done by Andres Hellden et al in patients of renal dysfunction showed Increased plasma level of the drug with high level of its metabolite(CMMG) in blood showed symptoms of cotard delusion without obvious brain damage. And the symptoms disappeared after the hemodialysis.
---
Is it treatable?
Elecctroconvulsive Therapy(ECT) is main treatment available for this syndrome, some studies have shown that pharmacotherapy is equally effective in some cases.[5]
Cotard delusion due to adverse effect of Aciclovir does not require any specific treatment, hemodialysis and stoppage of aciclovir therapy is adequate for the resolving the symptoms.
As these patients are prone to self-starvation, proper support from family is vital in the treatment.
Conclusion:
Cotard disorder is a rare psychiatric condition , it is not included even in the renowned Psychiatric classification like ICD and DSM. It is likely to be caused due to damage in cortical areas of brain and some evidence suggest its cause may be drug reraction .Pharmacotherapy and ECT are two main way of treatment and further research needs to be done regarding its pathophysiology and management.
---
References used-
Note: No copyright infringement is intended, all the pictures used are labelled for reuse and all the references for content are mentioned.
---
That is all for today, feel free to share your views in comment section and follow @himal for my future posts..