Overvolting a car ignition coil up to 90 kV!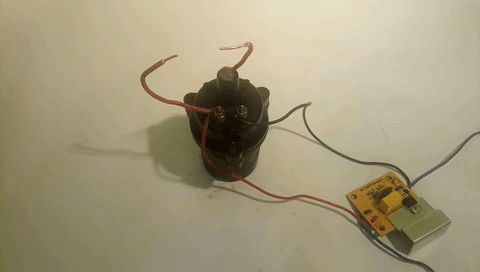 In this video I am using a phase fired controller (PFC), also called phase angle controller I salvaged from a vacuum cleaner. Its main attribute is to reduce the effective voltage by chopping the waveform, hence reducing the power output.
Our coil takes advantage of the dead time between pulses, as it was design to work only with DC pulses. Each time a current pulse fires, the coil is energized and the magnetic field increases inside its core. When the pulse stops, the magnetic field collapses which makes the current to oppose the change. This creates a very high voltage spike across the secondary coil terminals which jumps over 3 cm of air. The breakdown voltage of air is 30 kv/cm which means this setup is generating 90 kV.
This very high voltage is too much for coil insulation to handle. As it was designed to work only with DC current, parasitic capacities are forming in AC operating mode, which causes the breakdown of dielectric in unwanted locations. I've tried hard to increase the dielectric strength by putting multiple layers of heat shrinking tube, but I only managed to delay the inevitable...
Although the transformer is driven directly from the mains voltage terminals I am limiting the current through a 122 ohms reactive capacity.
Watch full video below:

I hope you enjoyed watching, if you have any questions leave them in video comment section.
Subscribe for more awesome content to come.