2.Choosing the model for building.
When the workshop is ready, next step is to figure what You want to build. Are you a fan of the fast, sleek racing racing boats or you prefer slower, but realistic as possible models? Maybe something in the middle? Options are nearly endless and are limited only by Your imagination! But if You start for the first time, like me, be prepared that You need to learn a lot! Fortunately, in the age of the Internet, there are many ways to learn what You will need. Articles, YouTube videos, questions in the forums. Use them all!
In my case, I enjoy staying on the shore of the lake, and the looks of serious, high detailed model excites me more than any race! First I checked, what I can purchase in "ready to run" state. Unfortunately it seems, that R/C ship store segment is not very popular and poorly developed. I found only 3 types of ready R/C models:
First,plastic kids toys, cheap and poorly made, barely looking as ships.
Second, racing boats, more looking like a missiles than to something for water transportation.
And the last - custom build high detailed models, which are not affordable to anyone, with starting price of 2-3 thousand dollars for the smallest of them!
To be honest, there were 2 fictional Chinese made warship plastic models with Russian looks for relatively low price and not so good quality, but anyway with better detail from the others:
https://www.trendtimes.com/remote-control-battleship-destroyer-boat.html
http://demo.freshstorebuilder.com/serenity/30-challenger-warship-aircraft-carrier-rc-1275-battleship-rc-model-boat/
Another thing was not bad and affordable Bismark model: https://www.amazon.com/Bismarck-Military-Battleship-Warship-Cruiser/dp/B002HATGMO/ref=pd_lpo_vtph_21_bs_tr_img_1?_encoding=UTF8&psc=1&refRID=NMSB1F1KC1JA3E526TZM .
And this was all!
But I always wanted to have something unique, so the situation only confirms my decision to build my own model.
I specially like the post-WWII combatant ships. They are build on the verge of the two eras, when new technologies appears very fast and this was a time of searches and experiments. The ships looked different and exotic. They are very interesting, but unpopular, comparing to classic famous WWII ships. Starting my first project with something huge, like a battleship or carrier was not a good idea enormous detailization will be very hard challenge to amateur, not to mention, that with limited free time, this will takes forever to finish the model. On other side, a simple patrol boat is a little boring, so the best decision for me was to try something in the middle - destroyer or frigate class. I like these not so shiny workhorses of the fleet more than "pride of the navy" behemoths. The choice was tough, because of my many favorites in this class and timeline.
Finally I stopped with British Type 14 ASW frigate - Blackwood class. These ships are little known, but very interesting. They were built with the idea of small, cheap, easy to operate and maintain, fast to build in large numbers, effective ASW (Anti-Submarine Warfare) frigate. And the British Navy received such ship. But despite all its advantages, the project had some disadvantages too. To keep the low price and limited displacement, it was made strictly single-purpose. In addition to most advanced for its time ASW equipment, the frigate had only 2 or 3 single 40 mm Bofors anti-aircraft cannons with local optical fire control only, which makes the ship virtually defenseless and useless to almost any surface or aerial threat.
But there were no modernization made to fix the situation - The Admiralty prefer to design new types of multipurpose frigates instead.
HMS Palliser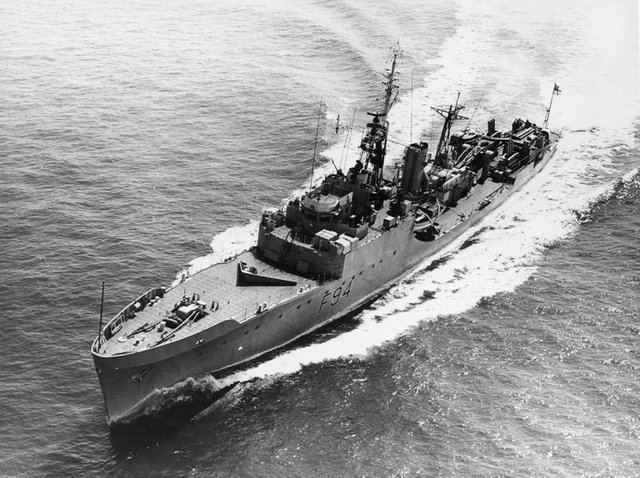 Royal Navy official photographer - http://www.iwm.org.uk/collections/item/object/205395956
I thought about how it might look possible development of this interesting design and this was the moment when my project was born.
I've started a long and detailed research, to make my model fully realistic in all aspects, but this will be the topic of the next part.
But before that, this is my short list of suggestions how to choose the model for building:
At first, determine what You want to build: Race boat, static model, R/C model, exact copy, fictional model, steampunk/fantasy ship, etc.
Second - be prepared to spend a lot of time in the internet, watching how the people make similar models. This will show You what needs to be done and will give You a lot more ideas, You can use or evolve.
Try carefully to assess the difficulty of the future job. If You are not sure You can do it, try to simplify the project. For example, do not start with the historically exact copy of the Yamato battleship with fully mechanized firing turrets and working lights and mechanisms. Be sure what is need to be done step by step, You will be able to find all needed parts and You will have enough time and patience to finish the project. Better try something simpler for the start.
Be sure that things you plan are technically possible. Do some experiments and tests before, if needed.
Dont hesitate to remake Your plans as much is needed if You learn something new, you want to put in use or You are not fully satisfied with the results. But when You start building, try not to change plans any more, if it is not really necessary.
Check and browse the online model stores. Those kits, parts and details may be usefull for You later!
See You soon!
Previous: 1. Preparation of the workplace. https://steemit.com/model/@ndimitrov/building-your-own-r-c-ship-model-step-by-step-how-to-fullfill-a-grown-kid-s-dreams-part-1
Follows : 3. Designing the Type14E frigate.