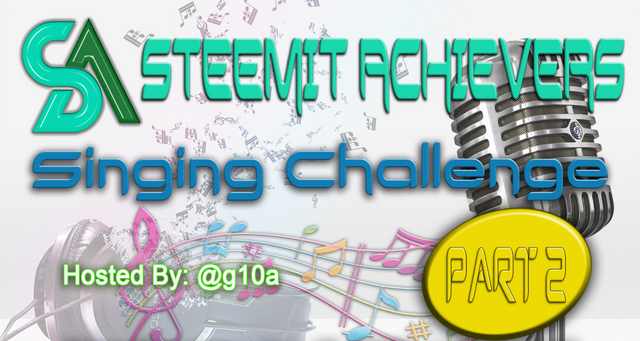 First of all I would like to apologize for the delay. We all know that both of the judges are so busy in their respective daily #steemit routine. Mr. @paradise-found for his #gratefulvibes community and the #steemit hero @surpassinggoogle the sleepless man in this platform who spend his time encouraging and inspiring every individual here in this community. Much Thanks to both of you sir.
I really feel you guys, I know how excited you are waiting for the final announcement. Although the prizes are not that big since I am still a red fish here in #steemit so please bear with me hehe. Don't worry we will increase the prizes next time let's just be patient more sponsors will come LOL as @mermaidvampire said Patient is a Virtue.
Special thanks to these two beautiful and awesome women, maam @sunnylife and maam @lebron2016 for sponsoring some SBD to be added to the prizes. Please follow them you might find their articles helpful and beneficial.
I would like to thank everyone who participated the Steemit Achievers Singing Challenge Part 2. We acknowledge all your efforts and most of all your undying support to all our activities.
For me, you are all WINNERS, but in every contest there should always be a winner and a loser however I don't consider anyone from the entrants as a loser, it's just that in this challenge someone performed better than you are. SO BETTER LUCK next time.
As announced:
5 SBD - First prize,
3 SBD - Second
2 SBD - Third Prize
and four(4) consolation prizes for 0.5 SBD each.
Because of our two lovely sponsors I changed the prizes as follows:
7 SBD - First prize,
5 SBD - Second
4 SBD - Third Prize
and four(5) consolation prizes for 1 SBD each.
SO HERE WE GO WITH THE WINNERS:
1st Place
unconditionally
by
@thegoddess
Below is the screenshot of the prizes transferred to the lucky winners.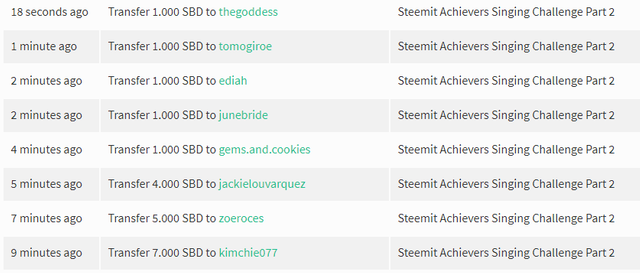 CONGRATULATIONS!

Hi everyone!!
Please help us support @surpassinggoogle's project @teardrops (Smart Media Tokens) and follow Teardrops on Faceboook.
I encourage you all to support and vote for @surpassinggoogle, @pfunk, @blocktrades, @timcliff and also @precise as your witness.
Just click HERE and type 'steemgigs', 'pfunk', 'blocktrades', 'timcliff' and 'precise' on the first box.