Sailing boat Muendo - equipment
After introducing my sailing boat, Muendo, I like to tell you a little bit more about the boat in this post.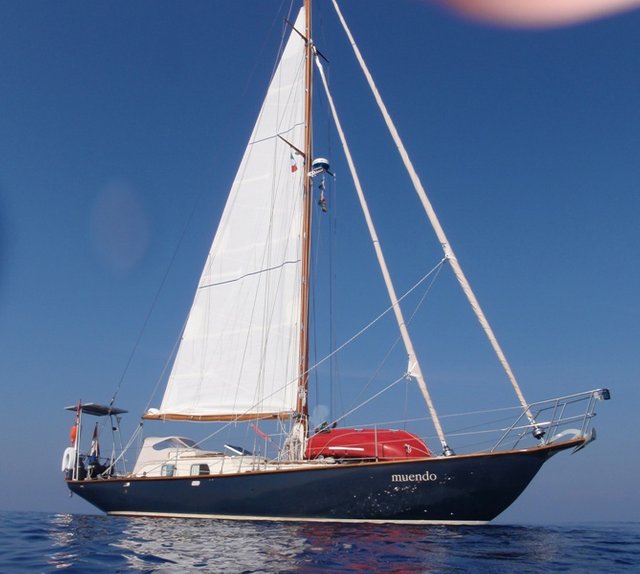 photo credit: own photo
Muendo is a steel 40 foot (12.2 m) long, cutter rigged (meaning two head sails) classic sailing boat. If somebody asks what kind of boat it is, I never know what to say, as it is an unknown design.
In sailing terms, you would then often say "one-off", but I found a sister ship in the Netherlands that is exactly the same. The owner of that boat also didn't know the designer. Perhaps I should call it a "two-off"....
I have completely restored her after rescueing her from becoming a wreck years ago and fitted her with:
solar panels - two large solar panels provide almost all the power I need. When the boat is docked in the harbour, you would normally connect to the mains ('shore power'), and recharge the batteries.
water maker - for turning salt water into fresh water. For short trips there would not be a need for this, as the boat has a 170 litre water tank, but for longer trips this means you don't have to carry extra water, or prevent you from having to go to shore to get water.
self steering - the boat has electrical self steering run on the batteries, as well as windvane steering. This windvane ensures the boat stays on the same angle to the wind, this doesn't require any energy, but you have to look out for wind direction changes, as the sailing direction will then also change. This is a brilliant invention in my opinion!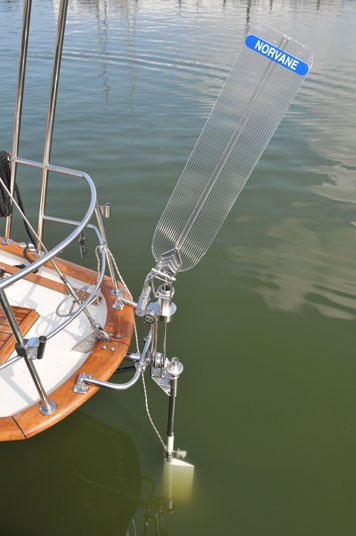 Windvane, photo credit: own photo
radar - at night and in foggy conditions you can see what is around you.
wind speed meter
GPS - there is one main GPS, two handheld backups, and if all else fails you could still use a phone
a dinghy, which can be turned into small sailing boat or used for emergency rescue ('pudgy')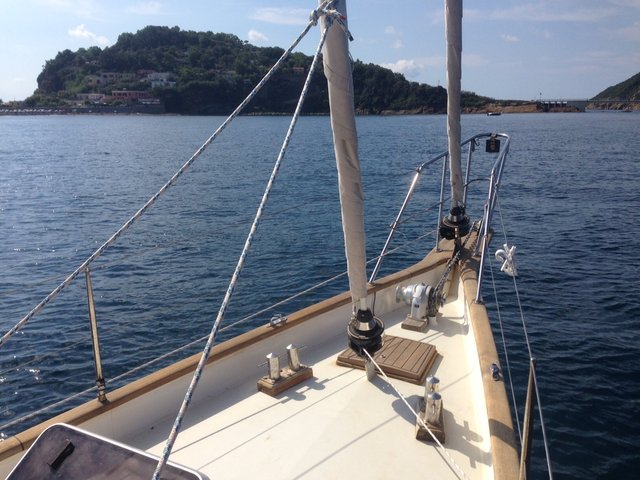 Muendo near Procida, Italy, photo credit: own photo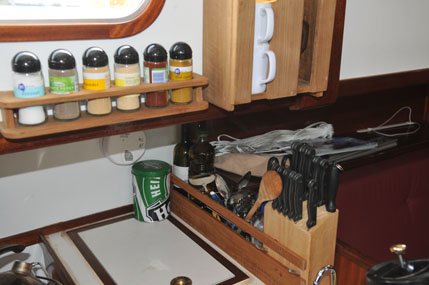 Muendo's galley, photo credit: own photo
Travel
Road less Travelled: Eritrea -- Somalia -- North korea -- Papua New Guinea (1) -- PNG (2)
Cycling
The toughest MTB races on earth Freedom Challenge --- Iditarod Trail Invitational
MTB back garden ride