the Ultimate Experience ... running a Marathon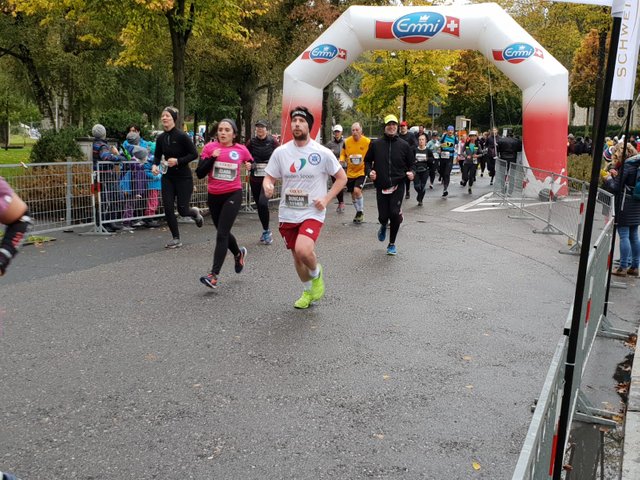 I'm the one in the yellow cap
Several months have passed since my last post and the reason for that is the combination of my obligations towards my family, starting a new job in August, my marathon training, (the injury I suffered whilst training) and my other obligations just left me with little time for posting.
Yesterday the marathon took place and with that a big cause of stress and obligations fell away. So what better reason to do a post again as to write about my marathon experience and the build up to it.
What's happened the past several months
My new job has been very demanding, I'm now part of the management team and with that I also had to travel at least once a month. The fact that I am also attempting to run a marathon became a bit of an obstacle in this as I couldn't skip too many trainings and to top it all off I also injured myself in a run in July. I had to be careful not to pass on too many trainings hence I'd loose my fitness, but also whilst being abroad i would still have to keep training and on the other hand not injure myself more.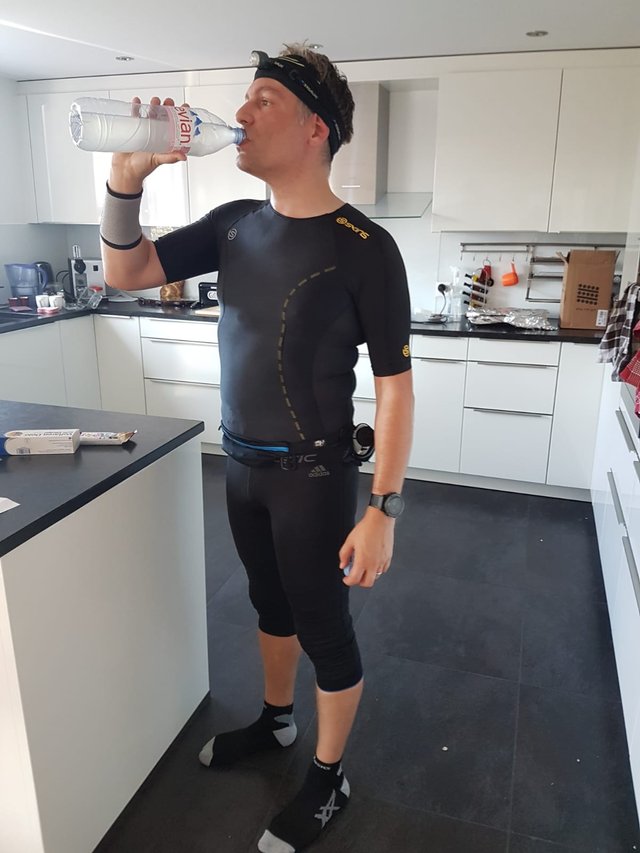 My dad took this picture unawares after my longest run to date, just before I got injured
Over the past months I've ran in Austria, Germany and Italy whilst being on travels. The biggest challenge was ensuring I'd get my +30km run in somewhere and do my long run on Sundays. The most extreme run was doing 21km on a treadmill in a hotel near Como until 10PM, 3 weeks before the marathon so essential for my fitness.
The past several weeks, the pains in my knee got less noticeable and I stepped up the work on my general fitness. In my 31 kilometer run I'd noticed that after about 27 kilometers I had no energy left. I know this is a common feature known as 'the Wall, but I also knew that if I did a bit more work on my fitness I would be able to prevent this on marathon-day. So I focussed the remaining weeks before the marathon to increase my fitness. I had been doing a bit of training on my leg muscles in the prior weeks, but now I focussed completely on fitness.
In the week before the Marathon I only did a 12 kilometer run on Sunday, on Tuesday I did 8 kilometers and my final training was on Thursday where I did 1 hour on the treadmill and ran 10,5 kilometers. Contrary to my schedule I decided that my training on Thursday would be my last one and take 2 days off to rest before the marathon itself.
the Marathon is getting closer
Weather: Cold with potential rains, maximum 4 degrees
Distance: 42,2 Kilometers
Company: Alone, 10.000 half-marathon runners to keep partial company
Goal: Finishing
I travelled to Luzern on Saturday, a night earlier to be able to sleep as long as possible and to prepare myself to the fullest. I had an early pasta meal and went to sleep relatively early, knowing that with the clocks going an hour backwards, I would have an extra hours' sleep. This was a good decision and helped me on the day with less stress and being better rested.
I left the hotel after having a good runners breakfast with muesli, salmon and an egg and made my way to the start. In the changing rooms I got to talk to someone who advised me to try to stick with the pacemakers, especially as it was my first event. I had no idea of a timing I'd set myself, nor which time I'd have to follow. But I reckoned that if I did the first 21k at an easy pace that those second 21 kilometers would be much easier. Pacing myself when alone has always been a struggle for me, so I decided that following a pacemaker would be a good spontaneous last minute decision ... thank you stranger who convinced me!!!
I joined the 4:30 pacemakers. It's a bit slower than what I would normally run, but I've never ran 42 kilometers at once, so I figured pacing myself is the best strategy. Well ... was I right!!!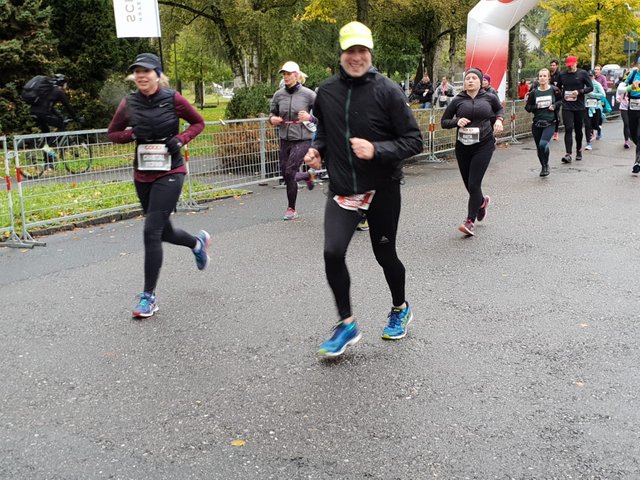 That's me in the yellow cap, cold and wet, but highly motivated ... and stubborn
I set of with these pacemakers and one of them was even juggling whilst running. The pace was easy and the first 21km went bye quickly, I was distracted by the fantastic crowds and the juggling pacemaker and it went bye without any major efforts. I was initially very worried about the hills, but as it turned out that they were less a challenge than the hills that I run in where I live.
One thing that had been causing me worries in the days leading up to the marathon was the weather. I'd been training in generally good conditions and all of a sudden the weather would turn from double digits to 3/4 degrees with rain and maybe snow. Besides not being used to those conditions I had no clue how to dress for a marathon in these conditions. I'd spoken to many people beforehand, @toofasteddie being one of them and they all adviced me to wear 2 layers with a longsleeve shirt below and a jacket/windstopper on top. I settled on a long sleeve shirt and my best raincoat. This is something I'd adjust for the future now that I know what I had to face and I'd substitute my raincoat for a running-jacket for the additional warmth.
It was dry when we set off but it started raining quickly after and I'm glad I was wearing a cap to keep the rain from my face. Others later partially described the rain even as icy-rain.
The marathon in Luzern is actually running the same half-marathon twice. After the first round I did have some smaller pains, but I felt good enough to continue. I knew the hills were in the beginning so if I'd get over those in a good pace I'd walk the rest if worst came to the worst. I stayed with the pacemakers but after the second hill at around 27km I started to feel pains in my upper legs and couldn't maintain the pace and I started to walk/march for the first time. At around 28km I lost them out of sight and never picked it up anymore. From that point onwards I ran/marched the rest of the way and still did 8km/h pace even when walking. A friend of mine met me just before the football stadium at around 35km and gave a huge boost to keep going. The crowds along the way were also fantastic and a real boost, but seeing my family just before the finish line gave me that last energy boost to run across the line in 4:47:59 a feat I'm well proud off.
Time: 4:47:59
Pace: 6,42 min/km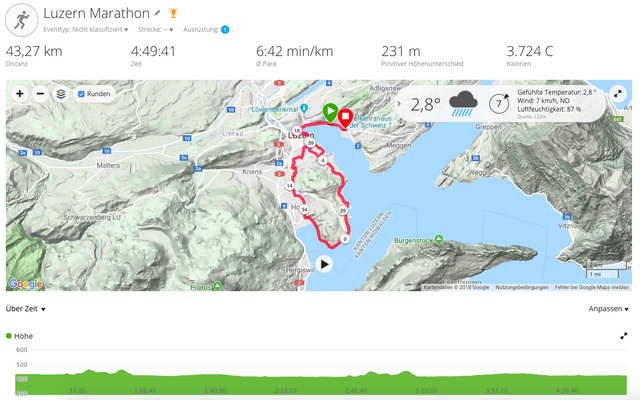 There it is, Garmin is exaggerating, but the proof is delivered
Thanks everyone for your support over the past several months and especially my family who had to suffer my absences. I can't feel my legs anymore, but I'm well proud and really happy with the result. I achieved my goal of running and finishing a marathon before my 40th birthday and both work and obligations towards my family will limit my training time in the future, but who knows. Maybe one day I'll be in the situation to try this again, as I saw yesterday, you're never to old to run a marathon.
For those who are thinking of running a marathon themselves, here is the complete schedule I did and feel free to ask me for advice.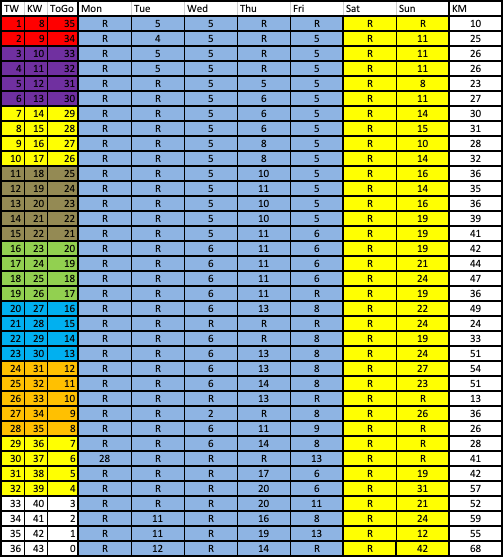 R = Rest days
There is only one way that I can finish this series of posts properly and that's with a picture that says it all and shows the fruits of my labor ... I have the medal to prove that I did it: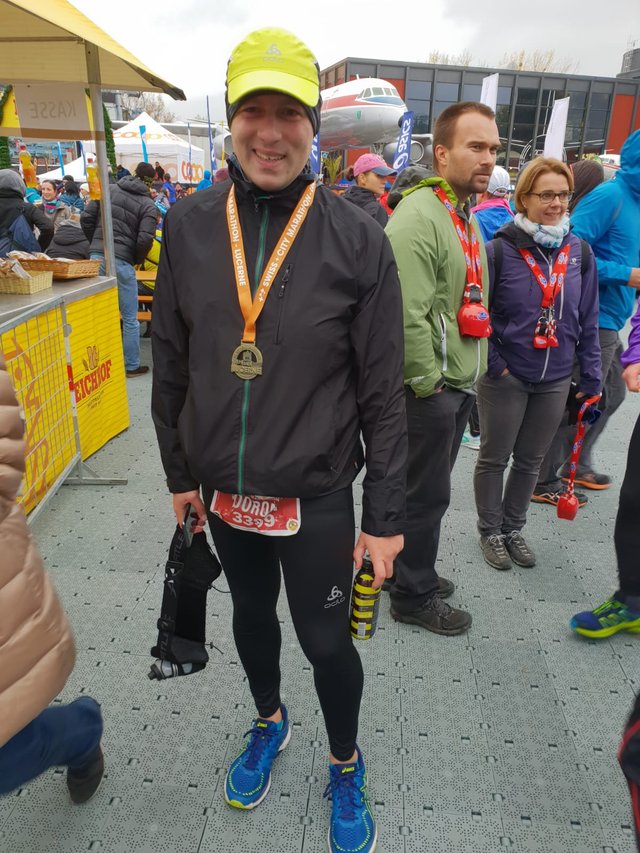 Conclusion
Work hard and you will achieve your goals!
Wolfje