Running goals progress update 2018.07.16
Since my Parkrun on Saturday I have a new kind of ache in my legs . It feels like my shin bones are aching in the bone. I don't like it. Its not particularly painful but it freaks me out a little. Because of this aching I had a rest day on Sunday.
Monday I spent most of the day sat in a hospital with my elderly Grandma. With so much sitting waiting around I was desperate to get out running. After getting my Gran settled and negotiating the city rush hour traffic, I picked up my gym bag and running shoes and headed for the gym.
I started off on te treadmill with a 5 minute warm up walk at 6kmh and then set an 8km goal on the treadmill. I started off my run at 10kmh and completed around 6km at this speed. I still had the aching in my shin bone but It did not get anyworse so I was confident to carry on. Once I had completed 6km at 10kmh I realised I was going to complete the 8km without really pushing myself. I started to increase my speed to 12kmh. In the final kilometre I still felt I had lots of reserve left so I completed the 8km at 14kmh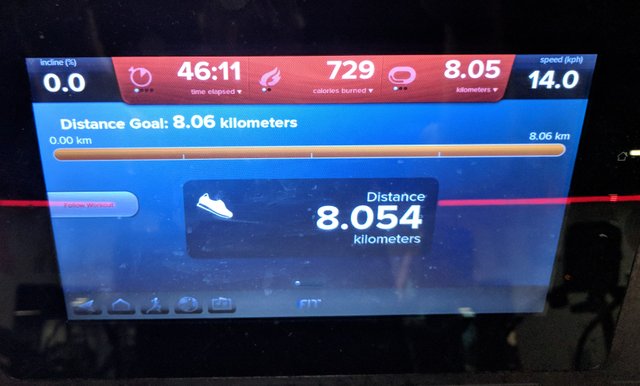 I have included a screenshot of my heart rate during the run. I found it interesting that the first 10 minutes of the run my heart was working hardest. This was me beggining the 8km at 10 kmh. I need to do some research about why this my heart is working hardest at this stage. Even at the end of my run when I am running 12-14kmh my heart rate does not get back up to the 177 where I started out.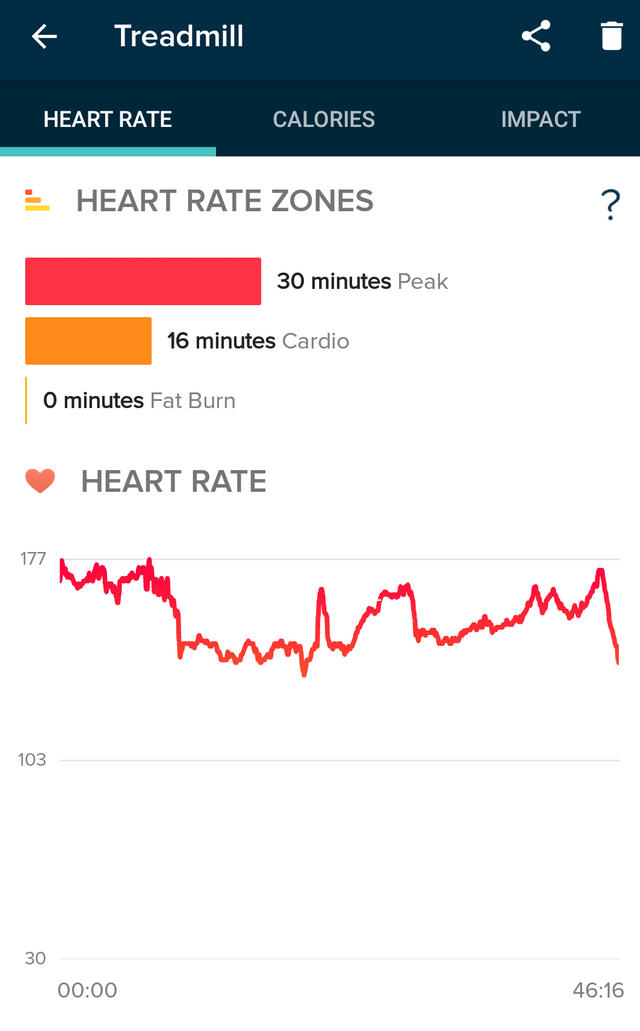 This was a much needed and very enjoyable run. Throughtout this run I was mostly thinking about communities that people are either forced or chose to live in and the opportunities we have a species to build and chose better communities.
This was my personal best 8km running time at 46.11 minutes and I rewarded myself with a new pair of running shoes. I was inspired to get these particular shoes by another steemit runner and I will write a review and post about them when they arrive from Amazon.