第38回篠山ABCマラソンvol.4 序盤から中盤まで The 38th Sasayama ABC Marathon vol.4 From Start To Middle Stage
・第38回篠山ABCマラソンvol.1 結果速報 The 38th Sasayama ABC Marathon vol.1 Flash Report of Result
・第38回篠山ABCマラソンvol.2 篠山土産 The 38th Sasayama ABC Marathon vol.2 Souvenir From Sasayama
・第38回篠山ABCマラソンvol.3 号砲まで The 38th Sasayama ABC Marathon vol.3 Before the Starting Gun
さて、号砲が鳴ってから2分後、ようやくスタートラインを通過しましたが、その後もしばらくは大混雑の状態で、到底、自分のペースで走ることなどできません。次第に集団がばらけてきて、完全に自分のペースで走れるようになったのはスタートから2km近く過ぎたあたりだったと思います。
2 minutes after the starting gun, I managed to pass the starting line. But for a while after that, I could never run at my own pace in very crowded condition. It was after running about 2 km that I became to be able to run at my own pace.
レース序盤にはサプライズもありました。ゲストとして招待されていた有森裕子さん(女子マラソン1992年バルセロナ五輪銀メダリスト・1996年アトランタ五輪銅メダリスト)と夫婦漫才コンビ「かつみ♡さゆり」のさゆりさんが、コースの途中に立ってランナーたちとハイタッチしながら応援してくれていたのです。もちろん、僕もハイタッチして元気をもらいました。
In early stage of the race, there was a suprise. The guests invited to this race, ARIMORI Yuko ( a silver medalist at the Barcelona Olympics and bronze medalist at the Atlanta Olympics in the women's marathon ) and Sayuri ( a member of a comedy duo famous in Kansai region of Japan, "Katsumi & Sayuri" ) was standing on the course and cheering for runners with giving them high fives. Of course, I also gave high fives and was invigorated.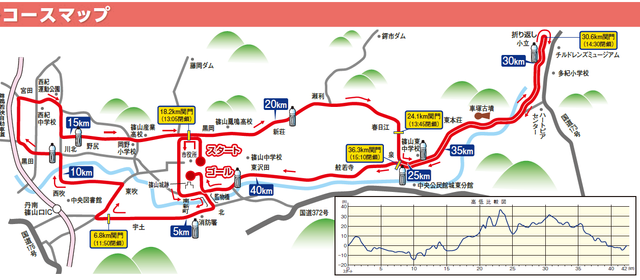 コースはゆるやかな上り坂と下り坂の繰り返しです。アップダウンの苦手な僕ですが、まずまずのペースで中盤まで走ることができました。しかし、風邪による練習不足のせいか、苦手なアップダウンによるダメージのせいか、いつもより早く、20kmすぎくらいから足が重くだるくなってきました。まだ半分しか走っていないのに、こんな状態で完走できるのかと不安になり始めますが、とにかく走り続けるしかありません。
The course was a repetitive cycle of uphills and downhills. Although I am bad at uphill and downhill, I could run at decent pace until middle stage of the race. But my legs began to feel heavy and leaden after running about 20km. That was earlier than usual, because of lack of training by a cold, or damage caused by uphills and downhills. I became anxious about running the latter half of the race with such weak legs. But anyway I had no choice but to keep on running.
つづく
to be continued