第38回篠山ABCマラソンvol.3 Before the Starting Gun The 38th Sasayama ABC Marathon vol.3 号砲まで
・第38回篠山ABCマラソンvol.1 結果速報 The 38th Sasayama ABC Marathon vol.1 Flash Report of Result
・第38回篠山ABCマラソンvol.2 篠山土産 The 38th Sasayama ABC Marathon vol.2 Souvenir From Sasayama
篠山ABCマラソン当日の3月4日、早朝から直行バスに乗車するため、三宮へ。バスは6時半頃に三宮を出発し、1時間あまりで会場へ到着しました。直行バスだと思ったより早いですね。
On 4th March, the day of Sasayama ABC Marathon, I went to Sannomiya early in the morning in order to take a nonstop bus to the marathon site. The bus left Sannomiya at about 6:30 and arrived at the marathon site in little more than 1 hour. A nonstop bus can go to Sasayama from Sannomiya in less time than we thinks.
篠山は兵庫県中部の盆地に位置する自然豊かな街です。黒大豆や猪肉、松茸などの特産品が有名です。今回のマラソンものどかな田園の中のコースを走ります。
Sasayama is a town richly endowed with nature and located at the basin in central eastern area of Hyogo prefecture. It is famous for specialty products such as black soy bean, brawn and pine mushroom. In this marathon, we run the course in the peaceful countryside.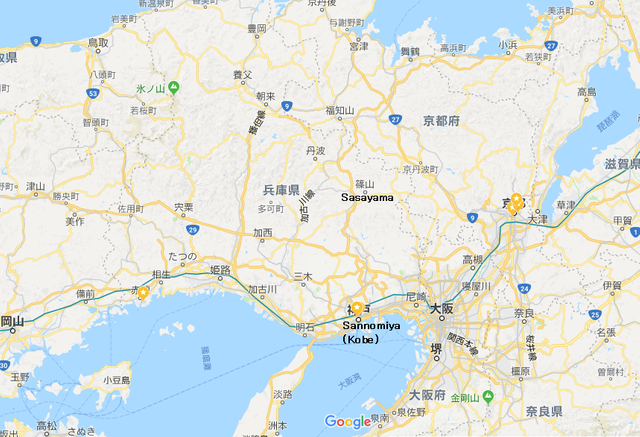 大会会場は篠山城跡三の丸広場です。
The marathon site is Sasayama Castle Sannnomaru Square.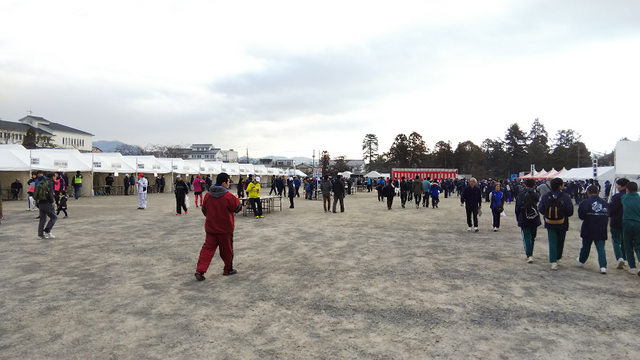 まずは記念品(参加賞)を受け取りました。
First, I received the commemorative goods(the participation prize).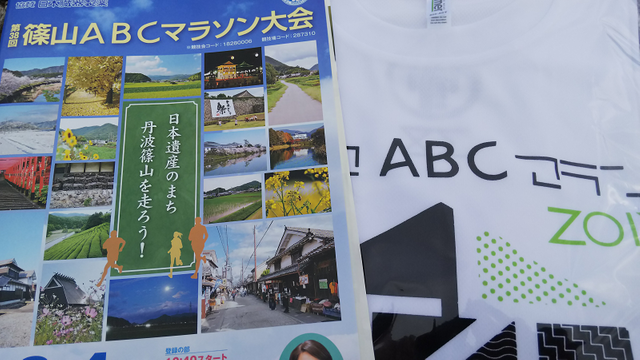 思ったより早く到着して時間があったので、篠山城跡を見てまわりました。篠山城は篠山藩の居城でしたが、もともと天守閣はなく、他の建造物も多くが消失していますが、大書院(藩の公式行事などに使用された中心的建物)は復元されています。
As I arrived at the site and had a time, I looked arround ruins of Sasayama Castle. Sasayama Castle was the homebase of Sasayama Domain. The castle has not had its tower from the beginning, and most of its buildings has gotten dissipated, but Oh-shoin ( a primary building which was used for official events of the domain ) has been rebuilded.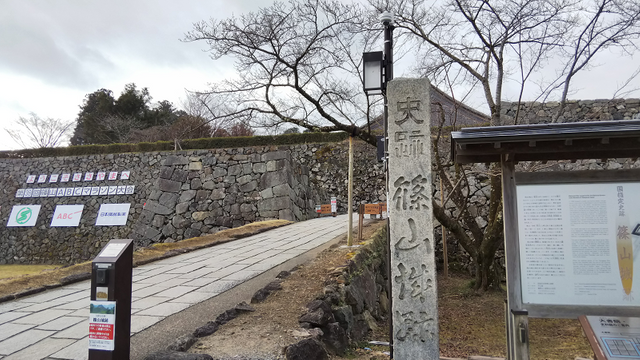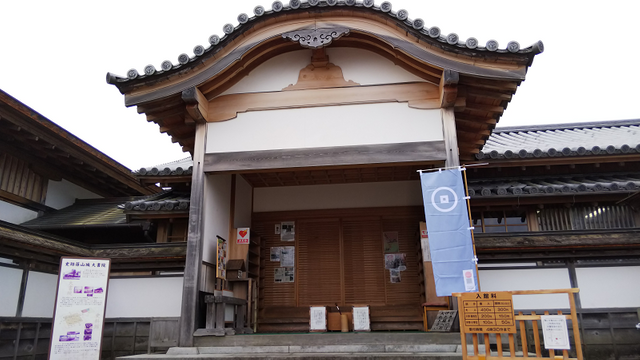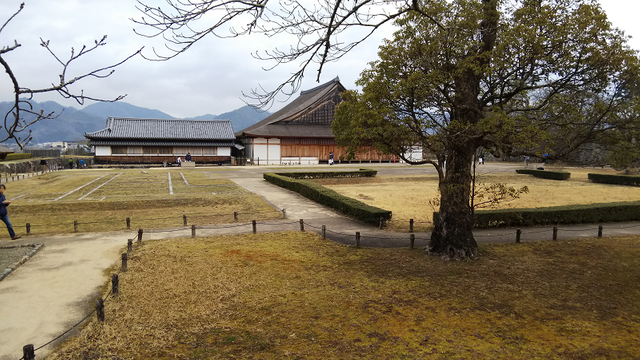 お城を見終わってから、ゆっくりアップをして時間をつぶしました。10時からスタートブロックへの入場が始まるので、9時半頃にはウィンドブレーカーを脱ぎ、荷物を預り所に預けて、スタートブロック入口に並びました。約1万人が参加する大規模な大会なので、ランナーは決められたブロック内に整列しないといけません。僕はBブロックです。
After looking arround the castle, I passed the time by doing warm-up exercises slowly. We gained admission into the starting compartment just after 10:00. So at about 9:30 I removed my windcheater and put my baggage in the baggage room, and I stood in line at the entrance of the starting compartment. This marathon is a large-scale race which about 10 thousands of runners participate in, so we runners have to line up in their assigned compartment. I was assigned to B compartment.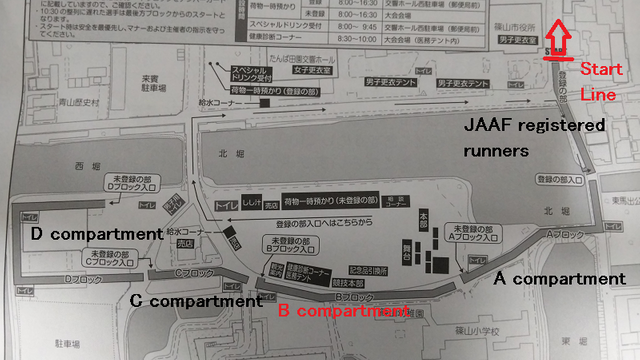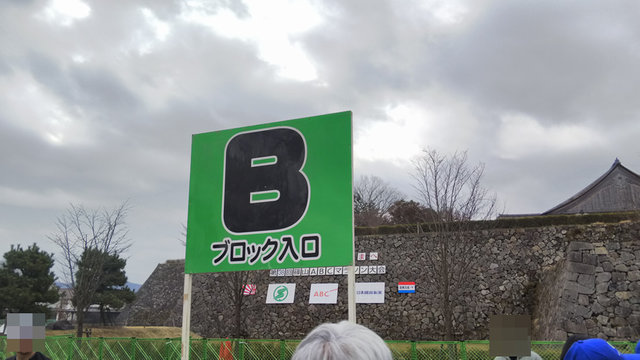 10時からスタートブロックへの入場と整列が始まりました。30分前から並んでいたおかげで、Bブロック先頭の位置を確保しました。そのあと、スタートまでひたすら待ちます。10時40分、陸連登録選手がスタート。その10分後、我々、未登録選手のスタートです。しかし、スタートの号砲が鳴っても、ランナーの列はなかなか前進しません。下が号砲直後の写真です。
At 10:00 we began to enter the starting compartment and line up. Because I waited for 30 minutes, I got the head position of B compartment. After that, we just waited for the starting time. At 10:40, JAAF(Japan Association of Athletics Federations registered runners) registered runners started. 10 minutes after, We unregisterd runners started. But we couldn't make advances even after the starting gun went off. The following is the photo of the starting area just after the starting gun went off.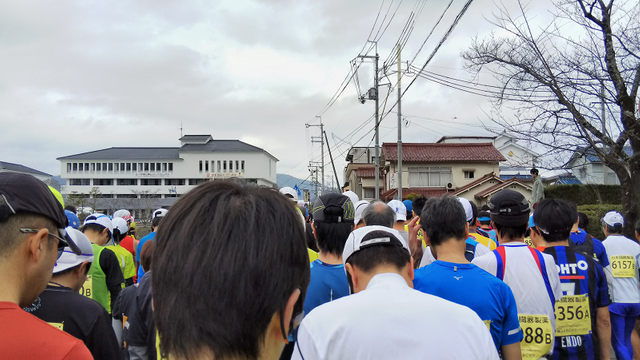 号砲が鳴ってから、2分余りで、ようやくスタートラインにたどり着き、いよいよ本当にレースの始まりです。
about 2 minutes after the starting gun, I arrived at the starting line. My race has finally started.
つづく
to be continued