In my past blogs, I have shown a lot of pictures of things I made for my gaming room... Successful, finished projects... But I also have failed projects and this is one of them... Here is a little background on what made me start this project to begin with:
It was a good 4 to 5 years ago, I wanted to start a Warhammer Roleplaying game campaign... The very first adventure the players were starting with had a Mansion within a compound with multiple buildings... The way this adventure was ending was relatively open ended... So I thought that the players would actually keep the mansion and make it their main base of operation/house. I already had in mind to have some raids happening there from Chaos Beastmen, Orcs, etc... and that every now and then... they would have to defend their property against the invaders...
I liked my idea very much and it was also a way to introduce a center piece to the players.... giving them a better immersion into the campaign. At that point in time, I did not have a 3D printer... So my options were to either build everything from scratch using styrofoam, foamcore, etc... or to use recently acquired moulds from Hirst Arts. Those molds are designed to cast Plaster of Paris, Resine or other material... I opted for Hydrostone... which is much stronger than Plaster of Paris and much cheaper... a bag of 100 pounds (Dry) of Hydrostone was running at roughly $50 CAD...
Each square for the flooring is 1" X 1"... So the main building was to be over 20" long. Now, put in perspective the size of the terrain I made that was specific to that building... Roughly 3' X 4' ...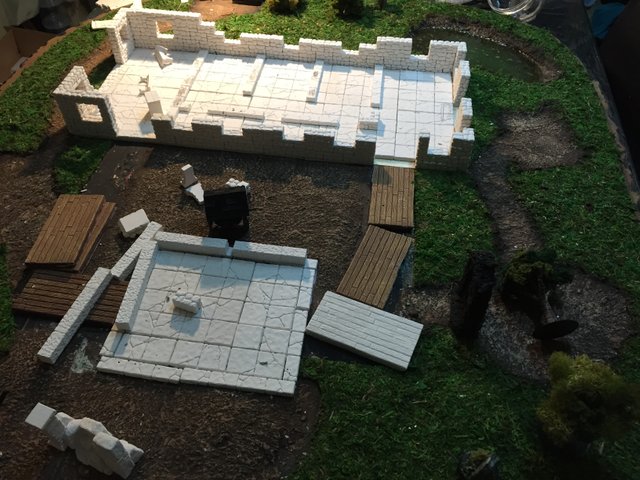 Before even starting the building, I made the terrain that goes under and around it... So I could have a very good idea of what the layout would have to be... Took me several hours to do the ground and the ponds... But I did like where it was heading in terms of look...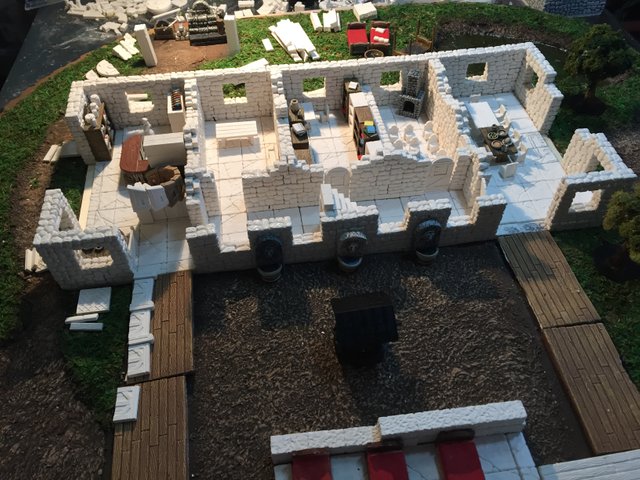 The mansion had to have 2 floors... so after finishing the first floor, I started the second floor... The moulds allow more to make small bricks (about 12-20 at a time) and each cast takes about 30 minutes to set... Then you have to wait 24-26 hours for the bricks to dry...(Or in my case, use a dehydrator and get it dry in 2 hours)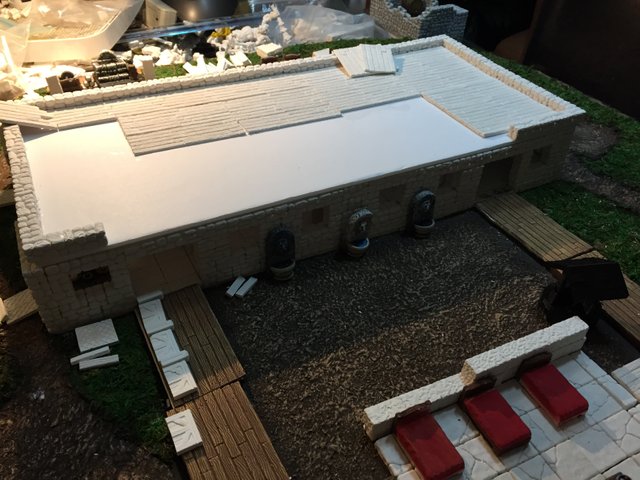 As I mentioned above... I casted the parts with Hydrostone... Which is freaking CONCRETE... therefore not light one bit... So as the project keep going forward... the weight keeps going up...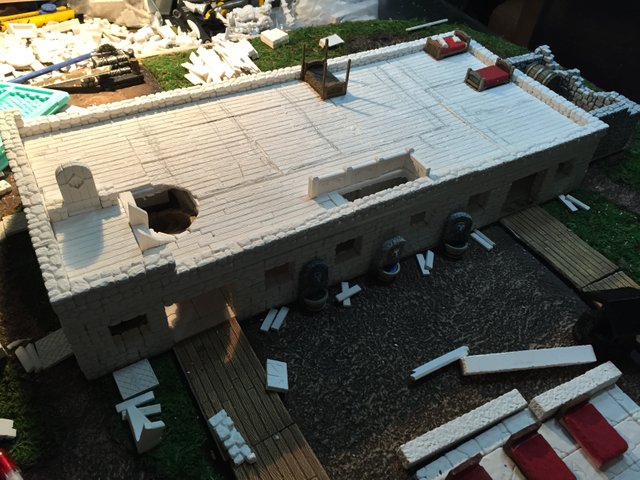 I kept going... creating the layout for the upstairs' bedrooms, walls, etc...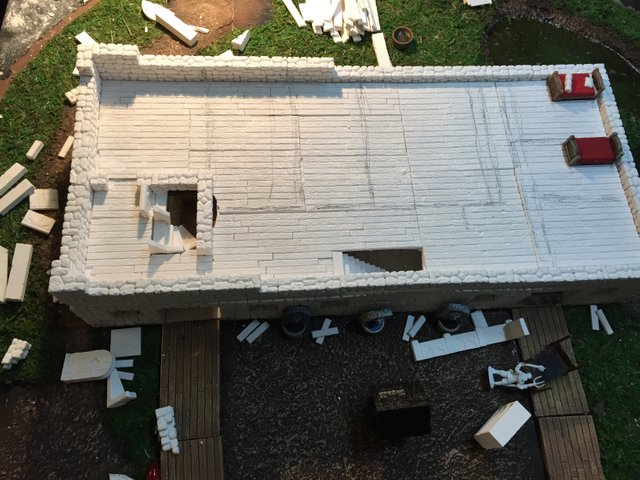 Every now and then... had to take a break from the casting and building... so I was painting the first floor to break the monotony of the repetitive crap that is gluing those bricks one by one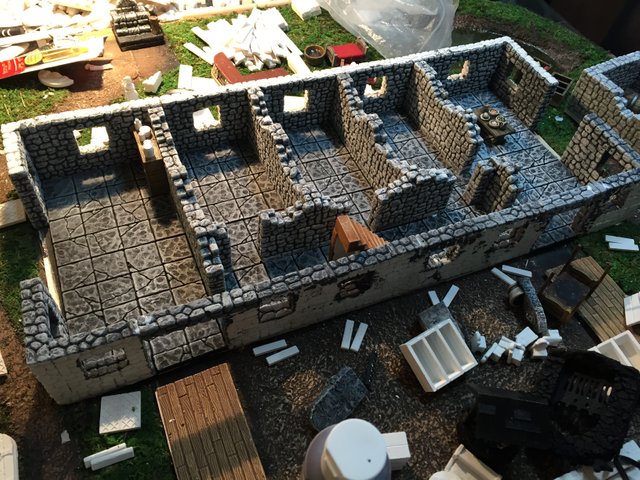 The project was getting bigger and harder to store... and more importantly HEAVIER too... When I took this picture, this is when reality started to sink in... I did not think this through before starting.... At that point I was living in a condo downtown Toronto... which mean a shoebox size living space in a sky scrapper with no storage... Now, the kitchen table was committed to that project for over a month and my wife patience was inversely proportional to the weight of my project...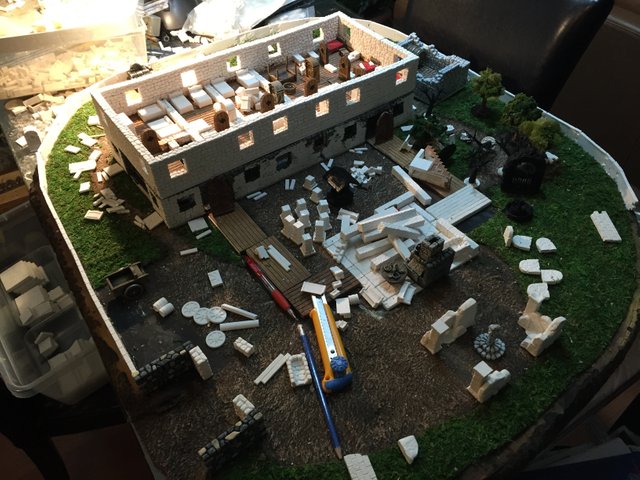 Progress was made... But it was at the same time we bought our house... So now... I had to think about how in the hell am I going to move that (in a moving truck) without arriving at the house with a box full of broken parts...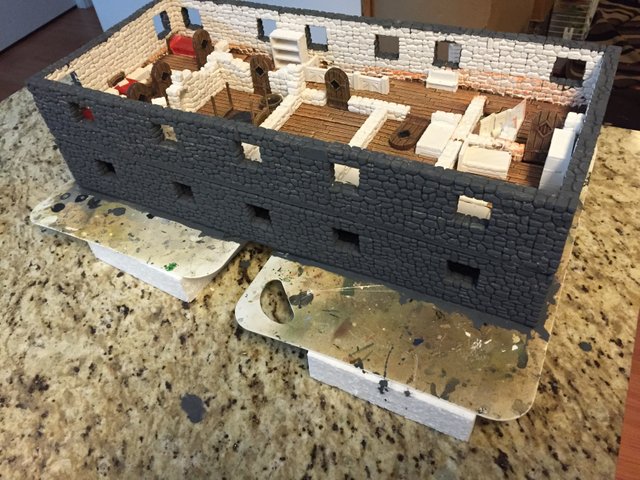 I was really liking the building and how majestic it was in size...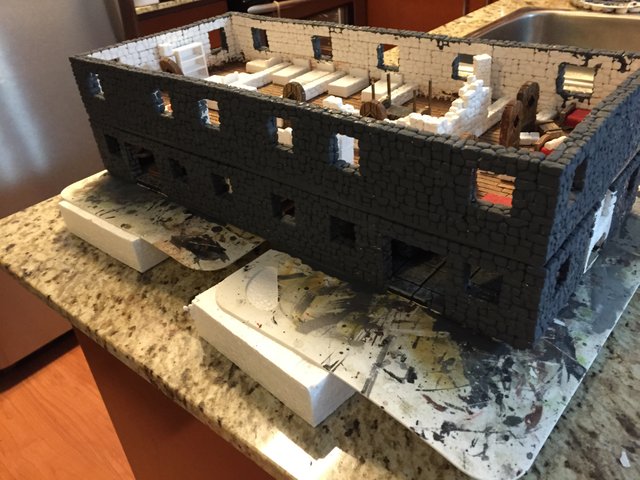 Painting it was relaxing and rewarding....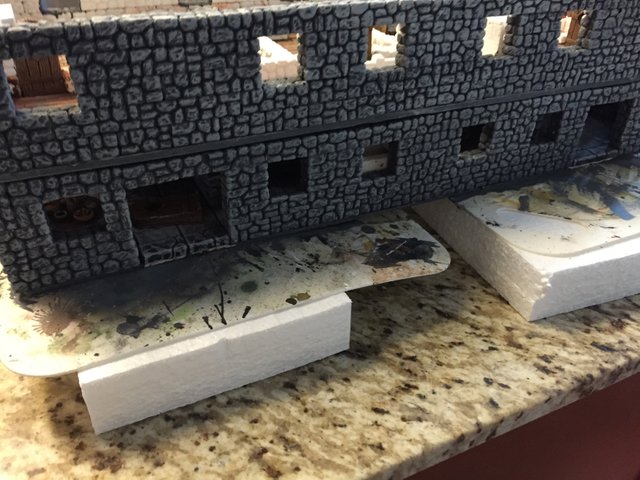 But came the moving day... that had to be packed...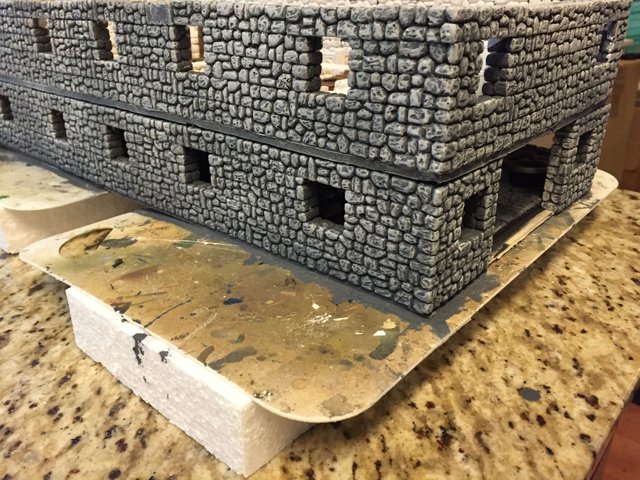 As you may have already concluded... The project did not quite make it through the move... I reached the destination broken in several places... Because of that and the lack of motivation to try to fix that newly made puzzle of bricks... I left that project untouched for a few years...
The other day, while going through boxes looking for something else... I came across it... It was time to let it go... find it a new place... One of my friend who just started into the Wargaming hobby a year ago was still trying to acquire basic terrain, etc... So I decided to give him the box and then several more boxes of bricks, etc.. so he can have fun for a long time...
So what was the failure? Creating a GIGANTIC piece that had only 1 purpose... The entire thing was not convenient for my gaming room set up.... I love my stuff to be modular and multipurpose... I like it to be easy to organize (in plastic containers)... The failure was to realize that creating something the size of freaking couch is not the best of the idea when I already have so much gaming stuff...