We are exactly a month away from the SteemFest. So excited when I think of it. While I write this post, I am thinking exactly a month from now at this same hour I would have started catching up with my fellow Steemians.
I have sorted out everything for the trip, and it's been pretty smooth for me. So far no hassles and everything is in place.
The flight is booked, Hotel stay booked, SteemFest Ticket purchased and I have also checked on some local things of Bangkok like the internal city travelling, places to visit, Restaurants of my taste and Shopping areas.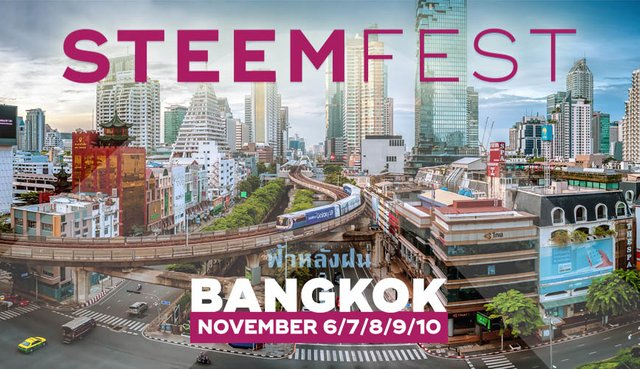 To start with I will be taking the 04th Nov night flight from Muscat to Bangkok which is a 5.30 hr flight and will land in BKK at 06:50 A.M. For Indians there is a Visa on arrival so that will be done once I land. After that from the Airport to the Prince Palace Hotel the distance is approximately 40 Kms and the Taxi is available from the Airport which would cost approx of 40 to 50$.
Once at the Hotel I am going to rest for sometime and then later in the afternoon I plan to go out and explore the place by myself. If I find some Steemian along with me in the hotel that would be great else I would also love to be by myself and enjoy my time.
On 6th again morning is to myself, I will like to spend sometime at the Hotel, may be go to the pool side or something near by. From noon onwards I am sure people will start coming in and then it would get busy meeting up everyone.
On 07th and 08th will be at the venues for the day long sessions. The Day 1 Conference is at Siam Society / Kamthieng House Museum, I checked on the place it's a beautiful place with a surrounding of lush green area in the concrete jungle of Bangkok and the day 2 at Warehouse30 in Bang Rak. Both these places are at a distance of around 5 to 6 Kms what I checked online, so it would not be any hassle to reach at the venue.
For the 09th and 10th I look forward to the day long outing. I am sure it's going to be a crazy 4 day affair with so many things to do.
11th I am not sure what I will be doing, if I am too tired then I will prefer to take some rest for the 1st half of the day and then in the 2nd half I will like to do some shopping. 12th afternoon is my return flight and back home.
So you see it's all in place and I am left with only packing my bags and hopping onto the Aircraft, which I eagerly look forward to.
A lot of people are coming from very far off places and I am sure they are going through challenges while planning this whole trip, It's really nice of them to take all these efforts to be there for the Fest and it only shows how much these people value Steemit.
Also for the organizers specially a big thank you to @roelandp, who has been running around in finalizing the venue and getting the schedule in place for the Fest. Something of this magnitude needs a meticulous planning and it's not a day's job it takes days and months to get things in place. Thanx to @anomadsoul for bringing up these topics so that everyone who is attending gets involved, shares their views and even before the fest starts it becomes interactive.
So a big shout out to all the organizers and the team for arranging this whole event which we all eagerly look forward to.💗💗
Thank you for visiting my blog.* 👼🏻👼🏻💖💖🌹🌺🌸




"Unlimited Abundance, Blissful Happiness and Unconditional Love;
May Crystals give you the Power"
My other blogs of Interest
---
---
Member of
---
| | |
| --- | --- |
| Supporting People Who Help Make The World A Better Place @ecoTrain | |
---