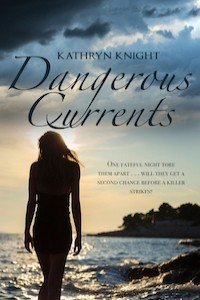 Check out the highlights on our official review of DANGEROUS CURRENTS by Kathryn Knight!
a contemporary second chance romance with a suspense sub-plot.
focuses more on the romance, past and present and the difficulties facing the H/h to get to their HEA than the suspense occurring in the background during the same time period.
well written, emotionally charged romance due to long-held secrets and misunderstandings more than a romantic suspense as the summary leads you to believe.
Misunderstandings and misconceptions need to be cleared up, secrets need to be exposed and danger is lurking in the background.
a romance that has so many layers. There is the poor boy and the rich girl high school first loves, Malorie's secret that Dean never knew about, Dean's shame of his step-father going to prison and his brother not stepping up as a responsible father-to-be.
Malorie and Dean's relationship progresses in a realistic way and the sex scenes are hot.
The suspense sub-plot of the murdered girl that Malorie and Dean found adds some tension and intrigue to the story with a surprise who-done-it, but the romance could really stand on its own without it.
This is a second chance romance worth reading.
Rating: 4 Stars
Reviewed by Avonna
for TheRomanceReviews.com
Catch the full review and details on The Romance Reviews website.
Now available on Amazon.com.
Photo credits: TheRomanceReviews.com