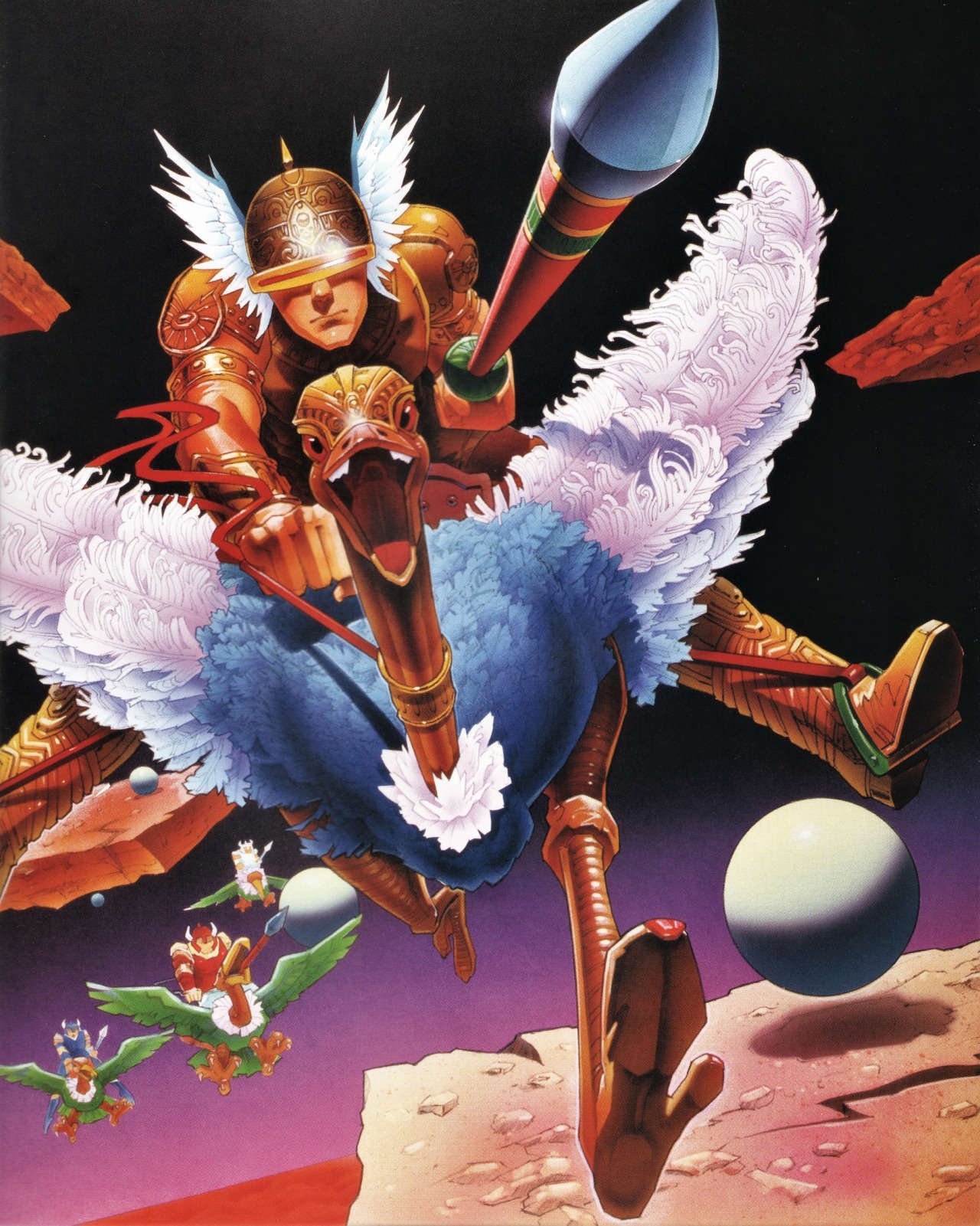 Source: http://www.megalextoria.com/wordpress/index.php/2017/02/16/joust-art-by-hiro-kimura/
Joust was an arcade game developed by Williams Electronics and released in 1982. The player or players control a knight riding a flying ostrich and battles against enemy knights riding buzzards. Despite the relatively unique control scheme at the time (press the butt to flap the wings) it was quite a successful game and was largely responsible for popularizing two player simultaneous play.
The game was released on a number of home systems starting the following year with releases on the Atari 2600, Atari 5200, Atari 7800, Atari 8-bit home computers, Atari Lynx, Atari ST, DOS, Macintosh and the NES. The artwork above was used for the box/label art on the Atari console versions of the game and possibly others.
I never owned Joust for any home system but I remember playing the arcade game a few times. I also played a game called Dragonhawk on the Commodore 64 that was very similar.
---
Thanks for stopping by and check out some of my other recent retrogaming posts below!
Chopper Command (Atari 2600, 1982)
https://steemit.com/retrogaming/@darth-azrael/chopper-command-atari-2600-1982
E.T.: The Extra Terrestrial (Atari 2600, 1982)
https://steemit.com/retrogaming/@darth-azrael/e-t-the-extra-terrestrial-atari-2600-1982
Why Atari Is #1
https://steemit.com/retrogaming/@darth-azrael/why-atari-is-1
Missile Command (Atari 2600, 1981)
https://steemit.com/retrogaming/@darth-azrael/missile-command-atari-2600-1981
Computer Gaming World (July 1987)
https://steemit.com/retrocomputing/@darth-azrael/computer-gaming-world-july-1987
WWF WrestleMania Challenge (NES, 1991)
https://steemit.com/retrogaming/@darth-azrael/wwf-wrestlemania-challenge-nes-1991
Pac-Man (Atari 5200)
https://steemit.com/retrogaming/@darth-azrael/pac-man-atari-5200
Extreme Ghostbusters
https://steemit.com/retrogaming/@darth-azrael/extreme-ghostbusters
Burning Rangers (Sega Saturn)
https://steemit.com/retrogaming/@darth-azrael/burning-rangers-sega-saturn
Uncharted Waters
https://steemit.com/retrogaming/@darth-azrael/uncharted-waters
GamePro, 1996
https://steemit.com/retrogaming/@darth-azrael/gamepro-1996
TECMO Sports (1994)
https://steemit.com/retrogaming/@darth-azrael/tecmo-sports-1994
Laser Invasion (NES, 1991)
https://steemit.com/retrogaming/@darth-azrael/laser-invasion-nes-1991
Metroid (NES, 1987)
https://steemit.com/retrogaming/@darth-azrael/metroid-nes-1987
Nintendo Power, November 1995
https://steemit.com/retrogaming/@darth-azrael/nintendo-power-november-1995
StarCraft 64 (Nintendo 64, 2000)
https://steemit.com/retrogaming/@darth-azrael/starcraft-64-nintendo-64-2000
Shadows of the Empire (Nintendo 64, 1996)
https://steemit.com/retrogaming/@darth-azrael/shadows-of-the-empire-nintendo-64-1996
Streets of Rage (Sega Master System)
https://steemit.com/retrogaming/@darth-azrael/streets-of-rage-sega-master-system
Haunted House (Atari 2600, 1982)
https://steemit.com/retrogaming/@darth-azrael/haunted-house-atari-2600-1982
Mega Man 7 (Super Nintendo)
https://steemit.com/retrogaming/@darth-azrael/mega-man-7-super-nintendo
Rampage (Sega Master System)
https://steemit.com/retrogaming/@darth-azrael/rampage-sega-master-system
Sega Master System (poster)
https://steemit.com/retrogaming/@darth-azrael/sega-master-system-poster