To leave or not to leave that is the question. How do you know when it is time to get out?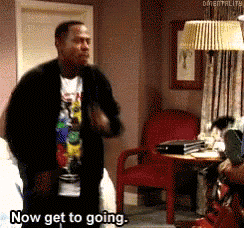 In the 1990's Fox Network aired the landmark television show, Martin. Many of the episodes would have Martin getting into a heated discussion with his friends. His friends would invariably disagree with him and tell him he was wrong. It would culminate with Martin, often in a pique of anger, ordering them to leave his apartment. His oft quoted refrain was "get to stepping."
It was funny to watch as the viewing audience could see it coming. However, his friends could not. They would always miss the warning signs.
Have you ever overstayed your welcome? Often times we can stay in a situation far too long.
I recently participated in a writing exercise. It involved writing about leaving a situation. For some reason, my mind became flooded with music. Good music serves as a soundtrack for life. The G.C. Cameron classic "It's So Hard to Say Goodbye to Yesterday" came to mind. It was later covered by Boys II Men. It is a song about the ending of a friendship. Despite knowing that it is time to move on, there is a reluctance to do so.
Just as we can stay too long, sometimes the opposite can be true. We can leave before a season is complete.
As a child, we moved a lot. It was not uncommon for me to attend as many as 3 or 4 different elementary schools in a calendar year. I had no idea how this impacted me. It made me unstable in my early adult years. As a young man I would change jobs a lot. Looking back I can see some situations that I gave up on too soon.
The 2 most precious resources that God gives us are time and our relationships. We have family relationships, friend relationships and work relationships. An unfruitful, unproductive relationship causes us to waste time. Relationships and time are designed to nurture and enhance each other. It is tragic when one undermines the other. There are some relationships that are for a life time. And there are some relationships that are meant to last only for a season. We get into trouble when we handle lifelong relationships like they are disposable. The same holds true when we try to hold unto those that were only meant for a season. Some people are brought into our lives for a portion of the journey. We are to encourage and strengthen one another along the way.
It is God who orchestrates the seasons of our lives. He determines when a season begins and ends. If we keep Christ as the center of our life He will lead and order or steps. Even if we do blow it and leave a season too soon, His Grace will cover us. If we surrender to His will, He will get us back in step.
To everything there is a season, and a time for every purpose under heaven. Ecclesiastes 3:1