BEET BURGERS (VEGAN)! The Best Recipe So Far For Burgers That Directly Match And Replace The Cow Versions. :)
These burgers blew me away with their fine taste and texture that i really did not expect to get from the ingredients used in them - too good to keep to myself! - No animals were harmed in the making of this dinner!
I think the majority of people will at least theoretically recognise the value and need of being vegan, possibly in terms of health, or at least in terms of stopping the abuse of other living creatures. However, they typically find that in practise they have no clue about how to do it and are intimidated by the thought of having to replace so much of their food 'routines' with alternatives that many simply never even attempt the change. For that reason and also just for fun, it can be good to re-create traditional 'meat' based recipes with equivalents that are plant based and when it is done well, even meat eaters will often agree that the results are even better than the original meat versions.
Since I grew up liking to eat burgers and despite me knowing well that raw fruit and veg meals are better for me than cooked and fried foods - I still sometimes eat vegan burgers and this recipe is the best I've found so far. I have previously used recipes that are totally different to this one, but I won't be using them again!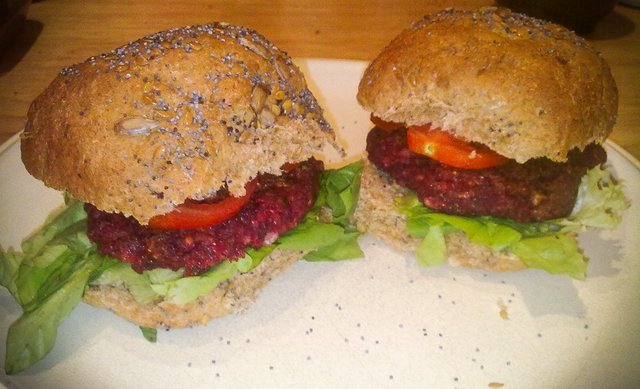 Ingredients
---
1.25 Cups of cooked (and cooled) brown rice (I use short grain)
1 Cup of cooked (and cooled) lentils
1 Cup of shredded Beetroot
0.5 Teaspoon of salt (ideally a decent salt - not demineralised table salt)
Black pepper - to taste
1 Teaspoon of thyme
3 Tablespoons of chopped onion
2 Cloves of Garlic (finely chopped)
2 Tablespoons of almond butter
Half a cup of breadcrumbs
Oil for frying (olive or other that you prefer)
Method
---
Shred the beetroots in a food processor.
Use a cutting blade attachment in a food processor to blend the lentils, rice and shredded beetroot. The mixture should form a consistently blended mix when ready.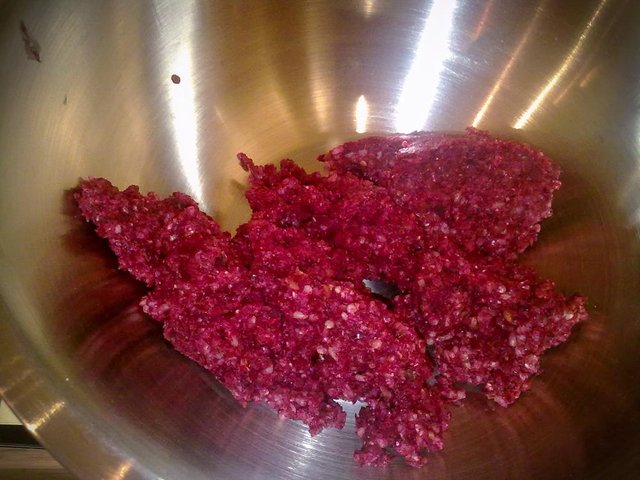 Drop the blended mix into a mixing bowl and add all the other ingredients, mixing it all together by hand.
Chill the mixture in the fridge for 15 - 40 minutes.
Form the burger patties according to the size you prefer - you don't have to worry about making them too big to be fully cooked since these are made of plant materials only.
Heat a frying pan to a medium-high temperature and add a thin layer of oil to it.
Fry the burgers for about 12 minutes, turning them over a few times in the process.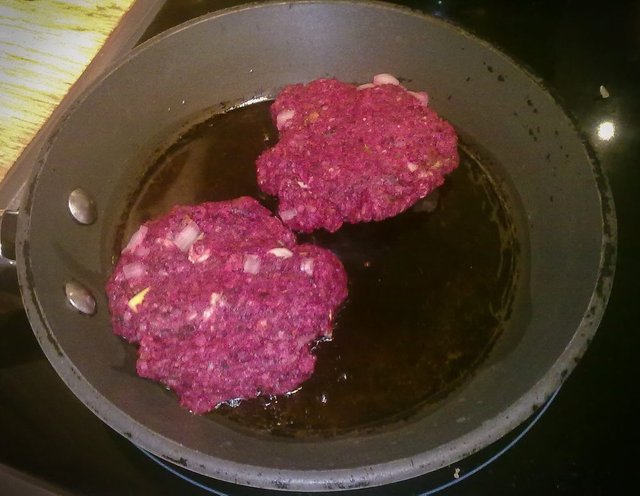 Serve however you like! I used lettuce, tomatoes and wholegrain buns - along with home cut potato chips - which was great!
Note - I strongly suggest doing your best to source organic ingredients as they are always best for health and taste better too.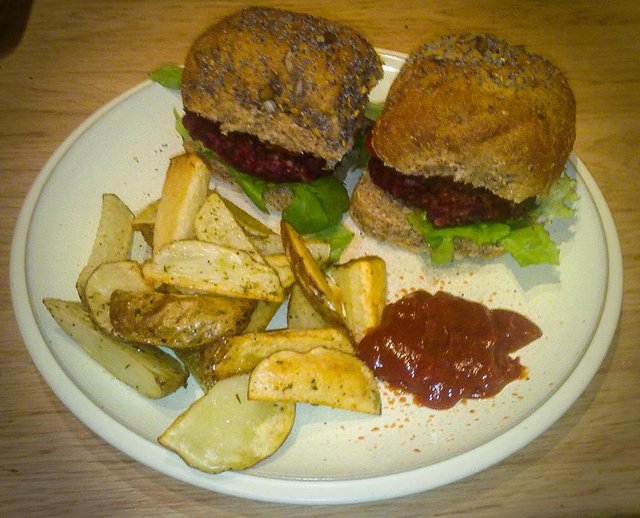 Wishing you well,
Ura Soul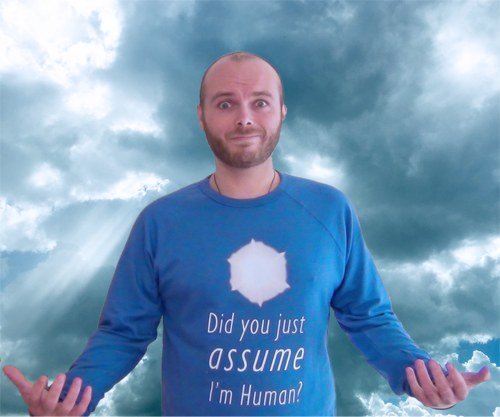 Buy My T-Shirts, Gifts & Other Clothing Here.