"'Q' is fake" - "Baker" Comes Clean
Emphasizing that I am unable to verify the claims made in this email, I think it is still appropriate to publish the information in full so that interested parties can review it and decide for themselves whether it is credible. Many of the claims go along with my interpretations of #QAnon since its appearance on the chans, but that in itself does not prove their authenticity. I ask that you use your own discernment and, as much as possible, be willing to challenge previously held beliefs.
I am making some effort to reach out to the individuals implicated by the author and I would like to give all of them a chance to respond to the allegations on my show. I can be reached by Twitter DM or email.
Here is a screenshot of the email in my mailbox and below will be the complete text.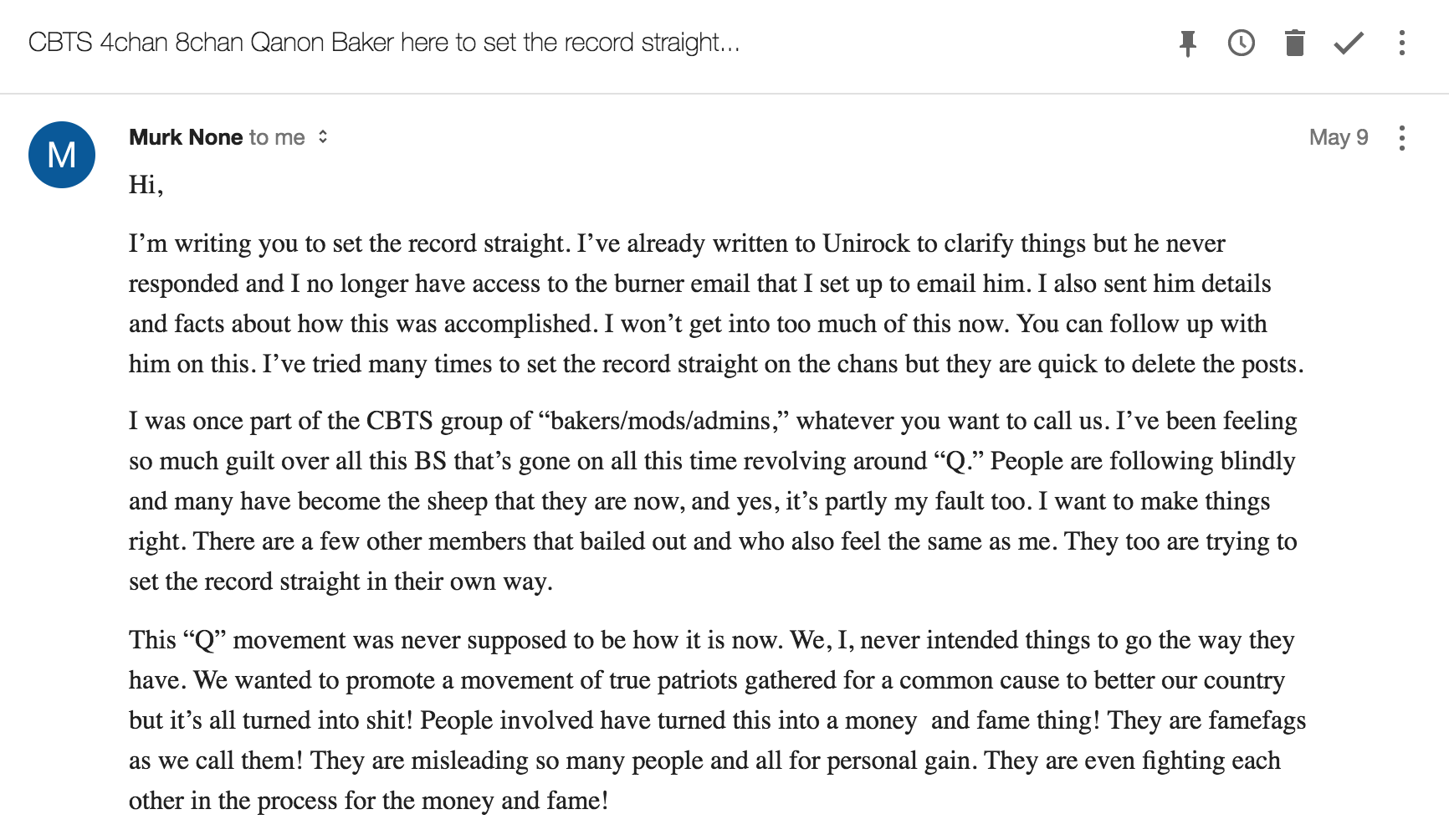 Hi,
I'm writing you to set the record straight. I've already written to Unirock to clarify things but he never responded and I no longer have access to the burner email that I set up to email him. I also sent him details and facts about how this was accomplished. I won't get into too much of this now. You can follow up with him on this. I've tried many times to set the record straight on the chans but they are quick to delete the posts.
I was once part of the CBTS group of "bakers/mods/admins," whatever you want to call us. I've been feeling so much guilt over all this BS that's gone on all this time revolving around "Q." People are following blindly and many have become the sheep that they are now, and yes, it's partly my fault too. I want to make things right. There are a few other members that bailed out and who also feel the same as me. They too are trying to set the record straight in their own way.
This "Q" movement was never supposed to be how it is now. We, I, never intended things to go the way they have. We wanted to promote a movement of true patriots gathered for a common cause to better our country but it's all turned into shit! People involved have turned this into a money and fame thing! They are famefags as we call them! They are misleading so many people and all for personal gain. They are even fighting each other in the process for the money and fame!
What I am admitting to you is that "Q" is fake. The real people behind "Q" are those that are affiliated with CBTS, as well as some from 4chan and 8chan, and some from reddit. It's a big group and yes I was a part of it. That's all it is, one big research group with skill sets to make this all believable. I have no reason to lie.
To be continued...
---
Thank you for following, upvoting and resteeming!