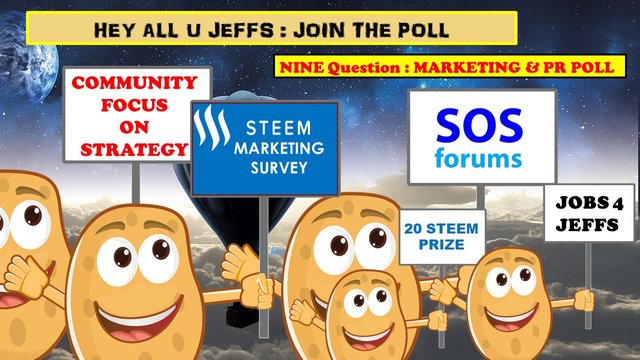 Jobs 4 Jeffs: Join the Marketing Poll as part of the State of Steem Forum Activity
This is a quick little task initiated by @impactn, who is using a proven strategic tool and dPoll.xyz, to devise a community focus on the Marketing & PR of the Steem Blockchain. The survey was mentioned in Thursdays State of Steem Forum.
It's easy and will take 5-10 minutes: please can you join the survey?
Complete the survey here: (connect to dPoll with ease via Steem Connect):
https://busy.org/@impactn-polls/development-of-a-joint-marketing-and-pr-strategy-for-steem-the-polls
@Impactn has offered an opportunity to win 20 Steem by entering the poll (read his rules on his article).
3 STEP CALL TO ACTION
To encourage momentum:
Resteem this post
Do the Poll which is 9 simple questions
Comment on this post to say you have done the poll and tag 5 friends asking them to do the Poll as well
Hopefully with views from a wider population there will be a consensus on the most important tasks to focus on.
Resteemers Reward Pot
I'm going to do 100% upvote on all comments that resteem this post and follow my 3 step plan in the next 12 hours.
Mini-Tag-Fest
I wanted to tag a few of those I know on here who are advocates for the marketing and promotion of the Steem Blockchain as I believe their input into the polls will be highly valued by the State of Steem forum: @nathanmars @exyle @ezzy @theycallmedan @pennsif @surfermarly @futurethinker @starkerz @anarcotech @aggroed @yabapmatt @bitrocker2020 @fredrikaa @anomadsoul @coruscate @ejemai @ashtv @hitmeasap @emrebeyler