Make a LOGO for Project Eleven and win 5 SBD!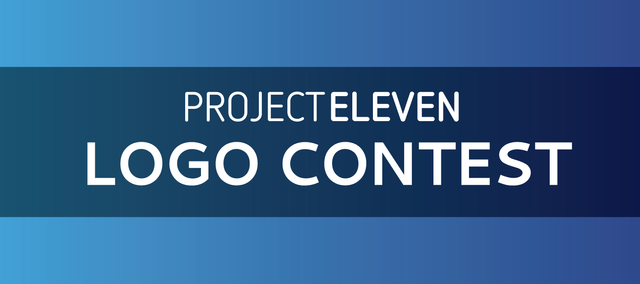 Who's up for a LOGO contest?
We've just launched our project yesterday and just like most newly-established groups, we have not come up with our logo yet. Our team has decided that we would instead host a contest and allow people to design the logo for us.
If you are a graphic designer and you think you have the skills to make our logo then feel free to participate and get the chance to win 5 SBD!
Logo Contest Guidelines
Project Eleven is a new project so we need an attractive logo and branding for our steemit profile and social media channels. The preferred logo must be:
Simple - The details must be visible in small size such as steemit profile picture,
Unique - It should not be very similar with the logos in google search,
Meaningful - It should represent what the project is about.
Therefore, it will be better if you could briefly explain how you come up with the design.
What is Project-Eleven?
Project-Eleven is a blockchain-based organization which aims to bring talented Filipino athletes, e-sports enthusiasts, artists and musicians to the Steem Blockchain by creating events, workshops, tournaments, and competitions in which the participants and winners will be rewarded with cryptocurrencies.
We will also support related contents through quality curation. You can read our introductory post here to know more about the project.
How to Join
Resteem this post for visibility.
Create a post about your logo submission with project-eleven as the first tag.
Comment a photo and link of your submission on this post.
The winner will be determined by: number of votes in the comment section (50%) and project creators' votes (50%).
We will announce the winners on 25 April 2018 around 10:00 UTC.
The winner will win 5 SBD and participants will receive upvotes from project creators. The winner price may increase to 10 SBD depending on the number of participants so invite your friends to join!