Introducing Project Eleven: A Blockchain-based Organization dedicated to bring Filipino Athletes, Esports Enthusiasts, Musicians and Artists into Steemit Community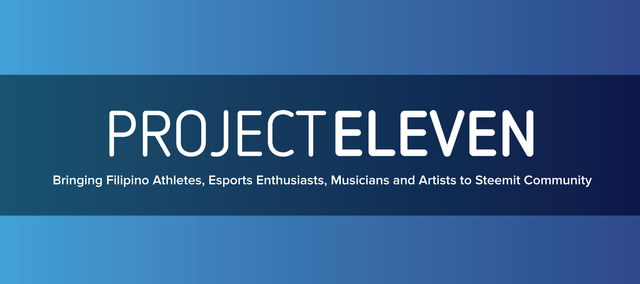 ---
Brief Introduction
Project Eleven is an organized group based in the Philippines with the purpose of bringing sports, e-sports, music and arts into the blockchain ecosystem (particularly steemit) and to introduce to these communities the idea of decentralized social media platforms.
The organization is founded by @asbonclz, @paulthebeloved, @ruel.cedeno and @gailbelga which aims to create an exclusive community in the blockchain ecosystem for all Filipino athletes, e-sports enthusiasts as well as those thriving bright and underrated musicians and artists.
The team believes that the creation of such group in the country would not just help those people pursue their passion but also to empower them with the knowledge of the existence of such advance technology in the country.
Principles and Idea
We believe that it is our freedom to conquer our dreams and that financial problem should never be a hindrance towards reaching one's goal. But one cannot simply deny the fact that money is a real threat to one's vision.
Thus, with the difficulties in life that Filipinos are experiencing each day, one tends to sacrifice his/her passion as well as forget his/her dreams in order to live a better, brighter and sustainable life by engaging into the corporate rat race. Chasing a dream should never be a privilege but a choice!
Therefore, our team would like to propose a humble solution to this issue. With the increasing popularity that the blockchain technology has gained in the present, especially the Steemit platform, we believed that the idea of decentralized social media platform is a powerful tool in solving this problem.
How will the Organization work?
Project Eleven will reach out to as many Filipinos as possible (not limited to those people mentioned above) and will try to impart knowledge about this platform. The organization will also try to get them into the Steemit platform as well as guide them throughout their journey in the blockchain ecosystem for free.
The organization will then initiate and organize engaging-events powered by the technology of Steemit. We believe that this will attract more investors as well as develop collective curiosity about such idea. Through this, an opportunity will be open for all, especially for the younger generation.
Work Plan
In order to make this vision possible, we will instigate this idea in a small area, specifically here in Iligan City and other neighboring towns. We will then extend our responsibility depending on the gracious feedbacks as well as the support that we'll receive.
With the initiation of this project, we will try to obtain partnerships with local business establishments and other small investors by teaching them how to make use of this advance technology (particularly the steemit platform) as an instrument to increase their revenue.
We know that with our current combined SP, we would not be able to give people with decent amount of reward through upvotes but we believe that we will be able to help them more efficiently through our simple ways.
How we treat Abuse in our organization?
We will not tolerate any abuse coming from any person in our team! Therefore, we will set rules and craft laws to guide us and to help us preserve our purpose. We will publish those rules and regulations anytime soon for transparency! Thank you!
Follow us and stay tuned for more updates!