"Victory's Price" (poem-article) ... @theycallmedan's 20,000 STEEM Delegation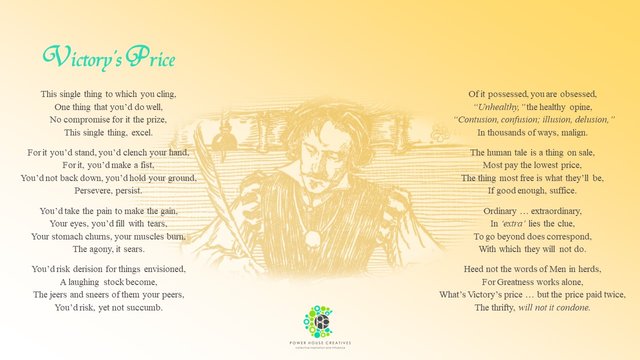 Poem by @QuillFire
Member, The Power House Creatives

Victory's Price
This single thing to which you cling, 
One thing that you'd do well, 
No compromise for it the prize, 
This single thing, excel.   
For it you'd stand, you'd clench your hand, 
For it, you'd make a fist, 
You'd not back down, you'd hold your ground, 
Persevere, persist.   
You'd take the pain to make the gain, 
Your eyes, you'd fill with tears, 
Your stomach churns, your muscles burn, 
The agony, it sears.   
You'd risk derision for things envisioned, 
A laughing stock become, 
The jeers and sneers of them your peers, 
You'd risk, yet not succumb.  
Of it possessed, you are obsessed, 
"Unhealthy," the healthy opine,  
"Contusion, confusion; illusion, delusion," 
In thousands of ways, malign.   
The human tale is a thing on sale, 
Most pay the lowest price, 
The thing most free is what they'll be, 
If good enough, suffice.    
Ordinary … extraordinary, 
In 'extra' lies the clue, 
To go beyond does correspond, 
With which they will not do.   
Heed not the words of Men in herds, 
For Greatness works alone, 
What's Victory's price … but the price paid twice, 
The thrifty, will not it condone.  

How much do you want it?
The Japanese call it, "otaku" ... a passion beyond reason. A thing to which one dedicates the fire of one's soul. 
Everybody says they do. But talk is cheap. 
Indeed, we've become meme-machines, the purveyors of pithy cliches and high-minded platitudes. But it has been my experience that one only begins to be defined at the point where everyone else has given up. That the "extraordinary-minded" intuitively understand that anything in life worth having, will require the paying of a price to obtain it.
"Extraordinary" means "extra" (beyond) the "ordinary" (the common) and what people are willing to do in order to obtain the "extraordinary results" they desire, is very much dependent upon the person. Some will attempt to earn it, others ... to steal it. 
Steemit is but a microcosm of life and the rules of humanity are not rewritten because someone composes a bit of code. And so, inevitably, these two mindsets come into conflict. One will win ... and the other lose. I will leave it to your speculation about the consequences for the blockchain in the case of either. 
I am a member of the former group, the earners. But I am not alone. Indeed, some number of months ago I was invited to join a Steemit organization called @steemitbloggers, which has since been rebranded as the Power House Creatives.     
In less august circles, the Power House Creatives are referred to as "Elitist Pricks." 
Personally, it's a moniker I wear well. 
But for most of my teammates, only the adjective applies. They're good, honest people working hard to build the communities and cohesion upon which the blockchain depends. But they also produce content of which the blockchain can be proud, perhaps ferociously so. Content that actually has a chance of attracting audiences and increasing Steemit's user-base. 
They are the "elite." 
The best writers, poets, painters and musicians. The best photographers, videographers and world-class chefs. While the group has approximately 100 members, they hail from more than 24 countries and speak close to two dozen languages. And, they possess IQ's not trivially above the norm.   
But for all that diversity, there is a tie that binds: A shared creed. 
A desire to be "extraordinary" and a willingness to perform whatever Herculean tasks are required in order to achieve it. Of course, it's not just the Power House Creatives that embody this spirit. There are many other Steemians as well ... fellow travelers and, hopefully, future Members.
In the present @theycallmedan @20,000 STEEM Delegation Contest (God Bless His Soul), the Power House Creatives will go up against competitors many times their size and possessing far greater resources with which to wage war. We do not, for example, have the ability (nor the inclination) to trade upvotes for poll-votes. Such were our circumstance during the original 10,000 STEEM Delegation contest and we still managed to come in second ... and damn near first.  
This contest's STEEM Delegation is, in-and-of-itself, insignificant. What is significant is what it empowers: An ideal that stipulates that Content Shall Be Compensated Commensurate With Its Quality. Admittedly, the Power House Creatives would be beneficiaries of the adoption of such an ideal. But, so too, would be all those who share our ethos. Those who would elevate Merit over Manipulation. While this is but the first step of a 1,000 mile journey, a journey to reform the blockchain, it is singular in its distinction - for inherent in that step ... is the intent to begin. 
We, the Members of the Power House Creatives, humbly ask for your support ... and your vote.             
Quill
How To Vote
Click this Link 
When asked, Login to steemconnect
Select "steemitbloggers"