Like many prior events, the Christchurch attack has hallmarks of a false flag operation, even if it isn't and it's just another 'coincidence'.
When there are planned drills, training session or exercises going on at the same time as a 'terror attack', one has to think about the apparent coincidence of a criminal executing their actions at the same time. Is it really a coincidence?
The New Zealand Herald reported that, by happenstance, luckily, "Some of the world's most deadly sharpshooters were in Christchurch when New Zealand's worst ever terror attack unfolded on Friday".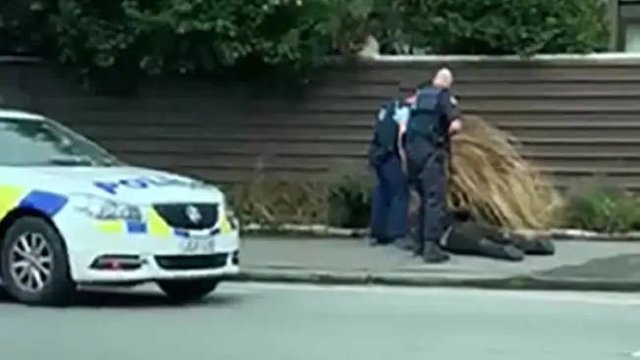 Source
Some of the world's most deadly sharpshooters were in Christchurch when New Zealand's worst ever terror attack unfolded on Friday, with NZSAS taking to the streets to help hunt the rampaging mosque shooter.
Snipers from the New Zealand military, as well as professional snipers from Australia and Asian countries, had been at the Defence Force shooting range at West Melton, 25kms west of the city, the Herald has been told.
When the massacre unfolded, they were sprung into action and understood to have been granted special powers to take up arms in order to protect the public.
Apparently, after 36 minutes two officers caught the 'lone' suspect. Although there are reports of multiple suspects at the time, they are little traces of the suspects in the investigation, as everything is being blamed on one person, perhaps rightfully so.
The Herald mentions how the armed professionals were seen moving through the streets at the time:
NZSAS soldiers were photographed with weapons and balaclavas masking their face near the Al Noor Mosque by Hagley Park where a gunman stormed Friday prayer and shot dead more than 40 people.

One photograph, which has appeared on social media, appears to show an NZSAS soldier with an army sniper rifle or designated marksman weapon outside the Deans Ave mosque.

…

Others responded to a callout at Papanui High School which was feared to have been under attack too.

Heavily-armed masked officers were seen travelling in civilian rental vehicles with police on Friday afternoon.

New Zealand Police special tactics group (STG) officers were also on the frontline.

The Defence Force and Police have been approached for comment.
After chasing around town, it apparently took only 36 minutes to catch the suspected 28 year old shooter, Brenton Harrison Tarrant. That's pretty quick. It took only two officers, and only one had a gun, to bring him down after the rampage. Seems pretty easy considering he had so many guns.
Normally the response timer would be longer, but luckily, a training exercise was ongoing that day, like is the case with many other traumatic incidents and events. How quick were they to respond? 4 minutes, acoording to the NYT:
The police said a special armed tactical unit arrived at Al Noor Mosque four minutes after the first officers, or 10 minutes after the initial emergency call.
Mr. Cahill said it normally would have taken longer, with team members summoned to a police station to suit up. On Friday, though, they happened to be in a training session in the city center and wearing their gear, he said.
These guys were already preppesed in full tactical gear, with their guns ready, and got there quicker than any normal response team would have in the world:
"Any police force in the world — to get to the scene in six minutes, a specialist team there in 10 — that would be a success."
Also of note, were the reports of an armed Arab man who chased multiple suspects from a shooting
"chased the shooters and fired two shots at them as they sped off."
The New Zealand Herald first reported this, but then scrubbed the info from their site. Tweets still exist talking about the scrubbed info:
BREAKING: The New Zealand Herald reports that the shooting at the second mosque was stopped by an armed Muslim who "chased the shooters and fired two shots at them as they sped off."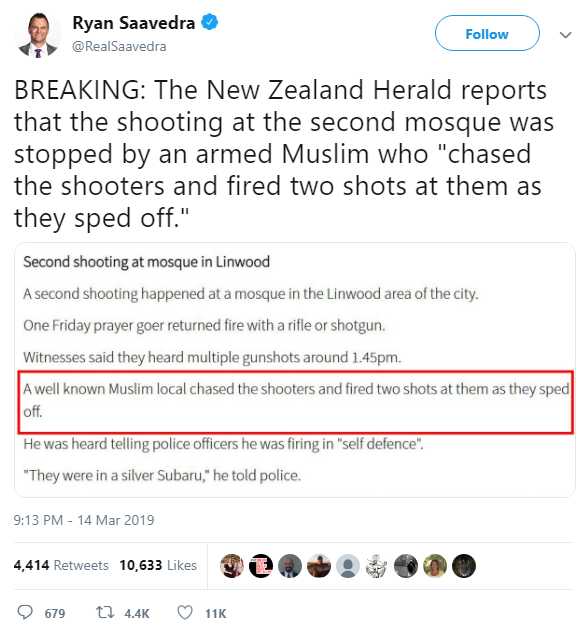 Source
Why would they scrub this info? because it's counter to the establishment narrative that guns are evil and need to be removed from the publics' hands. A third mosque shooting was allegedly planned, but never carried out. Maybe this guy who was chasing after the suspects and shooting at them changed their mind? I don't know.
But here was a gun-bearing individual who, like others could have done if they were carrying firearms, was able to use their weapons to stand against attackers. If more people had firearms, rather than be looked upon as taboo or crazy, maybe there would be less people killed when these shooting happen, whether the attack is legitimate or a false flag operation.
The instances of planned drills, training session or exercises going on at the same time really have to make you think though. Are they just coincidences, or are they planned?
They result is the same. The agenda to push for the removal of guns is underway with fervor in New Zealand after this attack. The terrorist's actions play right into the hands of the disarmament agenda to further make citizens docile and subject to the weaponized authority of the state without the equal means to stand against the increasing tyranny of the state gang thugs and their weapons.
---
References:
---
Thank you for your time and attention. Peace.
---
If you appreciate and value the content, please consider: Upvoting, Sharing or Reblogging below.


me for more content to come!
---
Like what I do? Then consider giving me a vote on the Witness page :) Thanks!

My goal is to share knowledge, truth and moral understanding in order to help change the world for the better. If you appreciate and value what I do, please consider supporting me as a Steem Witness by voting for me at the bottom of the Witness page.