Witajcie!
Wiem, że lubicie się bać. Na samą myśl o strachu przechodzą Was ciarki, ale i tak chcecie dalej to czuć, dlatego w związku z tym, że zbliża się wielkimi krokami Halloween, które jest co roku 31 października, mam dla Was dość ciekawy i kreatywny konkurs o nazwie 🦇Happy Halloween🦇.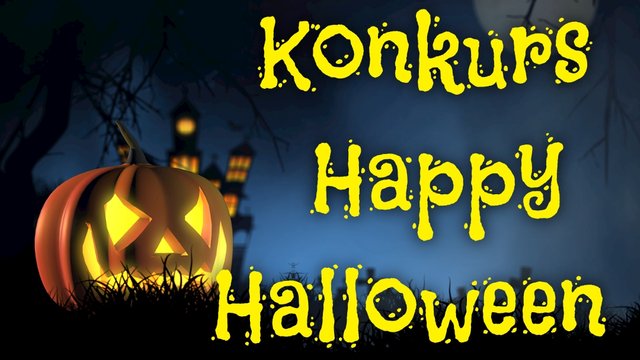 🎃 Co trzeba zrobić, żeby wziąć udział w konkursie? 🎃
Tematem konkursu jest oczywiście Halloween, więc ma być strasznie, tajemniczo, creepy, ciarki muszą być na całym ciele. Forma, w jakiej przedstawicie swoje posty jest dowolna, temat jest na tyle szeroki, że mogą to być:
filmy,
opowiadania,
historie (te prawdziwe i te zmyślone),
creepy pasty,
może jakieś rękodzielnicze dzieła,
a może straszne potrawy?
i co tylko Wam wyobraźnia podpowie.
Wszystko to są tylko propozycje i liczę, że mnie jak i innych zaskoczycie!
Ważne, żeby były to Wasze autorskie arcydzieła, które później będą mogły być sowicie wynagrodzone przez sponsorów KONKURSU, którymi są:
Czyli łącznie w puli nagród jest obecnie 60 Steemów! Czy na tym się skończy? Zobaczymy, okienko dla sponsorów jest nadal otwarte, więc jak masz ochotę wesprzeć uczestników konkursu, to śmiało 😉
Nagrody przewidziane są dla trzech najlepszych, według ludności wybierającej, postów.

Publikując swoje zgłoszenie do konkursu, dajcie linka do tego posta, niech inni również wezmą udział w zabawie (oczywiście nie jest to warunek konieczny).
Dodatkowo podlinkujcie swoje zgłoszeniowe posty w komentarzu pod postem konkursowym, żeby żaden straszny wpis nie został pominięto - warunek konieczny.
🎃 Terminy 🎃
Czas zgłoszenia swoich postów konkursowych kończy się w Halloween 31 Października 2019 roku o 23:59. Po tym czasie, zbiorę wszystkie zgłoszenia w całość i opublikuję post z głosowaniem, który będzie trwał 7 dni. Następnie zostaną podliczone wszystkie głosy i opublikuję post ze zwycięzcami.
Zachęcam wszystkie osoby z #polish do pobudzenia swojej wyobraźni i wzięcia udziału w konkursie!
No to w takim razie nie ma na co czekać. Bierzemy się do roboty i spamujemy swoimi linkami sekcję komentarzy pod postem!
Powodzenia!