Rusz ty tyłek do robienia czegokolwiek!
Ostatnio moje główne miejsce urzędowania (nie to, żeby to było coś nadzwyczajnego) to moje łóżko. Ulubiony punkt pracy to mięciutkie wyrko, które zawsze ogrzeje, a do tego ma całą armię poduszek, które mogę dowolnie układać, żeby tylko było mi wygodnie. Do tego blisko do spanka, blisko do jedynego grzejnika na mieszkaniu, po prostu żyć nie umierać... No dobra, jakbym miała tam jeszcze lodówkę i ubikację to już w ogóle wszystkie zachcianki przeciętnego nerda byłyby spełnione.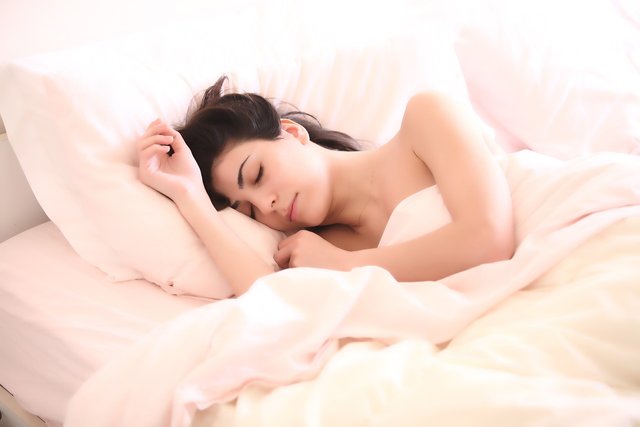 Wybaczcie, moje własne zdjęcia jak leżę albo śpię w łóżku nie wyglądają tak dobrze jak to co oferuje baza na Pixabay.
Anshia w poszukiwaniu motywacji?
O dziwo niezbyt. Stwierdziłabym, że mam większy problem z umiejętnym zarządzaniem ograniczoną ilością czasu, niż że nie mam pomysłu co napisać albo jak się za to zabrać. Wreszcie udało mi się wbić w rytm studiów po zakończonym SteemFeście (rany, ile mi na to zeszło, to aż przykro w serduszku), więc już jestem na dobrej drodze do uzyskania balansu.
Nie chcę porad jak mądrze zarządzać czasem (chociaż doceniłabym, że ktoś chciałby mi pomóc) - bo wiem doskonale, że w moim przypadku grafiki autorstwa własnego nie mają żadnego znaczenia. Prawie zawsze robię to na co mam w danej chwili ochotę, więc nawet jak sobie ustalam, że zrobię To, Tamto i Siamto o porze X, Y, Z to wychodzi tak, że pierwszą czynność robię z godzinnym opóźnieniem, drugą może do końca tego samego dnia, a trzecią... Jak sobie przypomnę i zbiorę się w sobie.
Zaraz ktoś się przypomni - że hej, miałam kończyć serię o tym jak objadam się pizzą kolejny dzień z rzędu dzielnie ćwiczę na siłowni i robię coś w swoim życiu, żeby czuć się lepiej. Pamiętam, poważnie. Owszem, powinnam to teraz pisać, a nie pisać o tym, że wiem że mam o tym pisać... Chciałabym powiedzieć, że spokojna głowa, w weekend się pojawi, ale musiałabym bezczelnie skłamać, gdyż wyruszam na trudną i wymagającą wyprawę, nie będę mieć czasu by tego napisać. Mam nadzieję, że wrócę w jednym kawałku i od poniedziałku będę mogła wrócić do katowania #polish swoimi wypocinami niskiej jakości. Mam nadzieję, że jeszcze ktoś (poza naczelnym stalkerem @fervi) czeka albo czasami pomyśli o mnie.
Dzisiaj dość krótko, bez większych konkretów, przykro mi odrobinkę, ale niestety pora na mnie, bo inaczej znowu będę w plecy ze wszystkim co sobie zaplanowałam na dzisiaj - a konkretniej z drzemką! No to miłego wieczoru/dnia, nie wiem kiedy to przeczytacie.