Is Assange hurting the credibility of his own success? WikiLeaks is compromised from within.
WikiLeaks has provided the world's media with a huge volume of lip-smacking content.
The feeding frenzy has been insatiable.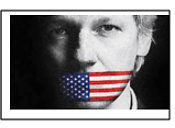 Pizzagate is the latest smorgasbord which could barely be better dreamed up for the headline hunters: Politicians, Paedophiles, Prostitutes and Plenty of illicit cash!
There is a problem with the man whose name is synonymous with WikiLeaks, Julian Assange.
Protestors, inadvisedly, call for his release.
Well researched posts explaining the reasons behind his being in the Ecuadorian Embassy are of little or no interest to the protestors, it seems.
WikiLeaks has asked for people to stop harassing the organisation as to his whereabouts.
Truth is sometimes inconvenient, as the saying goes.
If you demand transparency from others, why should that spotlight not equally be applied to you, Mr Assange?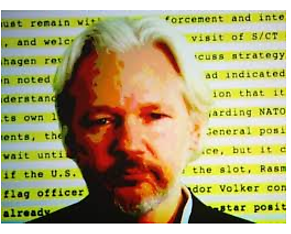 Julian Assange is not an easy character.
The formative years
From a broken family he lived in thirty different homes by the time he had completed his teenage years. In his early twenties he was charged and pleaded guilty to over 20 charges of computer hacking.
Things really changed when he discovered that the NSA were using software to tap into international phone calls. He knew then that the internet was capable of being used to create a totalitarian world.
In 2006, WikiLeaks was formed. Assange serves on its Advisory Board and is editor-in-chief.
Whistleblowers, such as Assange, deserve a great deal of thanks and praise. The abusive capabilities and actions of governments and their ministers and agents are very difficult to convict. No meaningful charges have been made against the horrendous behaviour exposed by WikiLeaks. The world is, however, a better place with organisations such as the NSA being put on a proper leash. Meanwhile, Manning is in jail.
Assange has an arrest warrant and charges of rape to be answered in Sweden.
He is quite at liberty to leave the Ecuadorian Embassy in Central London.
The UN has said that his detention should be ended. It never even started!
Yes, he will be arrested immediately for breaking his bail conditions and transported to Sweden.
Should there be anyone who feels that he should be exonerated from these charges with no investigation, please see me in my office. We need to talk!
There is a rotten fish in all this drama and the smell is getting stronger. Mr Assange needs to stand under his own demands for transparency or risk losing his credibility and that of WikiLeaks, which has been such a valuable servant to freedom from the sinister workings of governments.
Following a few well phrased and structured questions, please ensure that you have read the primary post before a question is raised. I believe the primary post has much detail which is relevant to the current question of Julian Assange's possible whereabouts.
For a fuller explanation, please refer to this explanation of the situation: Julian Assange - hero/villain