A famous Rotterdam landmark everyone should see when in Rotterdam is something called 'Kubuswoningen', which roughly would translate to 'Cube Houses'. They are elevated cubes, tilted, and yes... People live in it! A second name, more or less a nickname, is 'Blaakse Bos', which translates to Blaak (street name) Forest, because if you have a bit of fantasy or a knack for abstractionism you can totally see a forest in these cube houses.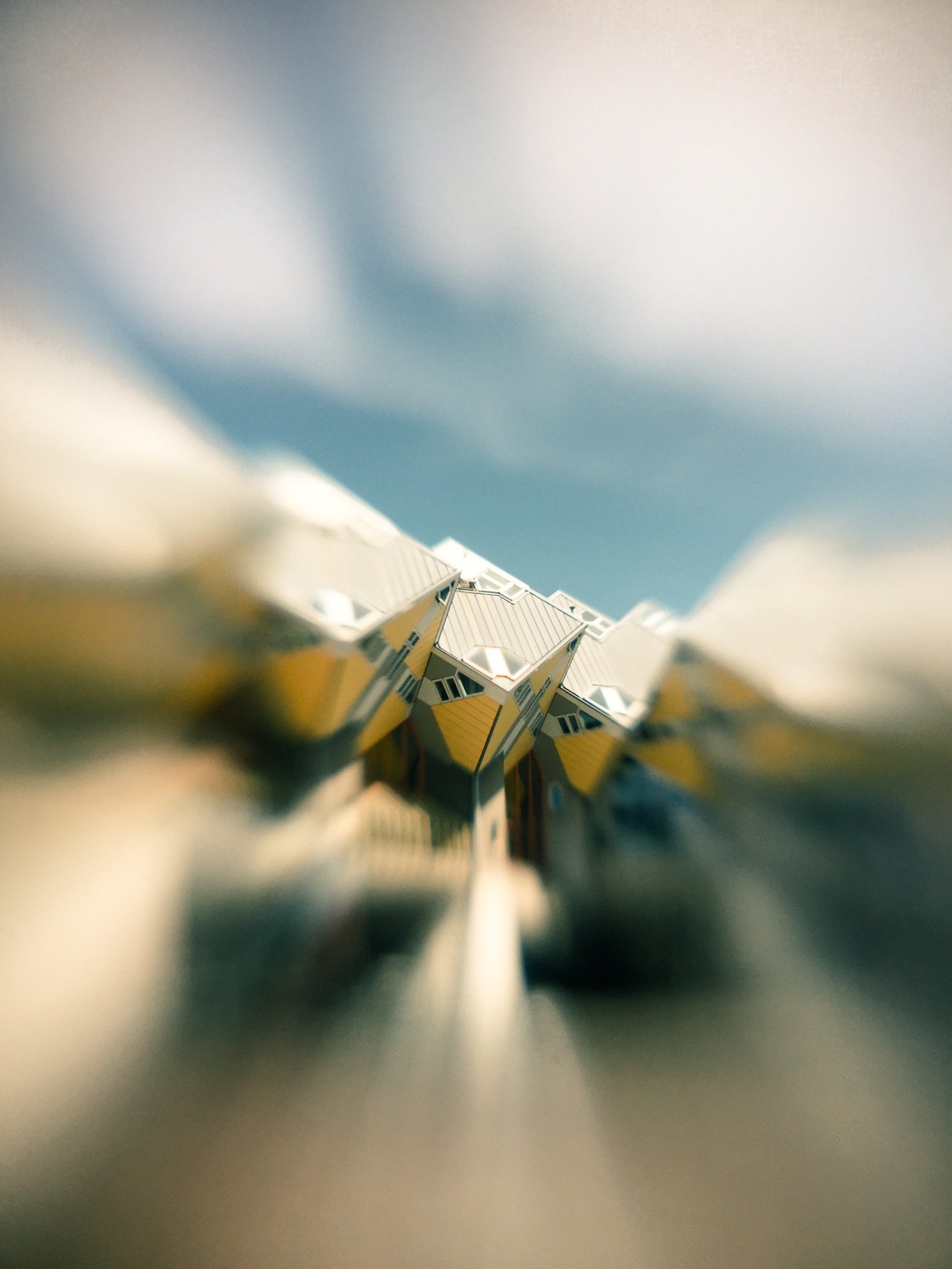 [Below these houses is a road, which is used by trams, cards, bicyclers, pedestrians. Literally everyone can enjoy driving or walking under this 'forest'.]
You can find them in the heart of the city, next to another visually interesting building with the nickname 'The Pencil' - since it looks like... a pencil ;-) Yes, people in Rotterdam like to nickname their buildings.
An impression, but not the full story
---
While uploading these pictures on Steemit just now, and realising which people are my 'readers' (viewers?) I realised I should have done a full overview of the Cube Houses first. Instead I'm giving you an impression, by sharing pictures I took last week while being temporarily obsesses with the Lensbaby clip-on lens for my iPhone.
on a cloudy day and when there's not too many tourists I should be able to share more shots of the place, since even for me (I used to walk passed these houses every day when I lived only 5 minutes away from them) they still are an interesting example of how architecture can be extremely playful. (And useless. The cube houses are not super practical to live in :D)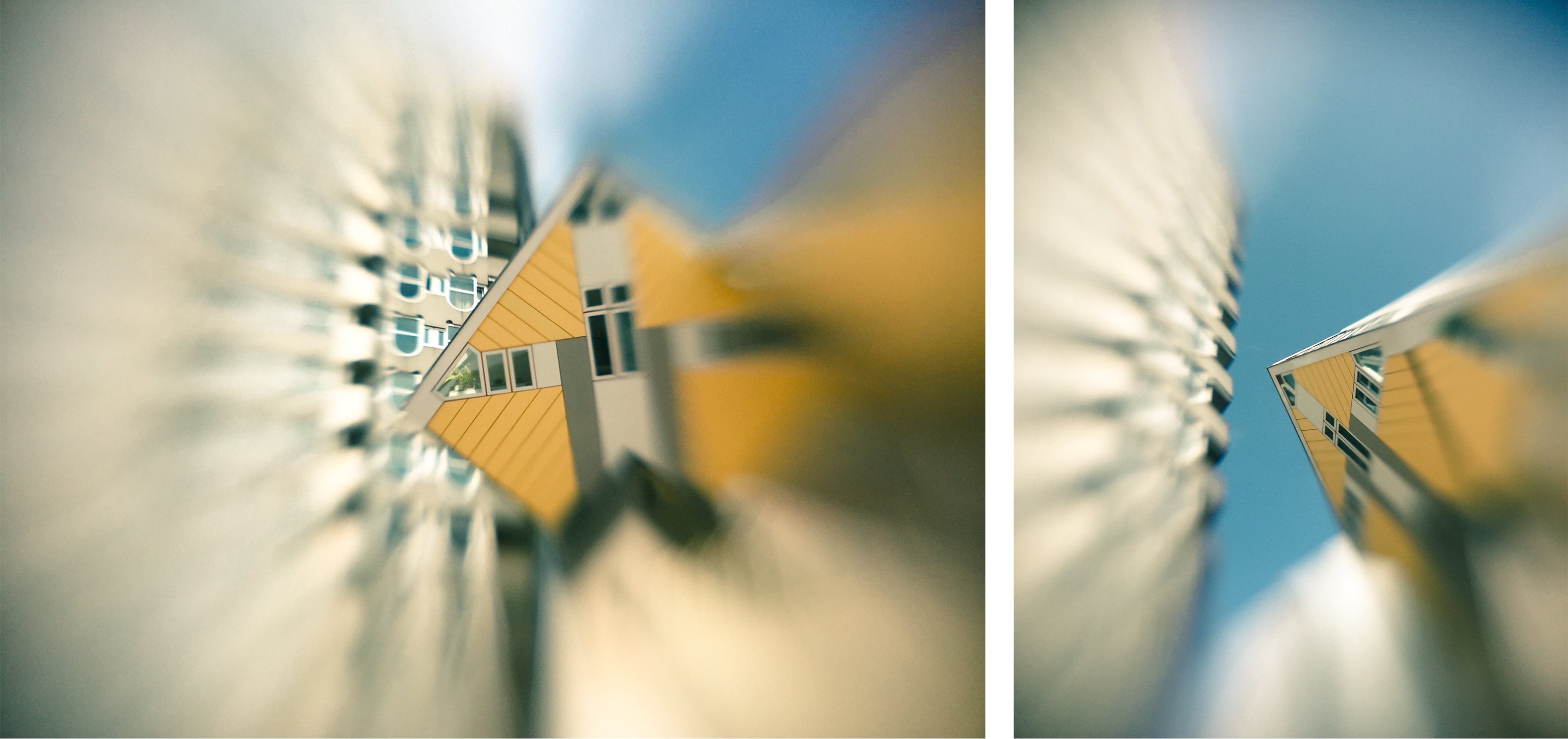 [The most left Cube House, with in the background the interesting patterned architecture of the 'Pencil'. I chose this spot because I wanted to isolate one of the Cube Houses.]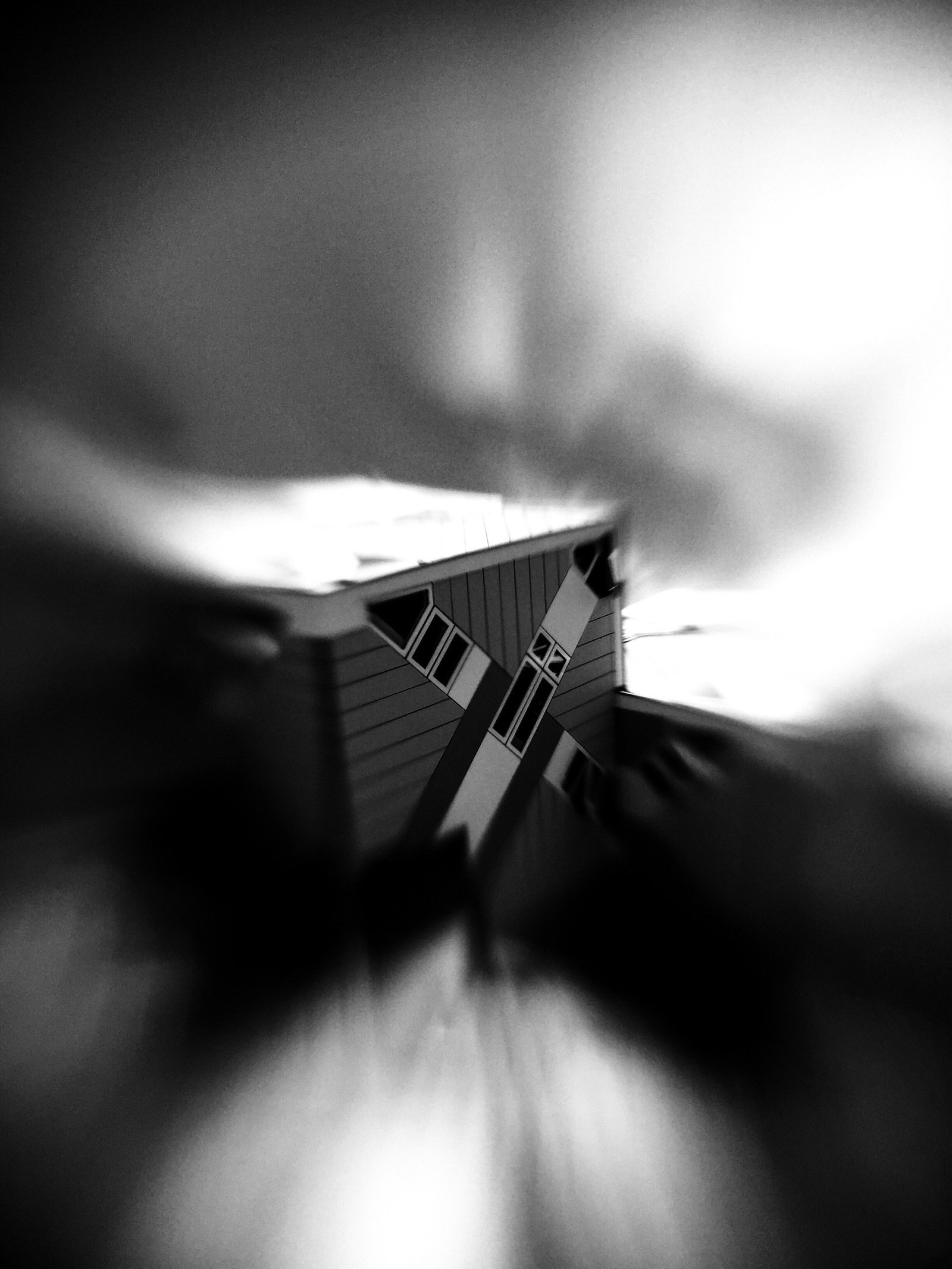 [Another isolated Cube House, 'hugging' two others on it's left and right.]
Rotterdam, for architecture lovers
---
These Cube Houses are really just a single example of all the amazing architecture you can find in Rotterdam. The city was bombed in World War II, and after being burned down 2 times before that, people in Rotterdam have more than once worked with the ashes and built a relatively 'new' city on top of the old one. It makes the city an interesting place, both for visitors as for architects. A playground full of experiments.
It can be daunting to 'understand' the city, but the past few years a lot of the 'hurried' building of roads and bunker style offices that were risen after the damage in WWII have been taken care of: the city now feels a lot friendlier, with more focus on fun and leisure instead of all the buildings and roads just being practical.
Definitely worth a visit, and if you're ever in the neighbourhood: let me share some of my insider's tips with you, because I know a lot about the city and how to get the best out of your visit.
Definitely visit the Cube Houses!
---
Two more Rotterdam architecture shots I posted last week:
---
All photography on steemit.com/@soyrosa is created and edited by me, Rosanne Dubbeld, 2005-2018. Contact me if you want to discuss licensing or collaborations on creative projects :-)