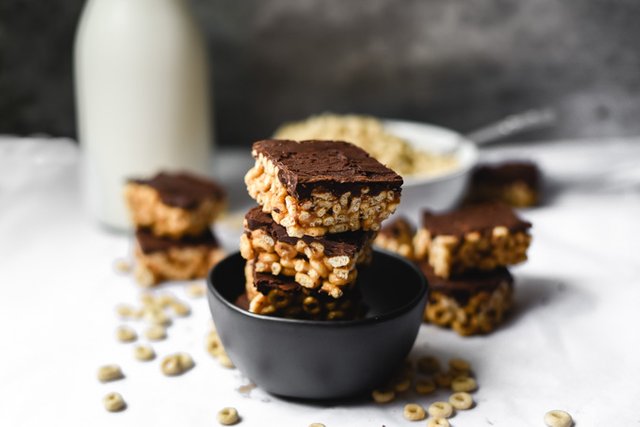 Hey my favorite friends, I hope you're off to a fabulous weekend!
For some reason my inspiration has been much more on the savory side recently. I'm guessing it has to do with the fact that January and February were such great months for healthier recipes. Good news though, now I'm getting back my overly sweet ideas for future recipes. I'm guessing that the reason for that is because Springtime on the horizon always have me wanting to create things with chocolate and lots of berries!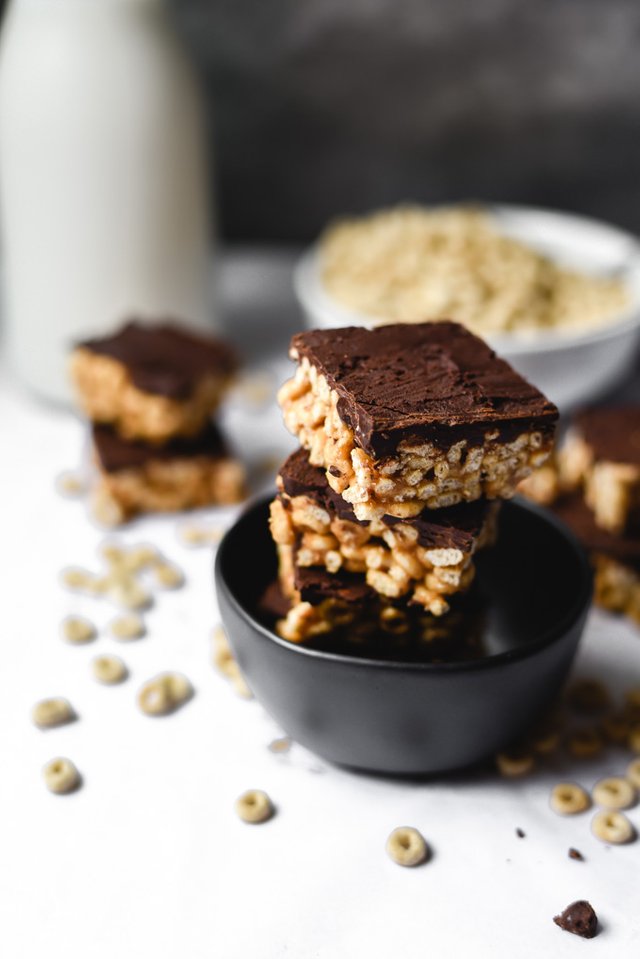 Oh, and I've been super into fast and easy these past few weeks. I already mentioned having a houseful of people so you can imagine, there's more to do and less time. (# never- ending-dishes!) Anyway, these bars fit the criteria I was going for of being EASY.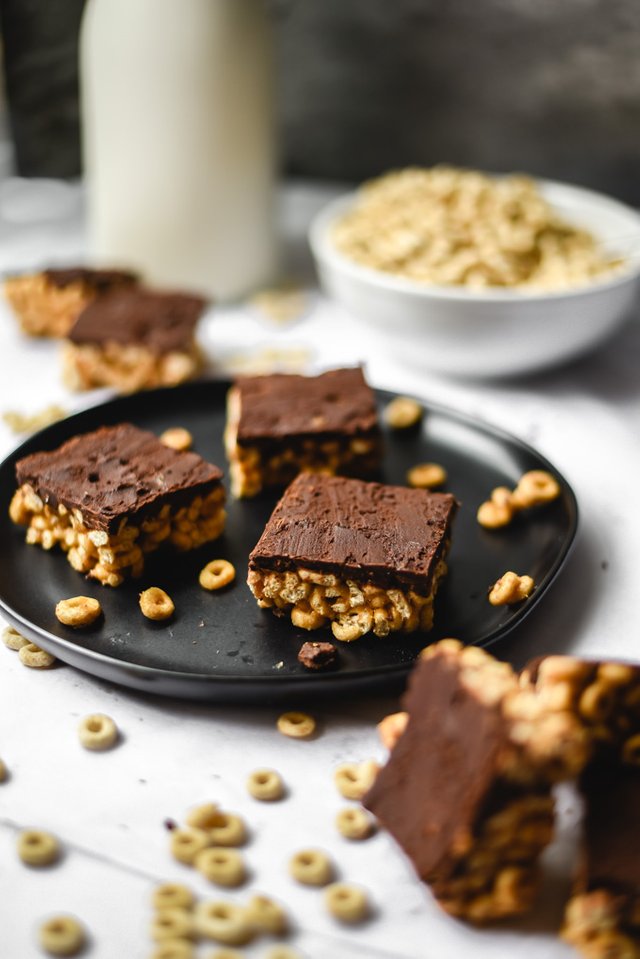 They make a perfect lunchbox treat or afternoon snack and the kids can even help make them. Like the title says, there are only 4 ingredients that you need to make them. If you're like me and you always like the extras you can add a dash of vanilla and a pinch of salt, but that's not entirely necessary, just optional.
I tried them first as a no-bake recipe and found that they were pretty good, but the cereal seemed to get a bit soggy and the the flavor you get when you bake it all together is so good. They were also a bit too crumbly for the kiddos, so these do need to be baked, but not for long and trust me it's worth it.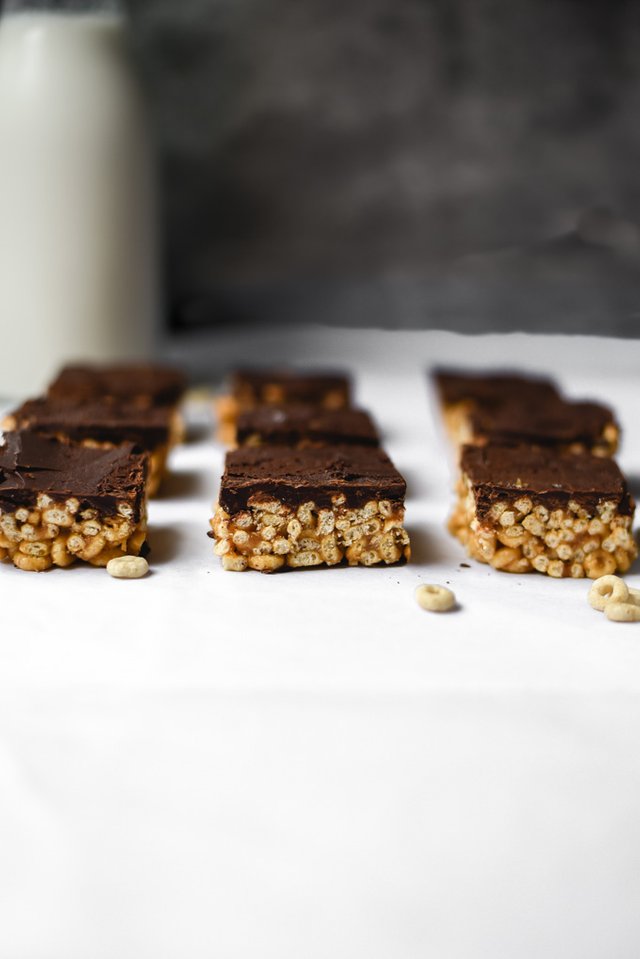 Actually, if you're just a huge fan of peanut butter, like I am, then you might even enjoy these as a 3 ingredient recipe without the chocolate. I'll admit, skipping the chocolate is not something I'd likely do because, eh hem, I'm a chocoholic! But nonetheless, you could theoretically try them that way and I'm sure they'd still be yum!
So if you've got a few minutes and want to try these, go for it. Friday just sort of needs something quick and easy like this, don't you agree?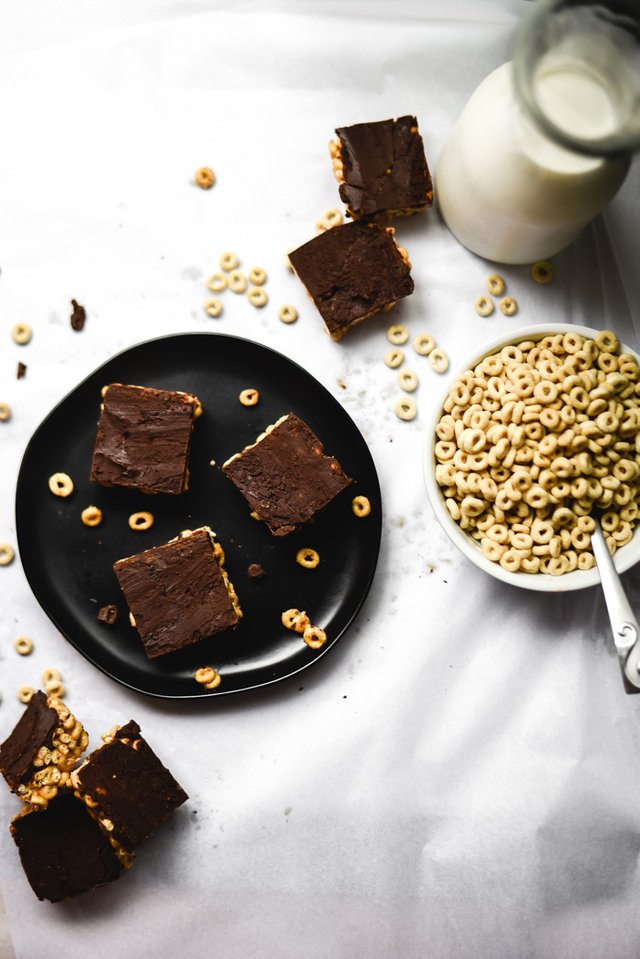 4-Ingredient Peanut Butter Chocolate Cereal Bars (Vegan)
You only need 4 ingredient for these quick and easy cereal bars that the kids will love.
Prep Time 30 minutes
Cook Time 15 minutes
Total Time 45 minutes
Ingredients
4 cups unsweetened O-shaped cereal TJ's or Cheerios work well (replace with 5 cups rice krispies if vegan)
1 cup + 1 tablespoon pure maple syrup
1 cup + 1 tablespoon natural peanut butter
150 g about 1 cup dairy free semi-sweet chocolate chips + 1 tablespoon peanut butter
Optional:
1 teaspoon vanilla extract
1/4 teaspoon salt
Instructions
Preheat the oven to 350 degrees F (180C) and line a 9x11 inch (or 8x8) baking pan with parchment or wax paper.
Stir together the peanut butter, maple, salt, and vanilla in a medium bowl. Add in the cereal and stir to coat evenly. Scrape the mixture into prepared pan and press down with a flat spatula or the bottom of a cup to flatten. Bake for 10 -12 minutes until browned and bubbling.
Remove the pan from oven and cool for about 15 minutes until no longer hot to the touch. Cover pan with plastic and place in the freezer to chill for at least 30 minutes.
In a double-boiler, melt the chocolate chips over low heat and stir until melted and smooth. Add 1 tablespoon peanut butter and stir well. Scrape the chocolate on top of the bars and use a rubber spatula to smooth over the top. Place pan back in freezer for a few minutes to harden chocolate.
Once set, remove bars from pan and use a sharp knife to cut into bars

ALL CONTENT IS MINE AND ORIGINAL! All of these food photos were taken with my Nikon D750 and my favorite Lens, the Nikon AF-S FX NIKKOR 50mm f/1.8G. You can find out more in my INTRO POST.
Also, a huge shoutout to @rigaronib for designing my logo!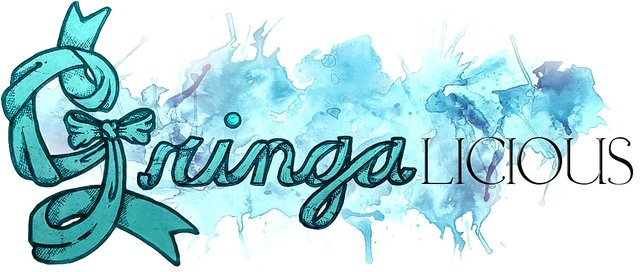 If you're looking for more recipes check out some of my other recent posts!