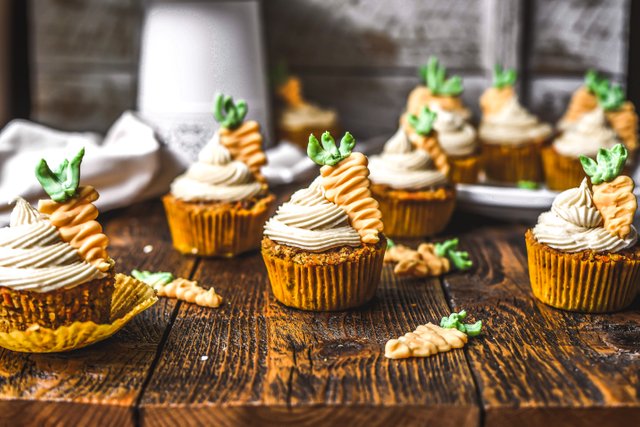 My running theme about how much I want Spring seems to be continuing. I'm heading ...... to do some skiing today because we finally got some more fresh snow. I wanted to post something delicious and these carrot cake cupcakes are just the thing. I know Easter isn't until April this year but I don't think there's ever a bad time for cake.
One great thing about carrot cake is that it's also pretty healthy. I know it's not winning any awards for healthiest food ever, I mean it's still cake, but comparatively to other cupcakes it's doing pretty good. But wait, there's more!
This version of the classic is even healthier than most because it doesn't use any oil or refined sugar (minus the optional white chocolate toppers). Okay, and this might sound really weird but trust me it's good, the frosting base is sweet potato! If you want to keep the white color I recommend using a white sweet potato but you can also go with regular orange and the color blends perfectly with the flavor of these cupcakes
Healthy Carrot Cake Cupcakes + Coconut Frosting (Vegan+GF)
Who said putting vegetables in your cake was a bad idea? These delectable little cupcakes are perfect for celebrating Springtime!
Prep Time 30 minutes
Cook Time 35 minutes
Total Time 1 hour 5 minutes
Servings 12 cupcakes
Ingredients
Cake:
2 tablespoons ground flaxseed + 6 tablespoons water
1 cup full-fat coconut milk
1 cup coconut palm sugar (or raw turbinado sugar)
1 teaspoon salt
1 teaspoon vanilla extract
1 1/2 teaspoons baking powder
1 teaspoon cinnamon
1/4 teaspoon each of: cloves allspice, ginger and nutmeg
1 1/3 cups oat flour
1 1/4 cups grated carrots
3/4 cup chopped walnuts
1/2 cup crushed pineapple
1/2 cup unsweetened shredded coconut flakes
Healthy Frosting:
1 cup baked sweet potato, peeled and cold
2/3 cup coconut cream *see note
2/3 cup plain non-dairy yogurt
1/4 cup maple syrup
2 teaspoons vanilla extract
1/4 teaspoon salt
Toppers: (Optional)
2/3 cup dairy free white chocolate
1 teaspoon coconut oil
natural green and orange food coloring
Instructions
Preheat oven to 350 degrees F (180 C) and grease a 12-slot cupcake pan. Mix together the flax and water and allow it to sit for at least 15 minutes until thickened.
Stir together the coconut milk and raw sugar in a large mixing bowl until smooth. Mix in flax "eggs" and add salt, vanilla, baking powder, spices, and oat flour then stir until combined. Add carrots, walnuts, pineapple, and coconut then mix well.
Divide batter among the slots and place in oven to bake for 25 - 30 minutes or until toothpick inserted in center comes out clean.
Remove from oven and cool completely before frosting.
Frosting:
Combine all ingredients for the frosting in a food processor or blender and pulse until smooth. If the consistency isn't thick enough place in the fridge to chill before frosting. You can simply use a knife to frost each cupcake or fill a star tipped pastry bag and pipe it on like the pictures.
Toppers:
Melt the white chocolate and coconut oil in a double boiler until smooth. Add a few drops of orange food coloring and pour about half of the mixture into a plastic ziplock bag and pipe little carrot shapes onto a parchment lined pan. Add a few drops of green coloring to the remaining white chocolate and pour into a second bag. pipe the carrot leaves onto the carrots to make leaves and allow the chocolate to cool and dry. Once set, top each cupcake with a carrot and serve.

Recipe Notes
If you have trouble finding coconut cream at your local grocery store it's completely fine to use full-fat coconut milk and scrape the cream off of the top. Just be sure that it's cold enough to separate.
--Healthy Carrot Cake Cupcakes + Coconut Frosting (Vegan+GF)-- Recipe on the blog.