Going Up 3, 571 Meters By Train
Have you ever gone mountain hiking? If you've answered yes to that question, then .. me, too. I think the highest I've ever hiked was almost or probably already 2k and it was quite a climb on a sunny, tropic weather. Breathing is always an issue and I don't think it's cause I have asthma - it just tires you at some point plus the change in altitude does something in you, so wouldn't it be nice if there'd be another means to take you up there?
A cable car or a chopper perhaps? However, if you have fear of heights - doing always that just to get up this high on a mountain top would just produce you much cortisol wouldn't it? Thanks be to God for gifting humans brains and thanks to those who use it to burrow into rocky mountains and build you trains to go up 11, 782 feet.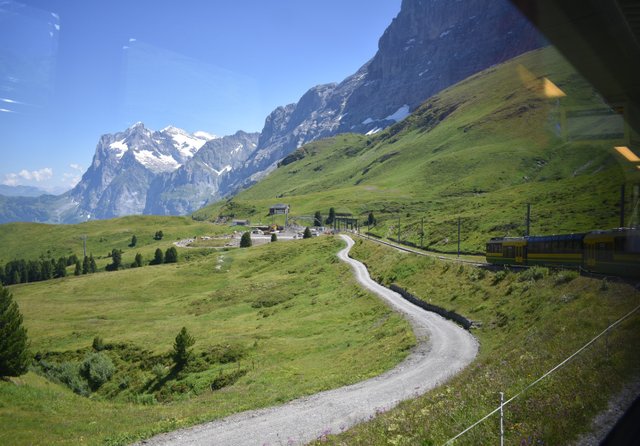 The ride
Talk about comfort and ease, all you have to do is sit back, relax, look out your window and enjoy the view. 'course, it's inevitable to listen to that lady that makes announcement if you have to make some stops and get off to grab another train. So what's the ride like? Smooth, just like how the usual trains do it.
The only difference is that, normally in the EU we don't talk too loud in trains, we whisper to each other even though we're not even sitting on the first class caboose. The one I took was loaded with Asians and just like how it is in Asia, everyone talks freely - loud and almost noisy but bearable.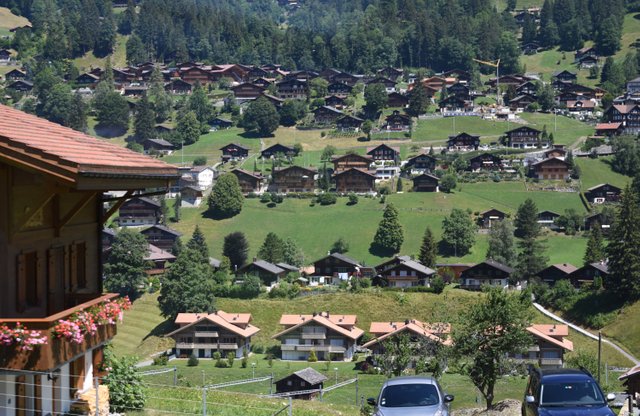 The View On The Road
I think I've gushed a thousand times while looking at the window while multi-tasking taking pics. At the end of the day, my memory card says I took almost two thousand pics the whole day. Shocking!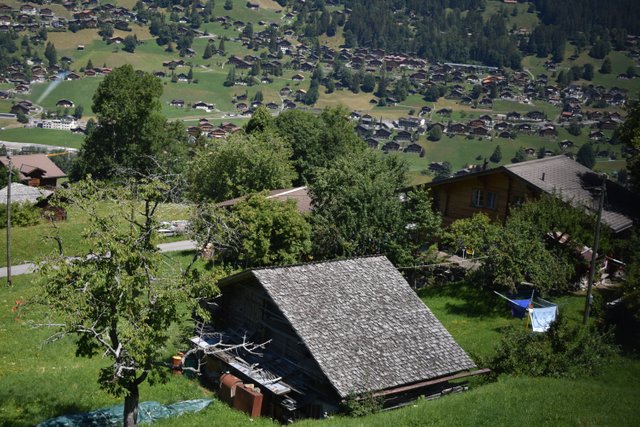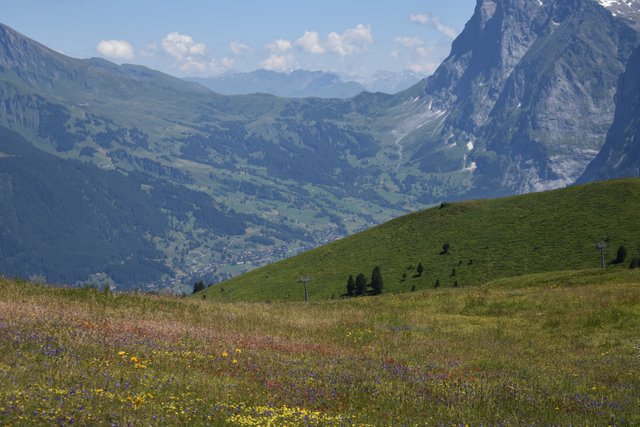 I'm in love with this shot. I've seen some paintings portraying the Alps like so and I thought that the tone of the flowers on the road were just the artist's mere imagination till I finally saw it live.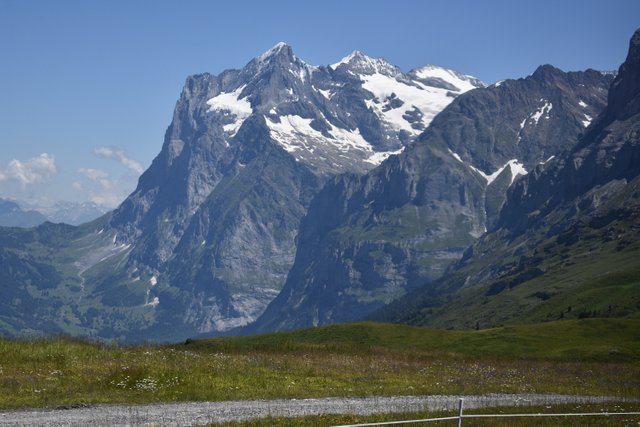 Anyway, we've had to switch trains on a station 7k feet up in the mountain and we thought we had to wait for another hour to be able to board as our ticket says but we asked the staff up there if it's okay to take it and they allowed us. We had to sit in the front caboose which was almost empty at first but it as soon as we sat down, influx of Asians, mostly Indians and Chinese loaded the train. Everyone seemed hyper though and the feeling was contagious.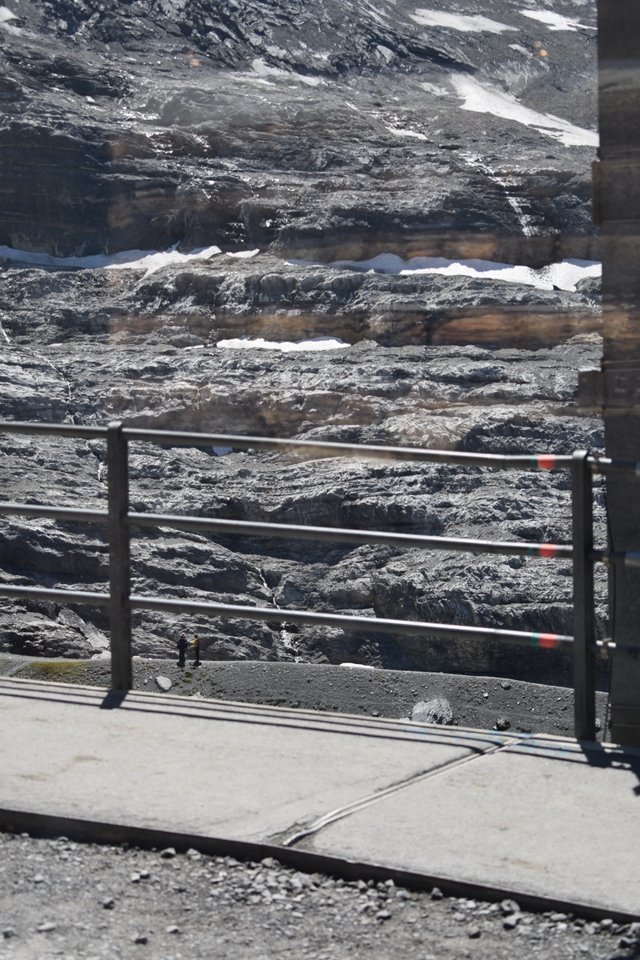 We passed by another stop and some of the passengers got off. It was in front of a glacier hiking spot. The passengers who got off joined the hiking groups.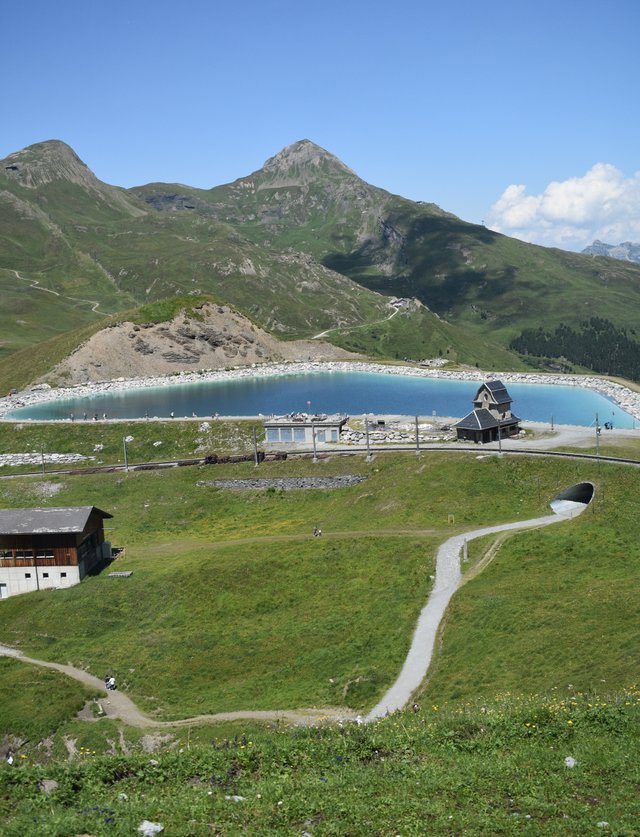 On the left side of my window, I saw more Asians with a mix of backpackers hiking and exploring the place.
They're on paths of greens and blooms though. It was rather odd. To my right, plenty of waterfalls dripping on those giant rocks in front of us. I was sure the train was humungous but somehow it felt small at the sight of those giant rock mountains above us plus the hikers look puny on them, too.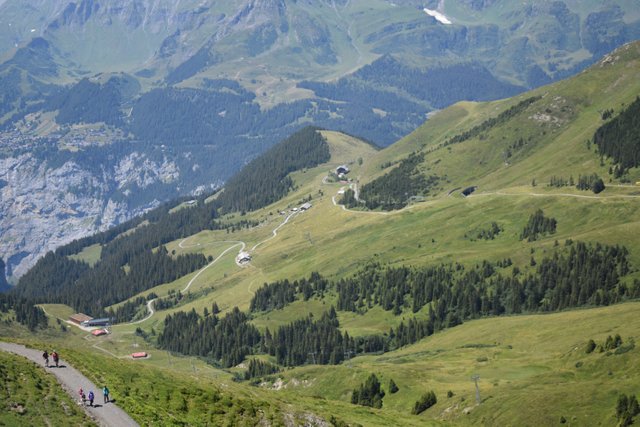 Still, what a sight to see, the world seem so beautiful on this side!
The Destination
First, a shoefie ... to show you what I was standing on up there.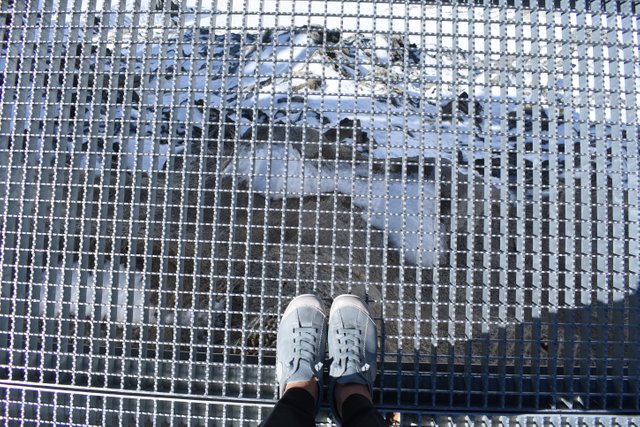 When we got off the train it suddenly felt cold. What's a girl to do but go to a water closet for a pee stop and found a long queue of other passengers doing the same.
When we got there, the place was abuzz and we went up another floor and found some people sun bathing on the deck. Of course we ran outside to take some pics and selfies and do some what nots. I was surprised that it was rather warm up there, I was expecting it to be super cold, after all we're surrounded with ice. Odd, cold when we got off the train and hot out there. Some ladies were even sunbathing with just a two piece on. I even saw a bumble bee hovering around really odd cause I haven't seen any plants anymore.
We went back inside and had to choose between the self- service or the bollywood buffet. We saw that the self service offers Asian food so my husband and I, each had a vegetarian spring roll and a curry. It was served with lots of rice so I wonder whether it was meant to be shared because I saw a couple did exactly that.
It took us a few minutes to find a chair cause it was a full house! The place is just - jampacked so the rest headed to the souvenir shops of chocs and Swiss stuff. I've already bought my souvenir in Grindelwald and I was sure glad I did cause up there, the price also just went up. As for the chocs, I live in the EU, I could just get everything they have in Switzerland in any shop that sells chocs here, too - for a lesser price. More so, I'd be passing by Germany on the way home, there and in Austria, everything is just cheaper compared to anywhere else in Central EU.
Normally, I only talk to my husband during lunch but we got seated with Indians who were also very very friendly and before we knew it, we were exchanging jokes with their group. Apparently, the place is very famous for them. In between chatting with them, I struggled finishing my plate, it was just too much so I let it go,besides, I need some space for coffee and dessert cause what if it's too cold up there? I need to borrow some energy from sugar and I wasn't sure our organic sugarless energy bars can provide me that so I gave in to the chocolate passion fruit cake that was calling me while I was waiting for my turn to pay. The tray says it's 3, 454 m high in the resto.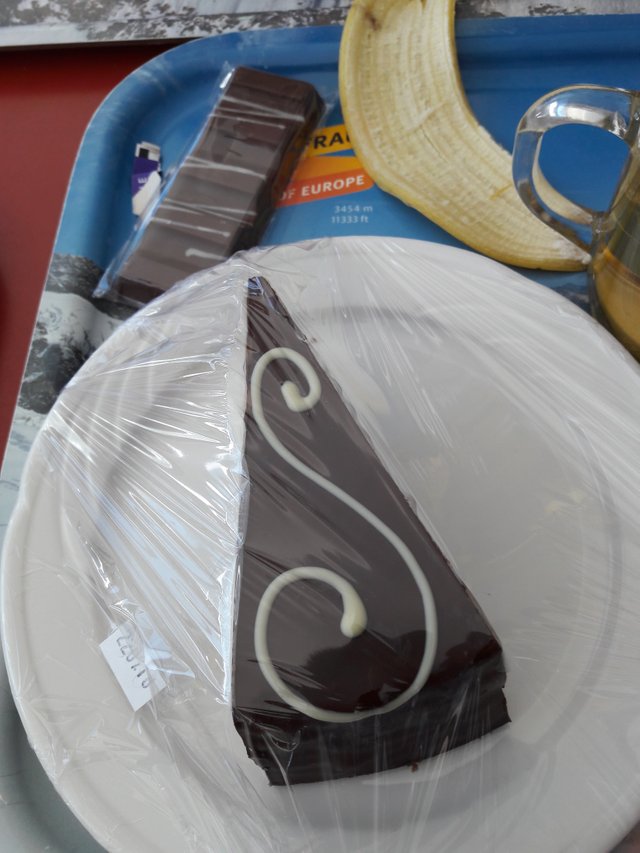 After lunch, we headed for the lift to get up the top. We went through some kind of a tunnel and I noticed that I was running out of breath even in the elevator that took us to the top and it wasn't just me, everyone was panting and complaining about it but the moment we got out of the glass, we could all breathe again. Up there, plenty of Asians wearing winter outfits.
It's still too cold for them at first but a few more minutes, they all took it off. It's oddly warm up there or was it just me?
Anyhow, we went around and while the many other tourists asked me to take their pics, I was thinking of charging them doing so. Okay, that part is just a joke but only cause I've been asked so many times and another Dutch fellow who's seen the whole deal suggested that. Later, I had to refuse the others - after all, am also there to enjoy the view.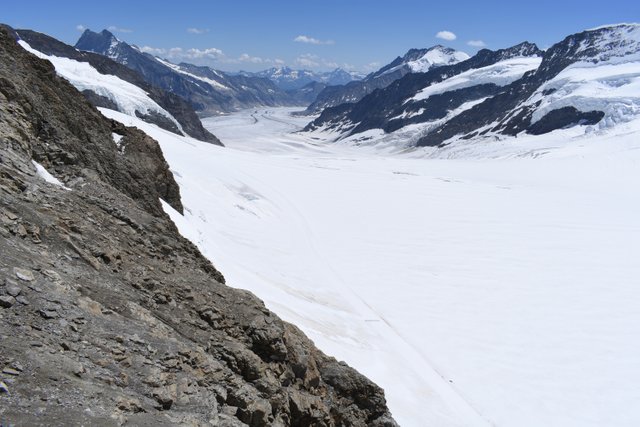 Who would have thought those tips there, each have names. Who would have thought, we could just get up here this easy. Thanks to every Swiss who's made it possible.
I did want to stay longer take more pics of the view that seem to change every minute but our time's limited. We still have to check out the ice palace below and make sure we don't miss the last train. If we do, we'd be fined much cause then the only way out there is by a chopper.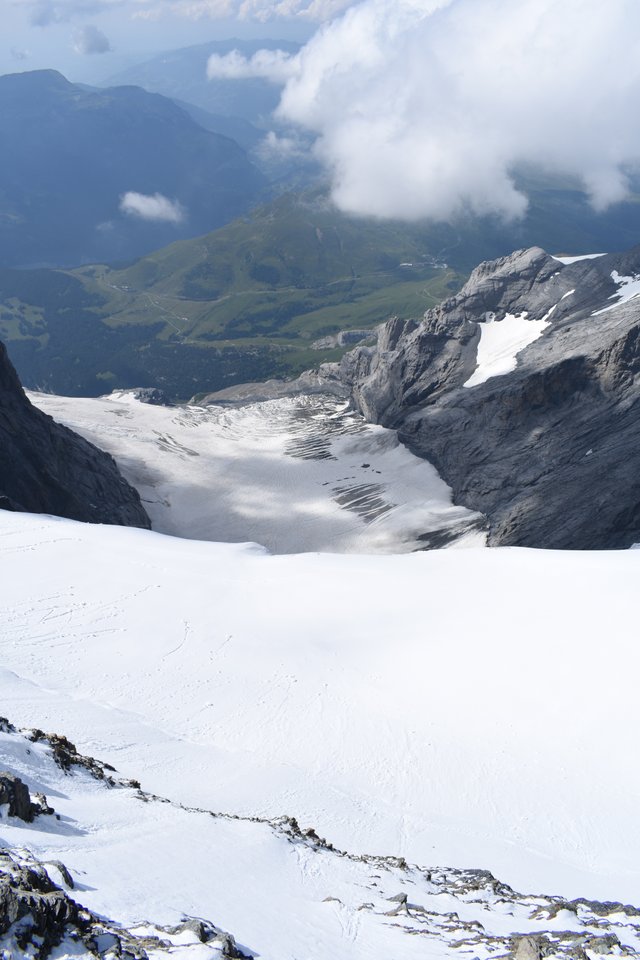 The ice castle was pretty cold and slippery so I didn't really want to stay there too long. I did like the path we went through to get there, which shows how many souls have sacrificed their lives to make this all happen.
When we got out, all of the souvenir shops and restos were closed. A short trip to the pee stop and we headed outside. Our train was already waiting and it's a lady behind the steering wheel. Coolness overload, I wish I could drive a train as that, too!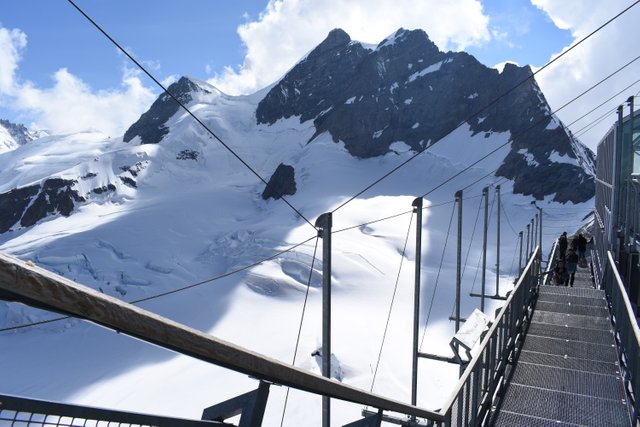 I'm aware that this one's too long again, my bad .. my fingers just seem to have their own brains sometimes, so let me park here for a while ...however, let me ask you this.
Have you ever been up in a mountain using a different means of transpo? Which one and how high did it take you ?
- to be continued ...
This content's 100% mine . I took some of the pics with my D Eye and some with my smartphones and mostly, while the train was moving.
---
---
**TIP :
ONLY Upvote POSTS THAT ARE 6 DAYS OLD below to earn yourself curation rewards.
---
---