Respect my Belief
Hello Steemians, let's discuss religion. I'll like to know your opinion on this.
Should beliefs be respected? Don't you think the sentence "Respect my belief" is a religious blackmail?
Don't you think beliefs should be discussed, talked about and criticized, so that only those that are rational and cohere with centrist societal ideas are accepted and welcomed by members of the society?
Some religious beliefs advocate that their adherents kill gay people, keep slaves, marry underaged girls, stone women perceived as adulterous, subdue women, and kill infidels (non-conformists). Should we fold our hands, keep quiet, and respect such beliefs?
Some religions operate a caste system that places people and their generations in constant subjugation just because they are born into a lower caste. Is such belief worth our respect? Shouldn't we be critiquing it?
Just imagine we had a religion that sacrifices twins today, I'm sure its followers would want us to fold our hands and clamour for respect.
I do not think it is foolish to argue religion. Religions are ideas, just like public policies, philosophy, economics, proposals and politics. It is very vital to extensively discuss ideas, so that the ones that don't pass the intellectual test are discarded. Discussion of ideas have made the world better, so we shouldn't stop discussing.
Religions that are not receptive to criticisms and create penalties for what they term 'blasphemy and heressy' are most likely to advocate babaric ideas and passionately pass them to subsequent generations.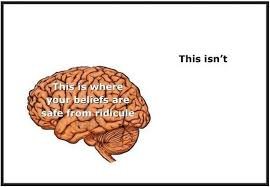 Image source
In a nutshell, you have a right to believe whatever you want, similar way other people have rights to discuss and critique whatever belief you make public.
Thanks for reading. Please, share your thoughts.