This is a thought-provoking discussion based philosophy post. Feel free to poke holes in logic and explore the unknowns with me.
Everything that exists must exist within consciousness, there is nothing that exists outside of consciousness (cannot be experienced in some conscious way). Everything has energy, nothing exists without energy. Everything exists within our universe, there is nothing "outside" our universe. If God is everything, then God cannot be just one thing. If God is everything, God must also be nothing. This is because once something has encompassed everything it loses it own attribution. In the same way that a droplet of water is no longer a single droplet if returned to the ocean, it "becomes" the entire ocean, but when experienced as a droplet it is seemingly separate from the all encompassing ocean, but has all of the potential and the qualities held by the ocean represented in the smallest form of it. I can't go looking for consciousness and non-consciousness because everything is conscious in a sense. I cannot seek it out and grasp it. It is the underlying component to everything.
Huh?
Someone might say then "What? Are you crazy? A rock isn't conscious so how does it exist within consciousness?"
Well. A rock can only be experienced in a conscious way. I can't experience a rock without myself being conscious. If I knock on a rock, it has a response, it makes a sound. Also what many people fail to understand about energy is that a rock is not solid, but rather, the molecules that form the rock are moving so fast compared to my molecules that I cannot move through it. We evoke hardness from the rock simply because we are soft. The rock isn't hard, it's just vibrating extremely fast. In this way you may come to realize that everything is actually conscious and form a deeper and more appreciative understanding of life. It seems almost silly at first, but you will come to realize that is exactly scientifically accurate when you think it all through.
With this, one might conclude that:
A. The universe is "God"
B. Consciousness is "God"
C. Energy is "God"
D. "God" is synonymous with being the ultimate reality
E. The ultimate reality is that which has no outside
Thoughts
So you could say God is neither yin, nor yang, but rather both. There is no outside of yin and yang, there is just yin and yang. It is the encompassing of the in and the out that which you cannot go further out from.
I say "God" because I don't like the stigma around the word as it presents a dualistic concept of the ultimate reality.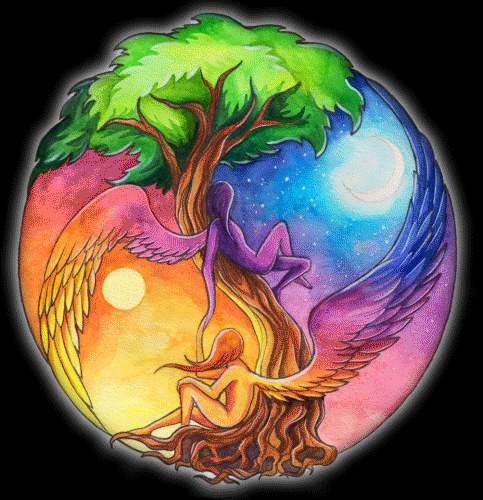 These are just my thoughts and also reflections on Alan Watts' teachings. Feel free to find loopholes. Also this isn't to attack religion or anything, just a thought experiment for you


Every Week I Do A Giveaway
For all my posts, I collect the resteems, comments, and upvotes made on my posts the last week and use a https://snackaholic.github.io/steemfortune/en/ by @snackaholic to determine the 3 winners who receive 0.5 SBD each and announce it on the next post! I also send out 0.001 monthly to my followers with a small bulletin update. By following me you opt-in to receiving it!
Last post here: https://steemit.com/giveaway/@scottcbusiness/6vpfzz-weekly-post-engagement-giveaways
Social Media And Contact Info

🙌 You can contact and or follow me on these platforms:
Twitter - https://twitter.com/Scottcbusiness
Facebook - https://www.facebook.com/ScottCBusiness
Instagram - https://www.instagram.com/scottcbusiness
LinkedIn - https://ca.linkedin.com/in//scottcbusiness
Steemit - https://steemit.com/@scottcbusiness
Minds - https://www.minds.com/scottcbusiness
Discord - ScottCBusiness#5242


I'm always looking to collaborate and work with others! I'd love to help more blockchain projects with community management and social media. Specifically, on-boarding people onto social blockchain platforms like Steemit. Feel free to get in touch and discuss business opportunities!

Witnessing On $STEEM
If you believe in me as a witness kindly vote for me by going to https://steemit.com/~witnesses and voting for me at the bottom by typing in my username 'scottcbusiness' or click on the link below



Click the above text to vote for me!