PUT THE HARNESS ON AND PULL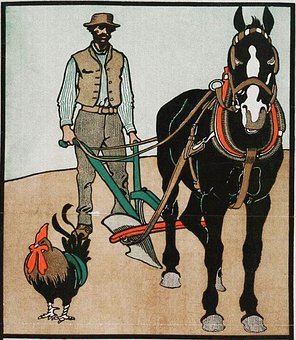 Greetings my friends. Some of you may have noticed I have been fairly inactive for the past 10 days or so. Let me share why. Last October 1st I was forced to retire from a painting contracting business I've had for about 25 years due to illness. That was a bit of a challenge since the illness had also depleted any savings or retirement I had down to just about zero. I really was quite concerned about how I might make it. My options were to be a Wal Mart greeter or a security guard at one of the local casino's. Whoopeee! Then Steemit came along in January and I felt like this might be an answer to that problem. I projected that perhaps, if I worked hard, after 8 months or so I could take a little money out of Steemit to help get by, and that if I kept working hard perhaps in a year or so I could actually make it. So I put the harness on and pulled. But alas, I literally have $1 in my wallet and about $350 in the bank. That's it. So, last week, I picked up the old paint brush and went back to work.
Work. Now thats not something I am a stranger to. I've worked hard my entire life. Started working for my father (he was a painting contractor) when I was 12 years old. Then painted my way through college. I was a good LDS (Mormon) at the time so followed the culture and advice of the Church and had 5 kids, whom I love very much, and coincidentally the 8th grandchild is being delivered today! And then I had four foster sons (not through the state, so no compensation). And all that time I pulled, and pulled and pulled. Good old fashioned work.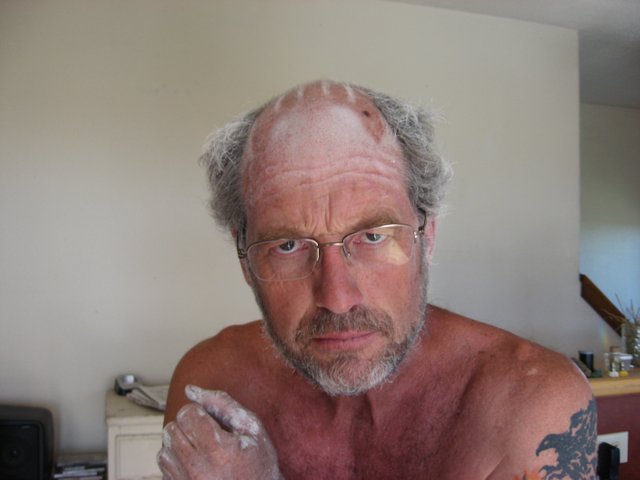 Oh yes, thats me. Notice those fine racing stripes on top of my bald pate. And It's kind of funny but I always felt that there was something more that I could do with my life other than be a painter. You know, it's that male ego thing. Well, there were expectations too that I had for myself that just never seemed to find expression. But you know, apparently, finding some great career that I loved and excelled in was not my path this lifetime. There were other things far more important that I came to learn and do.
One of the most important things I've learned is to be grateful. I'm grateful that I was/am a painter. Grateful for the illness that has given me so much in life experience and that has also tempered my soul. I feel I'm a much better person as a result of it. And, well...there is still so much to learn and understand and I'm grateful for that too.
Just this morning as I was out in the field walking the dogs I was lamenting my fate and whining away when I caught myself and said, " Well, I can be pissy, and depressed and burdened by having to go back to work, or I can choose other emotions and other attitudes." This, being able to choose, is perhaps our single greatest responsibility. And actually it is a freedom too. Perhaps the ultimate freedom. We can choose our attitudes and our emotions. Now, I'm no Mary Poppins going around singing, " A spoon full of sugar makes the medicine go down, the medicine go down....", nor am I oblivious to the fact that sometimes illness or blood chemistry makes it almost impossible to control ones attitude or emotions. I've been there and know that. But I know, for the most part, we create our own emotions. We really do. Perhaps that's one of the things I was meant to learn. No doubt it is.
So, back to the beginning. I'm doing less on Steemit. No choice. Remember the Seven Dwarfs on Snow White as they sang their theme song? Well I'm singing it today. I owe, I owe, it's off to work I go. We all have work, let no one shirk, I owe, I owe.
Do I still love Steemit? Of course. It has been a great blessing for me to be here and to write and share some things that are important to me, and I've been blessed with making some genuine friends too. That, frankly, was a real surprise. And long term Steemit really may be a way to support and sustain myself...it will just take a bit longer for this train to get to it's destination. And, frankly, that's another thing I came to learn: persistence. To keep getting up one more time.
Well, that's it. May you be blessed and at peace.
Mister Mercury