Is Our Wasteful Lifestyle Just a Repeating, Instinctual Pattern?
People are reaching a crisis point when it comes to waste. As what we discard pollutes the land, the oceans and turns third world countries into garbage disposals I wonder what brought us to this point. I often wonder if the things we do that have detrimental effects have instinctual roots that at one point in our ancestry were part of the way we survived. What I'm about to say might upset a few people, because I see a lot of reflections of our behaviours in communal animal species and I know some people don't like the idea of mankind being compared to animals. Is this because we're supposed to be a cut above them and have more intelligence and forward thinking? Maybe, but I'll come back to that later.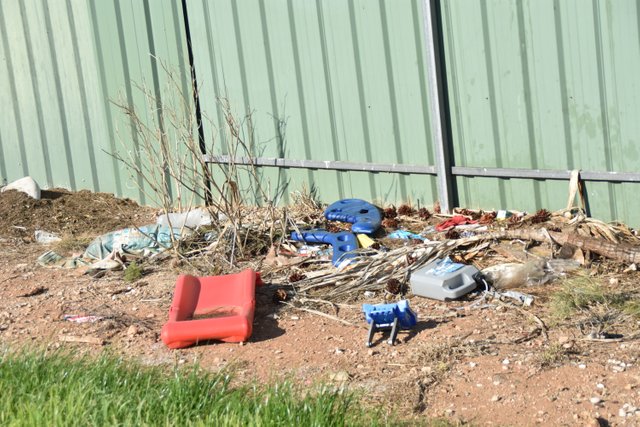 If we go back in time, way back in time, to before so called civilised societies, then people would have been in nomadic groups or tribes. Have you ever seen meerkat manor? I sometimes think of these tribes as being similar to how those meerkats live. Their survival depended on being a cohesive group and they would each take on roles as and when needed. There would have been a chief who led them, made consequential decisions and would have most likely done so in the best interests of the tribe, because he or she would have needed their support to survive. They were usually someone who proved to be the strongest or the best at guiding the tribe. A bad chief could easily be challenged and replaced either by a single challenger who felt they were better for the position or by consensus of the whole tribe.
Because this chief was so important to the survival of the tribe, they would likely have had first choice when it came to any food that was foraged or hunted, rather like the lion in his pride. Then once the leaders had their fill the rest would go to the others in order of importance of their place in that tribe (This isn't to say that they wouldn't have eaten together, but the parts that the chief wanted most would have been separated off). The same would probably go with clothing, tools and weapons. The best would go where they were most needed, with the most competent and when they were no longer good enough they would be used by those who could still use them, but didn't necessarily need them to be of the same standard. Or maybe as practice weapons and tools for the youngsters. Once things reached a point where they were beyond repair they returned to the earth.
It makes sense that everyone would strive to be higher up in the hierarchy, because those at the bottom are going to be the ones that lose out when resources dwindle. The more important you are, the more likely you are to be protected by the rest of the tribe and be prioritised when it comes to food and drink. It also explains why squabbling is more likely to occur at the bottom as they fight for the last scraps and try to get one up on each other. If you've ever kept chickens in a large enough flock you'll have seen this behaviour. It's rather like playground squabbles.
Fast forward to feudal times and small tribes had evolved to two classes; a large peasant class supporting a small ruling class. Expanding like this meant that the ruling class could benefit not just from what its own tribe could have provided, but what other tribes would have provided too. Again, things would flow down from the ruling class to their immediate employees and on to the families of those employees back in the villages. Things would be re-used, fixed, reinvented or remade into other items. Nothing would go to waste when there were people who had no choice, but to use what others discarded, if they were available. Again, items beyond repair would return harmlessly to the earth.
Fast forward a bit more and we come to the industrial era where a new structure appears in what we now call the western world. Production started to be done on mass and a new middle class appeared. New things started to come within the reach of many more people. As things progressed, oil was discovered in quantities large enough to provide cheap production and that amazing material, plastic, was created as a by-product. Western countries became wealthier and more and more people were able to live at a level of comfort previously only afforded to the leaders. The classes could now be divided into a multitude of levels, from lower working, to upper working, lower middle, upper middle and upper class. As more and more people could be picky about what they chose to have, less and less people were available to take the leftovers. As more of those who used to take the leftovers demanded cheaper things and higher wages so they too could enjoy the comforts others had, the poor class to provide this lifestyle had to come from somewhere else. Today we have the situation where that supporting poor class is still there, just in another part of the world; out of sight and out of mind. They are also still the ones that take the leftovers. Unfortunately the items which can't be fixed or reused are now of a material which won't return to the earth safely.
Much of our, so called, recycling, ends up in third world countries where it causes both land and air pollution as the people try to process it and a lot is burnt. The air pollution undoubtedly causes health issues for the people living in the area.
It seems to me that the pattern of human behaviour has repeated itself throughout the ages and the results of it have merely altered with the change in human interaction and lifestyles.
What separates us from animals is supposed to be our ability to foresee when our basic instincts are causing or will cause harm and to be able to control or rise above them. Many people can, sometimes. Few people can do it consistently, especially in the face of all those who appear to be benefiting more from not doing it.
We are reaching some real crisis points at the moment and our intelligence has the potential to deal with them in a way that allows everyone to benefit. However, it can't only be done if enough of the population can rise above their basic instincts. When so many are busy pointing fingers and blaming other groups of people for all their problems, it's hard to imagine we can reach that point soon enough to make a difference. Do you believe we can or do you think those who advocate depopulation are correct in that it's the only real solution?
~○♤○~