It takes courage to do some things. A boy needs courage from within to get past the uncertainty and intimidation he feels in order to ask the girl he likes to the prom. A student needs courage to get in front of the class and give a speech. We often need courage to persevere the difficulty of pursuing an objective -- be it our own goals and dreams, or something else that needs to get done.
Courage is developing the nerve to dare to break through the fear that keeps us from acting. It's not being fearless, but surmounting that fear and not letting it stop you. If we don't develop the courage in certain situations, rather than action we end up with in action because we're still being a coward and not getting over the fear that's preventing us from doing something.
There are indeed more benign circumstances in our lives where we need to develop the courage to overcome our fears, such as standing in front of the crowd to deliver a message because we fear being the center of attention, or making a mistake while having all those eyes on us, etc. Many things that we need to develop the courage towards are only personally related to us and some desires we have to accomplish things. But there are situations that transcend our personal inclinations and deal with what is right, good and true for us or others to do.
Doing what is right, good, true and moral in our lives can often seem like an insurmountable task. There are hardships, trials and tribulations involved in walking and living the narrow path of moral truth. It takes a lot of time, energy, effort, dedication, determination and persistence to learn how to walk in the moral path, and then to actually walk and live in that moral path.
Truth takes time. Truth is like a mountain that needs to be climbed in order to reach certain levels or altitudes of understanding. Moral truth seems to be the most hidden and elusive type of comprehension to develop, despite it being the most important to understand. Truth in general, but especially moral truth, is what will determine the quality and condition of our lives.
Understanding reality and the truth of how to generate electricity will greatly allow us to improve the quality and condition of our lives, but understanding the reality and truth of how our behavior affects our own lives and the lives of others will allow us to improve the quality and condition of living together in harmony, unity, freedom, peace and prosperity. Technology is great, but psychology and morality is what determines the level of reciprocal cooperative survival optimization that we engage in together as a community or society no matter how large or small.
We can know what is moral from immoral; to know the objective difference between right and wrong. Due to our environmental conditioning into accepting falsity and wrong as "truth" and "right", our moral compass is broken in some places and needs to be repaired with the care for moral truth to learn and understand more about how morality works and how our society is failing to live up to moral principles.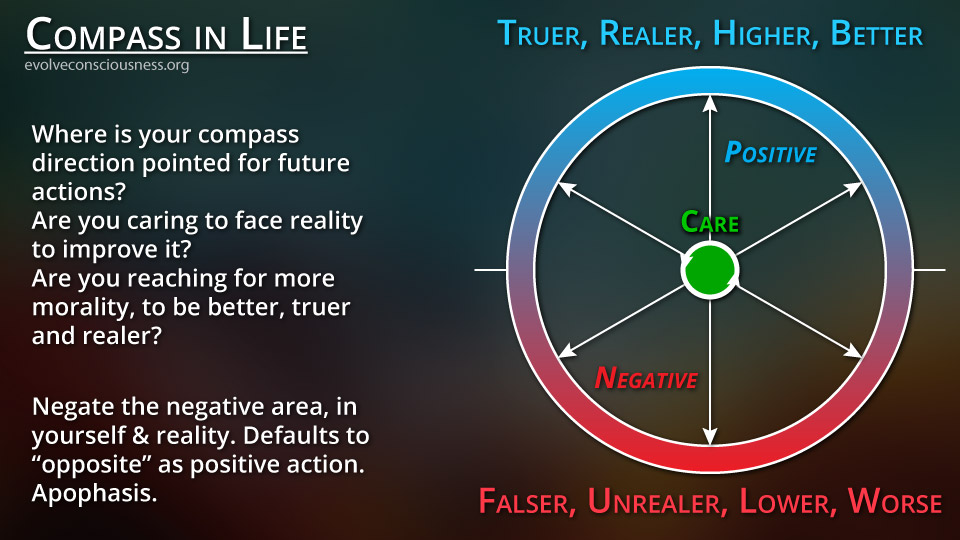 Our conscience and care for moral truth needs to be developed. Having the courage to act towards what is right, good, true and moral requires that we develop a deeper understanding of morality. Sometimes we are cowards to do what is right, good and true because we don't have the care for truth or moral truth developed enough to have repaired our damaged conscience and moral compass. Some people don't seek out more moral comprehension because they don't really care to learn about moral truth, since they are apathetic to moral truth. This makes them ignorant to what they are even missing out on. Some eventhink they are already "moral", or that "morality doesn't exist", so why bother looking into it. They don't even know what they are missing, and have no desire to go get it (truth). The lack of knowledge from that ignorance, prevents them from actualization and realization greater degrees of moral living.
Apathy begets ignorance, ignorance begets confusion, confusion begets inaction through cowardice and laziness. The remedy is to care for truth rather than be apathetic to it. This drive and motivates us to seek it out. In turn we gain knowledge of truth, and develop greater understanding, rather than ignorance and confusion. Then we become empowered to understand how to act wisely in alignment with what is right, good, true and moral. Rather than be cowardly or lazy in our moral actions, we will have the courage and willpower to actualize and realize that moral principle into our lives; to live and embody a moral way of living.
The greatest hope for humanity's future is in developing our moral compass and conscience through the care for moral truth. Greater peace, harmony and unit is predicated upon the knowledge of moral truth that we all need to develop and share in common. Unity requires learning and acquiring moral knowledge.
We can develop the care and courage to learn what is right, good, true and moral, and also to stand for and uphold what is right, good, true and moral. This requires that we face reality -- and ourselves in the mirror -- in honesty and self respect without the fear of looking at both the beauty and the horror; the light and the dark; the good and the evil; the truth and the falsity; that exist as the current condition within us and in the world around us.
We need to overcome the fear, apathy, ignorance, cowardice and laziness of looking into our dark hearts and seeing the shadow, demon, darkness, negative, immorality or evil sides of ourselves and of the world. Facing the unknown in reality already carries with it the psychological factors of fear, insecurity, discomfort, anxiety and stress. This is more so a factor when we're facing the unknowns about ourselves, and especially the unknowns about the wrongs we do. Facing and confronting the reality of our wrongdoings can be very disturbing to many people. It's much easier to live in ignorance, denial, dismissal, rejection and projection of our damaged consciences and psyches.
In order to heal for the better, we have to overcome that fear, discomfort and hurt that hard and uncomfortable truths make us feel. Continuing to ignore, reject and not face truth because we remain in fear of the truth will only bring us more suffering.
Caring for truth will allow us to recognize and accept our current condition as it is. This is the only way forward. In order to get through a problem, you need to go through it with the truth in order to understand it properly at the root causal level. Going under or over the problem and avoiding the truth is not going to empower you from position of understanding the root causal factors the created that problem in the first place.
The awareness of our current condition as it is helps is develop more care, courage and willpower to choose to change ourselves for the better; away from those things we recognize to be against our own betterment or the betterment of everyone together.
Once we recognize those things that do not serve us -- shadow, demon, darkness, negative, immorality or evil sides of ourselves -- then we can choose to change by transmuting or purifying ourselves, as a Phoenix destroys itself through the purification of fire in order to become reconstituted and reborn anew from its ashes.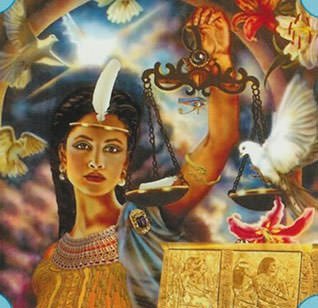 We burn away the aspects of our being that we do not want -- that do not serve us, that do not align with what is right, good, true and moral -- and as a result we become changed, healed, battered and improved from our former, lower, falser and unrealer state of being. Incorporating the authority of moral truth into our lives makes us more real, genuine and authentic (maa) upholders of truth, morality, justice and order (Maat) in our own lives and in the world overall.
Seeking truth and moral truth, is a higher-order consciousness aspiration, desire, drive and motivation for higher, truer and realer living and life. This is what determines the quality and condition of our lives together. If harmony, unity, freedom, peace and prosperity sound good to you, then learn to understand the importance of truth and moral truth in life. Make truth primary in life, make it foundational in your life, by caring for it above other considerations like money, being liked/popular, etc. If people are to truly unite, then they must be on the same moral page of living.
We have a lot of work to do, despite all the work already done in human history to progress towards more moral living. The more people that put truth and morality first as the real capital in life, the more we can speed up greater moral actualization and realization in our reality.
Courage is the key that opens the difficult door we have issues opening, allowing us to see what's on the other side, and walk though it to create a better new world for us to live in.
---
Thank you for your time and attention. Peace.
---
If you appreciate and value the content, please consider:
Upvoting

,    Sharing

or   Reblogging

below.

me for more content to come!
---
Please consider supporting me as a Steem Witness by voting for me at the bottom of the Witness page; or just click on the upvote button if I am in the top 50