I'm just going to share some random thoughts that have been rambling through my head today.
What do you mean it's Monday?
There is a part of me that is quite frustrated that I never know what day it is.
I mean... it's so hard to look at the little calendar on the bottom right of my monitor but the time and date mean nothing to me unless I'm going somewhere or working on a project other than my own. I'm deadline-oriented but cannot seem to give myself a strict one.
What's up with that?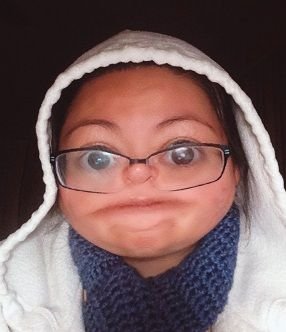 HAHA! I love SnapChat filters
Finding your path
It's hard to get plugged back in after the December Funk. It feels like I'm coming out of a long hibernation and still getting acclimated to familiar surroundings. When I read @macksby's poem Finding Your Path..., it resonated with me and made me ask some questions.
Am I searching for greatness? Nope. I just want to live a good life.
What does "live a good life" mean? I'm still figuring that out.
Before a good life meant making sure my kids grew up healthy and happy.
Before a good life meant finding a way to be comfortable in my own skin and accepting my imperfections.
Before a good life meant turning a house into a home.
I have those things now. My kids are grown. I am comfortable being me. I finally have a house that I'm slowly turning into a home. It's a different kind of home than before because the family that I once had is nothing but a memory. I guess a part of me is kind of homesick and yet, the other part of me is grateful for this new dynamic.
And then there's another part of me wondering....
Is this it? Is this enough? Do I want more? What do I want more of?
Who do I want to be when I grow up?
Am I enough? I like me now. Will I like future me? Will future me look back and like now me? Does now me like past me? uhh... Fine. Moment of truth: Now me accepts past me which does not mean now me likes past me. Does past me include young me?
Is it any wonder I have a migraine right now?
If I've got no roots then how can I be a tree?
I read @denmarkguy's post Memories and "Good Old Days" - We Go Forward, Because We Can't Go Back!
He wrote about going home but there is no going back. We can visit our old haunts, stroll through memorable neighborhoods, even walk through the house we grew up in -- but it's not the same. Its time has passed.
Thinking about my lack of roots often makes me sad but my practical side just says, "Meredith, this is your existence make the most of it. Find your joy before death finds you."
What does joy feel like?
The first time I had an orgasm I cried from the sheer beauty of it. I was amazed how my body felt so alive and how giving someone had to be to my needs in order to reach that peak. It was scary and it was gone too soon. Does that make sex any other time mundane?
Does joy feel like that?
What now?
I think the safest thing to do is write... or go to sleep.